The Kimpton Monaco in Denver has found the way to our hearts with its upcoming Puppies and Prosecco program. While plenty of properties have some pretty fantastic amenities, we don't know of another hotel promotion causing such a collective, "SQEEE!"
To celebrate National Dog Day (which falls on August 26), the Kimpton Monaco has partnered with Lifeline Puppy Rescue, a no-kill shelter in Colorado for this unique fundraiser—a private puppy party in your room.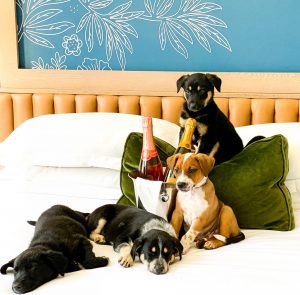 During "Puppies and Prosecco" guests who have booked the luxury suite at the "best flexible rate" can opt to add a private puppy party for US $50. Half of the proceeds will be donated to the shelter. Animal shelters are always in need of funds, but the puppy parties are good for the dogs, too.
According to Scott Cromer, director of outreach at Lifeline Puppy Rescue: "This is an incredible fundraiser for the rescue. Not only does it provide much-needed funds, but it's priceless socialization for the puppies." Philanthropy in the form of belly scratches is something we can definitely get behind!
Each party consists of six to 10 puppies (depending on puppy availability) brought to your room for a play and a cuddle. They'll be accompanied by an expert from Lifeline who will stay to help out and answer any questions you may have.
Of course, it's not a party without some food and bubbly, so puppy partiers⁠—the human ones, that is⁠—will toast with a glass of Prosecco and enjoy a spread of cicchettis (Northern Italian finger food) from the in-house restaurant, Panzano.
This isn't the first time puppies from Lifeline have visited the Kimpton, and it won't be the last. If you miss out on the private party, you are always welcome to join when the partners hold an adoption pop-up in the lobby of the hotel each month.
The promotion runs from August 23-26, 2019 and can be booked through the Kimpton website.
(Photos courtesy of Kimpton Hotels & Restaurants)