Hotels are always looking to up their game when it comes to the guest experience. Some are changing the meaning of meeting the locals by giving its clientele the chance to get to know the local fauna, and this now includes puppy dogs.
Canine concierges became big in the late-aughts with lifestyle hotels such as Kimpton, luxe brands like Fairmont and even business-branded hotels including Hilton having dog greeters on hand for guests who may be missing Bowser back at home.
The next step in this puppy love story is here as hotels aim to include a memorable animal experience as part of its guest services.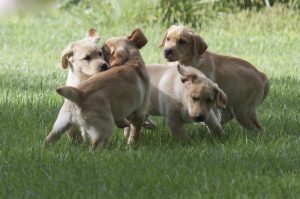 The pitter-patter of puppy feet
Sunrise Springs Spa Resort in Santa Fe works with service dog training centers to help socialize puppies in preparation for their work in assisting individuals with disabilities, working with the FBI or providing emotional support to victims and first responders.
Bri Wright, marketing manager at the resort, said: "Our Puppy Enrichment Program is a partnership with the Assistance Dogs of the West and our resort. The puppies and our guests both benefit from this collaboration. The puppies, English Labradors, get to practice socialization and begin to develop their skills in service. Our guests experience the proven benefits of spending time with animals, including the lowering of blood pressure and stress and an increase in positive emotions, such as happiness."
Hotels that offer "Adopt Me" programs tend to get results for their furry friends. Michael Briggs, general manager at Inn by the Sea in Maine, explained: "After having welcomed dogs and their owners to the inn for decades, it was an easy transition to expand from simply being dog friendly to working with the Animal Refuge League to help find permanent homes for shelter dogs and save lives." The property just celebrated the adoption of its 100th foster dog.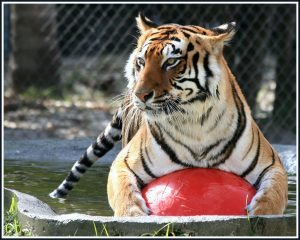 Cat care
Other hotels are partnering with local humane societies to let guests take a Fido for a walk around the block or spend quality time with a kitty and some catnip.
At the Westin Grand Cayman Seven Mile Beach Resort & Spa, guests can pick their favorite pet to play with for the day, whether it's at the shelter or the beach. And if love ensues? The Cayman Island Humane Society works with Cayman Airways to bring your new-found friend home to the U.S., Canada or the U.K., taking care of all of the paperwork along the way.
And while we mentioned little cats, some hotels are concentrating on experiences with the big ones.
The Ritz-Carlton, Sarasota invites guests to volunteer with its partner, The Big Cat Habitat. "Guests can have a thrilling opportunity to come face to face with lions, tigers and bears," said Stacey Anderson, marketing communications coordinator at the hotel. "While being a hands-on helper may not be glamorous work, it is essential to the care of the animals and it is fulfilling and educational for all who participate."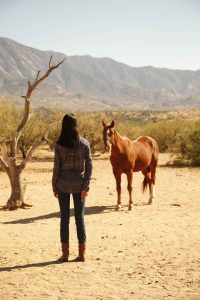 Equine experiences
Resorts including Miraval Arizona Resort & Spa, Half Moon in Jamaica and Red Mountain Resort in Utah all have equine activities that go way beyond just riding a horse along a groomed trail.
The Equine Experience at Miraval in Tucson has guests work one-on-one with a horse to hone "ground skills" such as grooming, haltering, hoof cleaning and rope leading.
"Regardless of how we function in the real world, we all have wounds, most of which we haven't been taught to deal with," explained Wyatt Webb, founder of Miraval's equine program. "The horses we work with know how to do what you ask—but only if you communicate with them properly."
Guests learn how to break learned patterns of behavior that may be inhibiting not just their animal relationships, but their human ones as well. Animals are awesome.
(Featured photo credit: Inn by the Sea)