Majestic, breath-taking, spectacular—the scenery of Canada's Rocky Mountains inspires all kinds of superlatives. During the winter holidays, sparkling Christmas lights, blankets of snow and frost-tipped evergreens put the beauty on turbo charge and add a greeting card feel to the whole place. If you are looking to spend some time over the holidays in the Rocky Mountains, we support your choice! And whatever kind of trip you want this holiday season, the Rockies have something for you. Read on for our suggestions.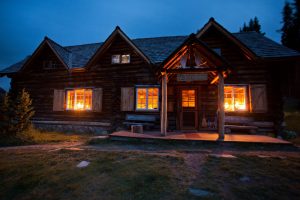 For a quiet rustic retreat
The secluded Skoki Lodge is accessible only by an 11-kilometer (seven mile) backcountry ski or snowshoe expedition. Once you have made the trek, you will be welcomed with delicious food and friendly alpine hospitality. There is no electricity, so you will spend the evening under kerosene lamps or bathed in candlelight, then snuggle up for a long winter's nap warmed by a woodstove (or propane heater in the cabins). Warm wash water is always available but know that there is no running water on the premises, and yes that means "the facilities" are outhouses. The main lodge plus three cabins combined have a maximum occupancy of just 22, so you can be assured that you are getting personalized attention. The Duke and Duchess of Cambridge famously stayed at Skoki Lodge (although royalty gets to skip the hike in and arrive by helicopter) and we figure if Kate and Wills can love a retreat this rustic, you will too!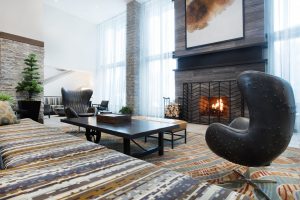 For family friendly festivities
The newly renovated and rebranded Pomeroy Kananaskis Mountain Lodge, part of Marriott International's Autograph Collection, is a dream for families looking to spend the Christmas break in the mountains. Fun activities for all ages are a part of a stay at the lodge throughout the year, but from December 21-January 1 it's "Merry Kananaskis" and that means an extra daily dose of cheer. The schedule is packed with fun, much of it complimentary for guests of the hotel. Meet a reindeer, go skating with Santa, make a lantern and take part in a Christmas parade, or build a quinzhee snow fort. There is live musical entertainment, a magic show, and an interactive theater production of A Christmas Carol. From fireside moments with snacks and music on the outdoor patio, sleigh rides, a pajama party, to Santa's workshop and bedtime visits from the elves, you'll probably never want to stay home for the holidays again.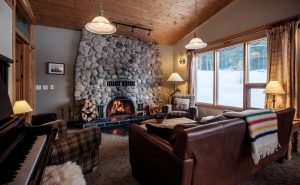 For a Rocky Mountain Christmas dinner (and breakfast and lunch)
You aren't going to find too many mountain lodges that have an all inclusive bent, but Mount Engadine isn't most mountain lodges. Room rates here include breakfast, a lunch packed for you to take out on your wilderness adventures, an afternoon tea, and a sit-down supper served family style. Specific dietary needs can be accommodated with enough notice. The restaurant's chef curates seasonal menus inspired by the Rockies using many locally sourced ingredients to rave reviews. When it's time to lay your head down after your sumptuous holiday meal, guests have their choice of rooms or cabins. Glamping tents (with fireplace, plush bed and a chandelier to set a glamourous tone) were just unveiled for the past summer season and are open year-round if you're into "roughing it" in the comfiest way possible.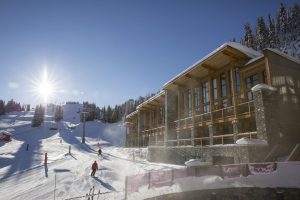 For ski bunnies and buddies
If you can't stand the thought of wasting a minute of your precious holiday ski time getting to the hill, you need to stay right on the mountain. Booking in at Sunshine Mountain Lodge keeps you close to the 137 runs at the Sunshine Ski Resort. There is a shuttle into the town of Banff for when you want to explore—just make sure you're back in time to catch the last gondola up the hill to the hotel. When you aren't enjoying the ski-in/ski-out privileges, you can luxuriate in the outdoor hot tub or dry sauna, book a treatment at the day spa, toboggan (when there's enough snow to make the course) or just take in the views from the picture windows of your room. But with three mountains covered in some of Canada's best snow, you'll probably want to ski.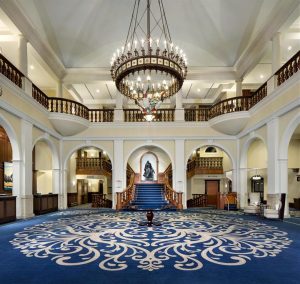 For glitz and glam on New Year's
The iconic Fairmont Chateau Lake Louise likes to put on the ritz for New Year's. Guests have their choice of parties to join although you needn't limit yourself to just one. Start your night out right with a chef prepared meal. Each dining room has a special menu for the evening: choose from a buffet supper in the Victoria ballroom; a four- or five-course meal with optional wine pairing at the Fairview; a French-inspired prix fixe offering in the Poppy Brassiere; or four courses of hearty German-Swiss cuisine at Walliser Stube. After dinner it's time to party. The grown ups will be dancing the night away to live music in the opulent lobby of the chateau. In the Mount Temple ballroom there's all ages fun and an early countdown. If you prefer a quiet start to the New Year, you can wander through the ice castle on the frozen lake, or skate past midnight under the stars. However you celebrate, it's going to be a happy new year!
Looking for more great Rocky Mountain hotels? Check out our take on The Post Hotel and Spa, The Mount Royal and The Malcolm.