Welcoming over four million visitors annually, Banff National Park is a prime destination all-year round and features several noted hotels that are requisite parts of the Canadiana experience.
Yesterday—Canada Day, no less—marked the grand reopening of one such hotel, the Mount Royal. In December 2016, the hotel suffered such severe damage due to a rooftop fire that it needed to shut its doors to fix what was broken. Now it is finally ready for its close-up and is showing off its restored 1908 bones and newly-added 21st-century amenities to the 133 guest rooms and public spaces.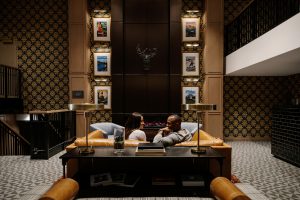 Located at the corner of Banff Avenue and Caribou Street in downtown Banff, the Mount Royal's restoration and update was led by Toronto-based DIALOG Design, which renovated the hotel from top to bottom: new roof, new floors and even a new street façade.
Lead designer Alison McNeil and her team reimagined the building as a cozy quilt. Within the sleek rooms and suites, you'll find custom handcrafted red, blue and white quilt headboards that stand out against the gray-and-white design. McNeil explained that she wanted the interior to look "like someone's house and not an airport hotel." The two-story lobby highlights an eclectic décor theme with its modern art and contemporary furniture while the Hotel Library is another area to relax post-exploration of the lures of the national park.
Artwork plays a major role in the Mount Royal: 200 pieces are featured throughout the property, focused on a variety of mediums—sculpture, poster, canvas, wall coverings, photography—and include contemporary artists such as Arian Camilleri, John Lee and Steven Errico.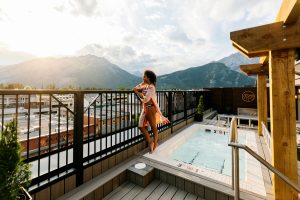 A new addition to the hotel is the buzz-worthy rooftop area, where hotel guests have exclusive access to the fifth-floor Cascade Lounge and hot tubs, with views of nearby Cascade, Rundle, Sulphur and Sundance peaks.
The hotel features four dining options including Toque Canadian Pub featuring Canadian cuisine—five poutine options!—and other pub grub faves and the Hotel General Store for take-away items.
And the hotel's past has not been forgotten with its new unveiling: The Mount Royal's researchers collaborated with archivists at the Whyte Museum of the Canadian Rockies, creating a Lobby Museum of photos, art and artifacts highlighting the history of Banff's second-oldest hotel.
The Mount Royal Hotel is part of Pursuit's Banff Jasper Collection. A heritage room with king bed starts at C$349 ($265) a night.
(Photo credit: Mount Royal Hotel, Pursuit Collection)