If you find you have an extra US $165K kicking around and are wondering what to do for your 2021 vacay, we may have found the thing for you.
Four Seasons Hotels and Resorts has announced its 2021 itineraries for its Four Seasons Private Jet experiences. The bucket list destinations include Dubai, Seychelles, the Serengeti, Bora Bora and the Great Barrier Reef, plus new additions such as Angkor Wat, Mexico City, Easter Island and Athens.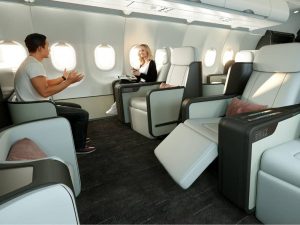 Guests will take to the skies on a spiffy, brand-spanking new 48-passenger jet—decked out with a re-designed, spacious lounge area, a spot for interactive inflight workshops and purpose-built personal ottomans at each seat that let you visit with your neighbors before touching down at a destination where you'll spend the night at a swanky Four Seasons property.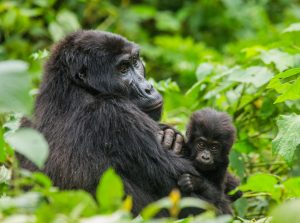 The Remote Wonders itinerary (December 31, 2020-January 20, 2021) is one of the newly created trips where you'll travel to Dubai for an exclusive New Year's Eve party, then on to Hoi An, where a local tailor will design, sew and hand-deliver your custom creation before take-off. Explore Angkor Wat, Bangkok, and Chiang Mai or Chiang Rai. Sail on turquoise waters in a catamaran in the Seychelles, trek through a Rwandan rainforest to get a glimpse of gorillas and, finally, follow Maasai warriors to a torch-lit barbeque feast in Serengeti's National Park.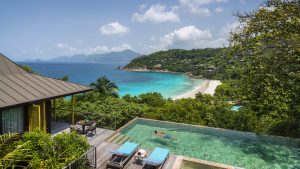 Hotels include the gleaming skyscraper Four Seasons Hotel Dubai International Financial Centre—whose name tells you everything you need to know about its location. In Hoi An, Vietnam, it's the Four Seasons Resort the Nam Hai, with newly redone villas with outdoor garden showers. The Bangkok stop will have you sleep at the yet-to-open Four Seasons Hotel Bangkok at Chao Phraya River, and, in Africa, it's the luxe lodge, Four Seasons Safari Lodge Serengeti, with its own wildlife discovery center, and then one of our favorite resorts, the Four Seasons Resort Seychelles, with treetop villas, each with its own private infinity plunge pool.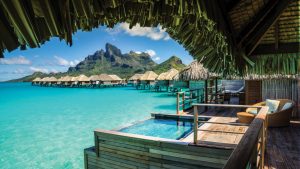 Other hotels include the hacienda-style Four Seasons Hotel Mexico City, Four Seasons Resort Bora Bora with its spectacular overwater bungalows and an Australian boutique property selected by the brand, Silky Oaks Lodge.
Price is US $169,000, based on double occupancy.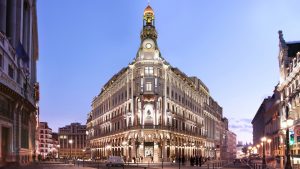 The second new itinerary is the Ancient Explorer jaunt (October 5-28, 2021). This 24-day travel extravaganza starts in Miami and will take you to Mexico City for a masterclass in mezcal, then to Easter Island for a tour on horseback, Bora Bora, and onward to the Great Barrier Reef before stopping at Koh Samui to pick up the moves of Muay Thai from a professional fighter. Jordan, Egypt, Athens and Madrid complete the journey with stays at three of Four Seasons newest hotels—Four Seasons Astir Palace Hotel Athens plus the modern Four Seasons Hotel Bangkok at Chao Phraya River and Four Seasons Hotel Madrid. Both are expected to open later this year.
Price is US $167,000, based on double occupancy.
As well as the new itineraries, two of the most popular Private Jet journeys are also back for 2021, the cool-sounding International Intrigue package (February 24-March 19, 2021) to Seattle, Kyoto, Hoi An, Maldives, Serengeti, Marrakech, Budapest, St. Petersburg and Paris and Timeless Encounters (March 19-April 11, 2021), which takes you to Kona, Bora Bora, Sydney, Bali, Chiang Mai or Chiang Rai, India's Taj Mahal (day stop), Dubai, Prague and London.
We say, "Up, up and away!"
Now that your luxury travel senses are tingling, check out this story, too!
(Photos courtesy of Four Seasons Hotels and Resorts)