This ritzy resort, spread out over 40 acres, is set on the site of a former girls' finishing school once owned by a member of the Kellogg family. Today, the school is long gone and in its stead is a luxe, meandering property that stands out due to its level of service and its individual casitas which make a trip away feel like a true getaway.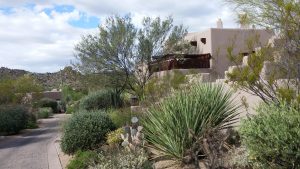 Street cred: It's all about location
In the shadow of Pinnacle Peak in the Sonoran desert, the resort is about a 40-minute drive from Phoenix's Sky Harbor Airport.
Who hangs here: Is this hotel for you?
While there are some business-types at Four Seasons Resort Scottsdale at Troon North attending meetings and conferences, this resort is primarily peopled with those looking to relax and recharge with big  capital Rs. With a kids' pool and play center, you'll see families on vacay together, but there are also a lot of couples looking to rekindle their romantic fire in the Sonoran Desert.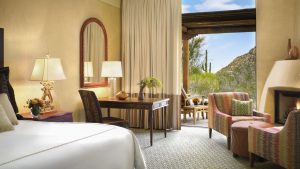 The straight goods: What's in the room?
All rooms at the resort are exceptionally spacious, starting at 480 square feet for the more 'modest' deluxe Casita rooms. The individual pueblo-style casitas with, on average, four guest rooms, are laid out in a circular pattern, most surrounding the pools.
Each has a comfy bed with plush and enveloping down duvets and pillows, a living area space with a gas fireplace and desk, a patio or terrace, coffee/tea maker, secure safe, 60" LED TV, an iHome alarm clock and complimentary Wi-Fi. Bathrooms include double sinks and a separate bath and walk-in shower. Bespoke toiletries are made by California company, Lather, using native desert botanicals to keep it authentic.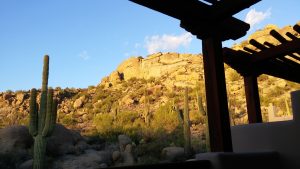 When you first walk into your room, what catches your eye is its warm décor, done up in earthy colors inspired by the desert landscape–rusty reds, pale yellows, breezy blues and then a complementary white adobe fireplace. Next, your eyes fall to the floor-to-ceiling glass doors leading to your patio or terrace and the stunning views from it. Outside, while you gaze at the desert landscape and 100-year-old Saguaro cacti, all you hear is quiet and the subtle desert hum of nature. Pure bliss!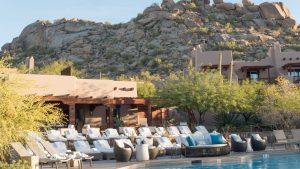 Bragging rights: What else has it got?
The question is: What hasn't it got? This vast resort is a playground for both adults and kids alike with a bi-level freeform pool surrounded by loungers and private cabanas, a kid friendly pool for the munchkins to splash in, a signature spa with locally inspired treatments, 24-hour fitness center—although the mountain biking or hiking offered at the hotel would be a good way to break up your routine–two tennis courts if you need to work on your swing, and, if it's the other type of swing you like, there are two acclaimed golf courses a short hotel shuttle away.
Four Seasons Resort Scottsdale can also arrange things like a day trip to Sedona, a Zen Hike up Pinnacle Peak with stops for downward facing dog poses as well as nighttime stargazing sessions.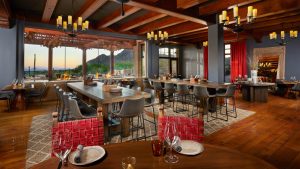 Good eats: Cocktails and cuisine
The resort has four restaurants and bars that serve tasty food and drinks. Talavera is the main restaurant, specializing in reimagined Latin-inspired upscale cuisine served in a vibrant, warm space. The elegant, moody Onyx Bar & Lounge is right next door, where you'll find modern takes on classic cocktails like the Grapefruit Negroni, made with grapefruit-infused mezcal, Campari and sweet vermouth.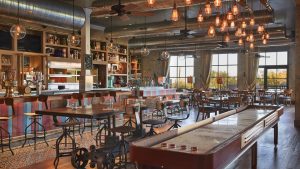 Proof is where to get southwest American comfort food—hello chicken and waffles and biscuits and gravy—for breakfast, lunch and dinner, and finally, poolside, there is Saguaro Blossom, serving fresh ceviche and other light lunch items that you can nibble on in the great outdoors.
A few of our favorite things: What stood out?
Aside from the friendly and impeccable service and the incredible views from your casita's terrace, the resort has a lovely spa whose treatments are locally inspired. Two favorites are the Jojoba and Prickly Pear Polish—make sure to keep hydrated afterwards with the complimentary prickly pear iced tea at Proof or in the lobby—and the Four Seasons in One signature treatment that takes you through summer, fall, winter and spring in the desert using lotions and potions with scents that include wintergreen and sage.
Parting shot: If we could change one thing
The lighting in the rooms is both warm and soothing to prepare you for a good night's sleep, but sometimes one wants bright overhead lighting to find the one item you just can't seem to spot when you want it.
(Featured photo courtesy of Four Seasons Resort Scottsdale at Troon North)
Janice stayed as a guest of the hotel. The hotel did not have editorial approval.