We all have our own vison of what an idyllic tropical vacation should be, but I think we can all agree that it most likely includes a white sand beach, turquoise water and a beachfront hotel that sets the scene for a chillaxing holiday.
Fairmont Royal Pavilion in Barbados is a serene spot nestled between succulent greenery and blue ocean that doesn't overwhelm the natural beauty surrounding it. With only 72 rooms, consisting of 24 beachfront junior suites and 48 deluxe oceanfront rooms, the hotel feels like you've landed on your own private estate in a James Bond movie.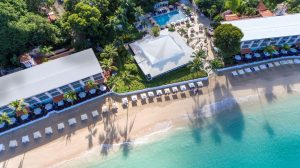 Street cred: It's all about location
The property sits on 11 lush acres and fronts half a mile of pristine white sand beach in St. James Parish (Holetown), in the middle of the island on the Caribbean Sea coast. There are a few things around it that you can visit, but this resort is really meant to be a secluded retreat. If you can't take the peace and quiet any longer, the capital city, Bridgetown, is about eight miles away and can be visited by taxi.
Who hangs here: Is this hotel for you?
The stylish and well-heeled flock to this resort for romantic getaways and quality family time. You won't find fist-pumping music at the pool or a staff member rounding people up for a conga line. The crowd here enjoys afternoon tea and hanging out at the beach before, perhaps, a game of tennis.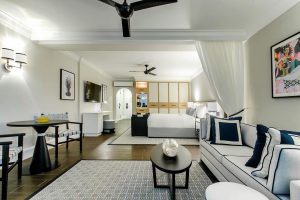 The straight goods: What's in the room?
The décor in the rooms is elegant, combining modern creams and greys with nautical blues to bring a sophisticated, contemporary look.
My large beachfront junior suite (number 128) came with a comfy Fairmont king bed, a proper makeup table with a stool, desk, sofa, Nespresso machine, bathtub plus shower, double sinks and an expansive oceanfront terrace with two sun loungers and a table and chairs. Bathrooms carry toiletries in the Fairmont Le Labo signature scent, Rose 31, personalized for suite guests with your name on each little bottle. There was plenty of storage space as well.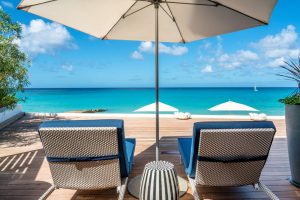 One of the many pluses that come with the junior suites is the accompanying butler service. Butlers arrive each evening with complimentary canapés and ice and, during the day,  stroll along in front of your terrace offering assistance with things like towel service, setting up the loungers and providing cool, refreshing cocktails. Junior suite guests also receive the hotel's Platinum Arrival service at the airport to whisk you seamlessly to the hotel and into your room.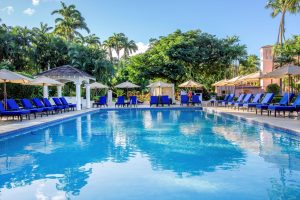 Bragging rights: What else has it got?
The hotel has most of the beach activities you'd expect in a Caribbean resort: kayaking, snorkeling, stand-up paddle boarding and all are complimentary. There's even an opportunity to swim with sea turtles. Tennis is also an option for those predisposed to racket sports.
You can take a dip in the freshwater pool, arrange for an in-room massage or facial, try a new 'do at the on-site Sass beauty salon, or work off some calories at the fitness center.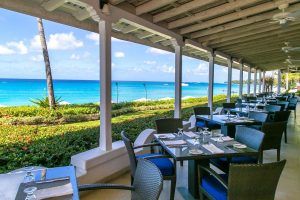 Good eats: Cocktails and cuisine
The main bar and restaurant at Fairmont Royal Pavilion is Taboras, serving primarily Bajan and Caribbean dishes. If you ask what fish was freshly caught that day, you can't go wrong. You choose the fish, whether you want it blackened, grilled or pan-fried, and the sauce to go with it—spicy tropical salsa, lemon herb butter, spiced coconut curry, brown butter with capers and lime or remoulade. The restaurant will make it just the way you like. Flying fish and cou cou, the national dish, is also delicious, served in a rich sauce of onions and peppers, with fresh thyme and okra served over a bed of creamy polenta.
Taboras also serves other items like Black Angus ribeye, confit duck leg and herb-crusted lamb chops, with tasty desserts from frozen coconut parfait to rice pudding brûlée.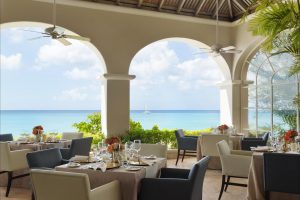 A buffet-style breakfast is offered in the Palm Terrace restaurant just off the lobby. At the Beach Club, you can grab a glass of wine and something to nibble on.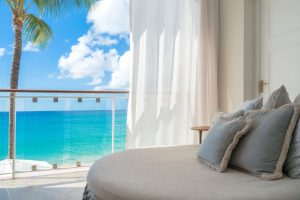 A few of our favorite things: What stood out?
The check-in experience is outstanding. Guests are invited to sit and relax with a glass of chilled Champagne or other liquid refreshment and are offered a cool towel scented with mint while the paperwork is taken care of seamlessly.
The resort also has lovely tropical gardens surrounding each room and suite. Our only disappointment is that—even though there were signs warning guests not to feed the monkeys—we didn't see even one wee monkey the whole time!
Parting shot: If we could change one thing
While those of us living in the north may go to the Caribbean seeking warmer climes, sometimes we need a bit of A/C. The restaurants of the resort are all open-air, so if you travel to Barbados in the off-season, do take note that it can get pretty steamy.
We found rooms in September for US$399 including full breakfast and fast track service at the airport.
Looking for more beach getaways? Check this out!
(Photos courtesy of Fairmont Royal Pavilion)
Janice stayed as a guest of the hotel. The hotel did not have editorial approval.