For the developers of the newly opened Zorba Beach Homes in Tulum, Mexico, the location had personal meaning. Co-owner Snow Colbeck has a deep connection to it through her parents who grew up in Nelson, B.C. "My parents came across these beaches during a sailing trip," she explains. "We spent years camping here, and after exploring all the beauty, history and culture the destination has to offer, I knew this was the ideal home for our new resort."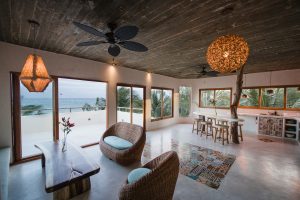 And it's a beauty. The all-suite luxury retreat offers a range of accommodations, from a two-bedroom penthouse to a spacious five-bedroom villa, complete with private seaside swimming pool. Guests have the option of having an active vacay or an indulgent one focused on relaxation. Decide between flopping down on one of the loungers and daybeds on the beach or by the communal pool, or grabbing a stand-up paddleboard, sea kayak or boogie board for some aquatic fun.
The amenities are ample—all geared to making travelers feel at home as they soak in the natural beauty of an area near Tulum, but not too near. It has an off-the-grid vibe that pleases those who only want to hear the lapping of the waves. Nature lovers are in their happy place in a pristine environment that is home to a population of turtles nesting along the beach from May to November.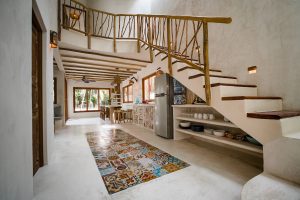 Every effort is made to preserve the area's natural beauty. Surrounded by lush jungle, the resort was careful to maintain the integrity of the environment. For example, trees were relocated rather than destroyed. The one removed tree was repurposed into a longtable on the beach, allowing guests to dine al fresco. Recycled wood was used for décor accents, like tables and light fixtures in the villas. Recycled glass bottles are dotted throughout the walls and ceilings to disperse natural light.
It's a wonderful thing to get fully recharged during a holiday. Zorba Beach Homes caters to that desire by offering a yoga studio and private classes that can be booked with a certified instructor. There are spa services upon request at the Yaan Wellness Energy Spa just a few minutes away and a private chef who showcases traditional Mexican and Aztec flavors.
Dishes created by Irma Santoya are served family style and highlight local ingredients in season. You may start off with tortilla soup (a signature offering) or a jicama salad before moving on to mains like fish marinated in achiote spices, vegetarian tamales and slow-roasted pulled pork. For the grand finale, you may see a sizzling dessert like banana flambé and vanilla ice cream. Whether guests have dietary restrictions or allergies, the chef can accommodate them. For those who prefer the DIY approach to cooking, the villas come with fully equipped kitchens
Guests of the resort can also stroll to Tulum, a city known for its eco chic, to experience authentic restaurants and lively bars or use it as a launching point for day excursions to see nearby ancient ruins and cenotes.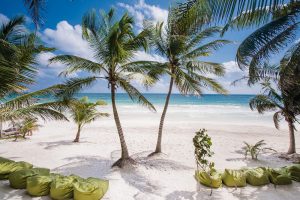 With so much to love, it's not surprising that the new resort, also co-founded by Guy Kouris, is expected to be a popular spot for honeymooners and those looking for a unique destination wedding. Its stunning white sand beaches, turquoise waters and ample sunshine make it a perfect backdrop for photos. Wedding parties from 20 to 100 can book the entire property for themselves (minimum four-night stay) and the six villas on-site can sleep up to 44 guests.
(Photos courtesy of Zorba Beach Homes)