While each Four Seasons property has its own distinctive personality, a commitment to exemplary service and a belief that a single stay can be life changing is the common thread that ties them together. To pay homage to the people who create those experiences, the Canadian-born brand has just published a colorful coffee table book, Four Seasons: The Art of Hospitality. It goes behind the scenes to profile staff members that have stood out for guests, from a spa manager and executive chef, to an astronomer and a florist.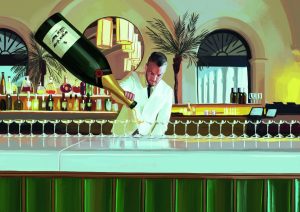 What makes this book stand out is the art. Don't expect the usual pretty photography. This tome features 125 funky, stylish digital paintings by Barcelona artist Ignasi Monreal. He's recognized worldwide for his multidisciplinary talents which encompass film, creative direction and design. One of his most notable recent projects was the creation of a campaign for Gucci's spring/summer collection.
Monreal's research for the book was exhaustive. He spent seven weeks traveling to eight properties worldwide, including Florence, Saint Petersburg and Hong Kong. He ate, swam, slept, painted and hung out at bars and lounges for inspiration. How exhausting, said no one ever!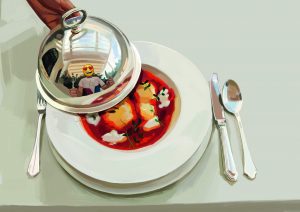 The art-centric approach to telling the Four Seasons story was no fluke. Christian Clerc, president of worldwide hotel operations said: "Four Seasons is where excellence meets artistry." Of his employees, he describes theme as "fifty thousand poets and magicians who apply their craft to the delight and care for our guests every day."
Along with quotes from the staff featured, the book also chronicles some of the extraordinary efforts to make stays memorable. It talks about the unseen acts like gardeners trimming palm trees in the wee hours of the morning so that guests can get a better view of the ocean once the sun comes up. Or housekeeping staff who leave a tube of toothpaste next to the one that they noticed was almost empty. There's also touching moments where a concierge lends support and sits frequently with a guest who is recovering from a heart attack.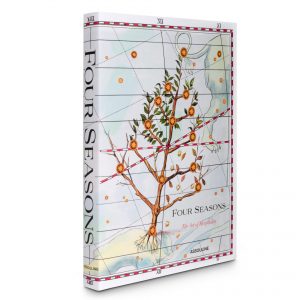 For anyone who loves great hotels, The Art of Hospitality is an ideal gift. It celebrates everything we adore about walking into a property full of expectations about what you'll see and do, and how it will shape the long-lasting recollections of your stay.
(Photos courtesy of Four Seasons Hotels & Resorts)
For another story on Four Seasons, check out this.