The first one was built in 1929 and the appeal has never worn off. The iconic Airstream trailer has become a bona fide paean to aluminum. Now employed as food trucks, guest rooms or bunkies, vintage Airstreams continue to trend, with the company still making money hand over fist, selling five times as many trailers as it did 10 years ago. Enter the hospitality industry who are nothing if not industrious. While some hotels have a trailer out back or in a courtyard to rent along with their regular rooms, these select few go whole hog.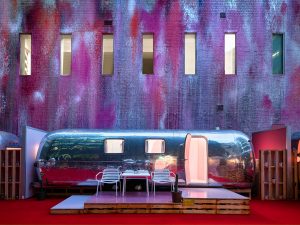 Notel, Melbourne, Australia
Up above the world so high, taking over the roof of a concrete parkade in the middle of Melbourne, the Notel is a world unto itself. Six 31-foot Airstream trailers have been refitted beyond your wildest dreams. Modern minimalism at its most glam, this 'hotel' is like a music video set waiting for the count-in. Each trailer features queen beds, premium organic bamboo linen, a minibar and a virtual concierge via the iPad to help you get the most out of Melbourne's superb dining and entertaining scenes. The Notel has single-handedly invented urban glamping. Or, you know, 'toteling.'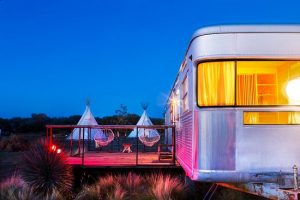 This campground in Marfa, an international art mecca in the Texas southwest, considers itself an "exit from the world of urgency," taking its inspiration from a long, storied American history of nomads and bohemians. Luckily, you're in no hurry. No Airstreams here: Vintage Vagabond, Kozy Coach and Imperial Mansion trailers in four different size categories are sparse and cozy, restored with marine-varnished birch interiors and a hodgepodge of furnishings collected from around the world. Each one has a different combo of camp amenities for cooking, dining, sleeping and bathing. Trailers merely scratch the surface here: The campground also offers a string of teepees, safari tents and yurts. Seriously, they had us at wood-fired Dutch hot tub.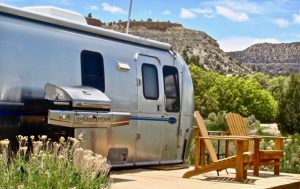 For those looking for kitschy fun, Shooting Star is a campground that used to be a drive-in movie theater. There are nine Airstreams to rent, each one designed to resemble the dressing-room trailers for Hollywood stars. And not just any star, specific ones for certain movies: Marilyn Monroe's trailer when she filmed Some Like It Hot, Elvis Presley's trailer when he filmed Blue Hawaii, Robert Redford's trailer for Butch Cassidy and the Sundance Kid… you get the picture. The movie theme carries on via vintage cars that you can hop into to watch classic movies on the old drive-in screen. This is beyond old school and more of a step back in time. The surrounding natural beauty of Utah is the icing on the cake.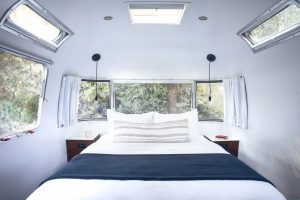 AutoCamp, Guerneville, California
Set in a grove of California redwood trees 90 minutes north of San Francisco in the thick of the Sonoma wine country, AutoCamp is more glamping than camping for sure. Vintage Airstreams feature queen beds, flat-screen TVs, incredible spa-inspired bathrooms and boutique hotel linens. Some have big bathtubs. The jewel in the crown is the mid-century modern clubhouse with indoor fire pit. Cruiser-style bikes are provided for getting around the campgrounds. The nearby Russian River amplifies the fun in the form of swimming and canoeing. There are two other locations in Yosemite and Santa Barbara.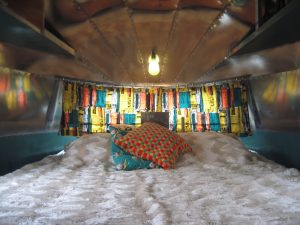 Ten vintage Airstreams have been restored to their original form, each from the year it was constructed, at this peaceful camp in a non-touristy part of southern France. Expect retro dishware, mod accessories, maybe even an eight-track player. With views of the surrounding Pyrenees Mountains, guests can relax or enjoy hiking, biking, swimming, canoeing, horseback riding, climbing, festivals, underground caves, medieval churches and more than a few castles. The website is particularly boastful of the camp's Canadian red cedar hot tub. One trailer has been turned into a food truck and another into a bar. Belly up.
If you like quirky hotels, these ones may have you whistling a happy tune!