These illustrious properties can all connect their dots back to high-profile performers, who you've likely heard rock out on stage or hummed to their biggest hits in your car. From bands like '80s icons to legends like John Lennon, you'll want to bed down for the night at a sharp and chic, rockin' hotel.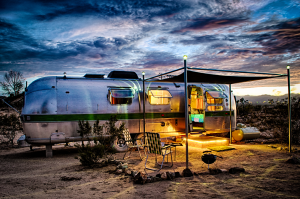 If you've ever seen the vintage hair and makeup looks of Kate Pierson of The B-52s when she's performed, you won't be surprised to learn that her nine-room Kate's Lazy Meadow has a retro aesthetic. Located in the Catskills in upstate New York, this pint-sized property features a bucolic setting that makes it ideal for getting away from it all. Some suites have full kitchens so you can prepare your own 'Rock Lobster' at will. The singer also owns Kate's Lazy Desert, a trailer park near Joshua Tree National Park in California, with six Airstreams to accommodate guests who appreciate the remoteness of the surroundings.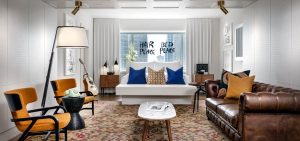 In 1969, all you needed was love, according to Lennon and Ono. The twosome staged their Bed-in For Peace in room 1742. It was event that grabbed media attention worldwide and fans of The Beatles wanted to relive a bit of that history themselves. In 1991, Fairmont The Queen Elizabeth got the official blessing of Ono to allow a room bearing her late husband's name to be booked. Following extensive renovations wrapped up in 2017, all four rooms the couple had rented were combined in one sizeable suite with two bedrooms, two bathrooms, two lounges, a dining room and a pantry. It also incorporates a good deal of technology, including a multimedia display featuring memorabilia, video and audio that capture the week when the couple came to stay, write and record the hit single, "Give Peace a Chance."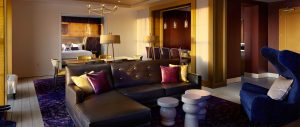 Just steps away from Presley's former home, this new 450-room resort property in Memphis, Tennessee, has style fit for, yes, a king. While it avoids some of the kitschy pitfalls of Graceland, which, let's be honest, hasn't dated well, it still leans heavily on Elvis's life, legacy and style as interpreted by owner Priscilla Presley. One of two of the King's Suites borrows from the legend's bedroom in Graceland with a color palette featuring red, black and metallic silver and gold tones. The other gives a nod to his days in Vegas with furnishings in royal blue and purple. Meanwhile, another suite is named after Elvis's parents, Vernon and Gladys, and taps into a mid-century modern vibe. The onsite E.P.'s Bar & Grill boasts southern fare, from crawfish fondue to peanut butter banana pound cake.
This infamous Hollywood hangout has hosted its share of rockers over its long history. It's where the misbehaving has risen to new highs and lows. Led Zeppelin drove their Harleys through the lobby, while The Door's Jim Morrison clowned around and dangled from his window. The Red Chili Peppers came to stay and play with guitarist John Frusciante, embarking on a drug-fueled bender and lead singer Anthony Kiedis recording vocals for "By the Way." Lily Allen later penned her hit, "F*ck You" while in residence. Styled after a Loire Valley chateau, the property attracts rock stars and celebrities because of the hotel's zealous attention to protecting the privacy of its guests. Spot someone famous? Here, you wouldn't dare approach him or her for an autograph lest you be sent packing.
ABBA's Benny Andersson is the man behind the vision for this contemporary property in the center of Stockholm. It's funky, fun and colorful just like the Swedish super group itself. Andersson took ownership of the 99-room hotel in 2003, but its roots date back to the 1930s. Both the bar and the restored 700-seat theater (where the film Mamma Miahad its Swedish premiere) still have an Art Deco feel. Today, it's a hipster heaven, attracting locals for its lively cocktail scene and the curious who come to hear ABBA songs in a place owned by one of the original members. Guests love its comfy beds fitted with Egyptian cotton sheets, pillow menu and breakfast served in bed around the clock.
Anyone who has seen The Breakfast Club knows it features Simple Mind's iconic, "Don't You (Forget About Me)." The group's lead singer Jim Kerr has done wonders to ensure you don't forget about your stay at his four-star romantic boutique property in Sicily. He fell in love with the place back in 1982—never thinking he'd own it one day. Guests can soak in the swimming pool and nibble on a full Sicilian breakfast from a terrace overlooking the imposing presence of Mount Etna. The views are the star here and rooms are smartly designed with terraces and large windows. Truly unforgettable.
(Featured photo credit: Hotel Rival from website)