"Otherworldly" is often how a stay at The Blue Lagoon Retreat Hotel & Spa is described. This Icelandic hotel's starkly minimalist Nordic design—with its floor-to-ceiling windows overlooking the lagoon that surrounds it—makes you feel almost like you are in a stately castle surrounded by a moat. Its interiors borrow from the dramatic landscape outside its windows, with slate grey and earthy tones reflecting the wide expanse of moss-strewn lava fields and the ice-capped Svartsengi mountains behind the hotel.
In a land straddling the Mid-Atlantic ridge between North American and European tectonic plates, Iceland's tectonic activity is responsible for more than 200 volcanoes across the island, and many geothermal hot springs.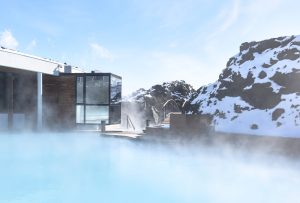 Street cred: It's all about location
The Retreat Hotel is a luxury 62-suite resort adjacent to the famous Blue Lagoon but with its own private lagoon sourced from the same man-made, mineral-rich geothermal seawater drawn from 2,000 metres below the earth's surface. Although right next door to the Blue Lagoon, it is completely private—with no cell phones allowed, and no crowds.
The hotel is in the Reykjanes UNESCO Global Geopark, in an area where mountains provide a barrier from storms and winds, and where you are well positioned to see the Northern Lights and Midnight Sun. (Note that if you're worried about missing the Northern Lights while you are here, hotel reception can wake you up should they appear; that is, if you don't mind leaving the cushiony down comfort of your bed.)
The hotel is only 25 minutes from the airport and 45 minutes from Reykjavik. It is easily accessible by Destination Blue Lagoon buses, which depart from both locations.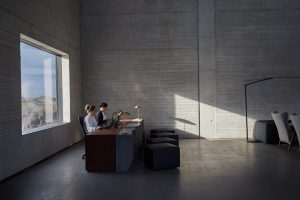 Who hangs here: Is this the hotel for you?
This place is not cheap: rooms with breakfast start at 189,000 ISK/Icelandic Króna per night, which is more than $1,760 Canadian. That means people hanging here are wealthy: many are couples coming for a romantic getaway, or celebrities on holiday or staying here while they are shooting a film or TV series. (I managed to keep my cool when I saw actress Jodi Foster in a bathing suit at the spa, and later seated in a robe at the table next to us at breakfast!) Most guests are American, followed by Brits, and then others from mainland European countries such as Italy, France and Germany.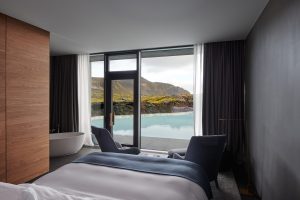 The straight goods: What's in the room?
The Retreat's 62 suites range in size from 40 sqm to 200 sqm, so not huge, but the design is all about clean minimalist spaces, using wood and local textures like granite, slate and cement, which translate to cool greys, browns and black. Each suite is roughly divided into three sections–bed in one area, living area next to the window in another and bathroom in the third.
While designed for comfort and simplicity, the star attraction is the view outside, which you can gaze at from a private balcony (available in all suites) and a floor-to-ceiling window.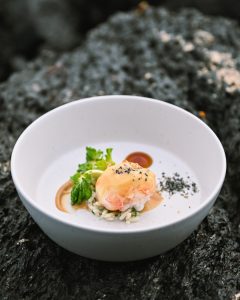 Good eats: Cocktails and cuisine
The drinks and cocktails are as predictably impressive as the rest of The Retreat's offerings. The highlight is their fine dining Michelin-recommended Moss restaurant, with its vegan and omnivore five- and seven-course tasting menus curated by executive chef Aggi Sverrisson, who integrates Asian flavours "with seasonal Icelandic ingredients." The restaurant boasts a world-class wine list, and a subterranean wine cellar, where you can literally "descend" for private tastings which include caviar and champagne from noon to 4 p.m. They also have an "open wine tasting experience" at 5 p.m. daily.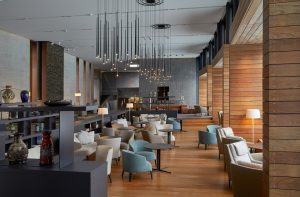 Although unfortunately Moss was shut when we were there (it is closed Mondays and Tuesdays, except on holidays), we had a fabulous meal at their also first-class Lava Restaurant. The meal began with langoustine soup and chicken liver parfait, followed by grilled beef and lamb fillet for mains. For dessert the crème brulée was delicious, but the mango chocolate mousse with vanilla ice cream and draped in salted caramel was the clear winner.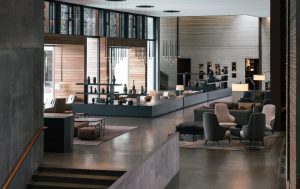 The well-appointed cocktail list has many great options, including ones that offer savory and citrus with not too much sweetness, which is what I tend to look for, but often don't find at other restaurants. Several cocktails feature Marberg gin, which is distilled and bottled in Iceland with accents of juniper, citrus and other fruits. The Blue Lagoon Anniversary cocktail made with this gin, Le Blue, lemon, passion liqueur, orange and egg white was a standout.
Suites include a complimentary in-room bar, and drinks are also available while you are in the lagoon. So, floating in the lagoon with a glass of champagne is a realistic expectation. For lighter options, you can also eat at the spa restaurant, or at the café.

Bragging rights: What else has it got?
The star attraction of the hotel is its private lagoon, with separate area for in-water treatments, and subterranean spaces: These include a "lava-walled" steam cave and cold plunge pool, a sauna, two treatment rooms and relaxation areas. I loved the Nest, where you can relax in a suspended "nest chair," and the Lava Spring, where I curled up in a darkened room and listened to sounds of water hitting the roof. The sauna has a picture window overlooking the lagoon's mystical waters, and there is also a place to relax by a wood-burning fire.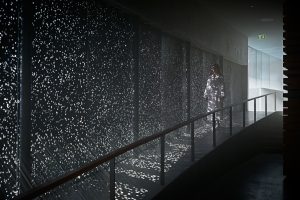 Part of the spa indulgence is "the ritual," which involves a three-step process where you lather yourself with silica, algae and minerals from the geothermal seawater that surrounds you. But, admittedly, the most unique element of my spa experience was my in-water massage. Unlike Watsu, it was an actual full-body massage. Located in a separate area of the lagoon, I lay on a mat covered with a blanket. The masseuse poured warm oil over parts of me as she did the massage, and every few minutes pushed down on the mat, so a flood of hot warm water from below kept me warm and comfortable.
Included in your stay is a gourmet breakfast, 4 p.m. Icelandic coffee time with traditional Icelandic treats and daily 9 a.m. yoga in a studio with the same stunning view of the lava fields from its floor-to-ceiling window. Each guest also gets a designated host who is available to help with anything you need during your stay.
Parting shot: If we could change one thing
Honestly, I'm stumped. This is a place where your every need is anticipated and responded to before you even ask.
Photos courtesy of Blue Lagoon Iceland.