This new property, which opened just over a year ago, is located in Burlington, a geographic sweet spot between Toronto and Niagara. For visitors to the province of Ontario, it offers the best of both worlds. A short hop to Toronto puts you in the middle of the action for A-list tourist attractions such as the CN Tower and the Royal Ontario Museum. A short hop in the opposite direction gives you access to a myriad of wineries, Niagara Falls and a slew of fun activities.
The Pearle Hotel & Spa is Ontario's very first entry under Marriott's Autograph Collection, a curated roster of distinct independent hotels that offer a next-level experience for guests. The property has already proven that it is a worthy fresh addition, thanks to its great location, superior service, memorable restaurant and modern guest rooms.

STREET CRED: IT'S ALL ABOUT LOCATION
Being right on the shore of Lake Ontario has its benefits. The views are fab and there's a perfect path along the waterfront, ideal for leisurely strolls, sunset views and morning jogs. Meanwhile, you have a wealth of chic boutiques and eateries nearby in the heart of Burlington's dynamic and compact downtown area.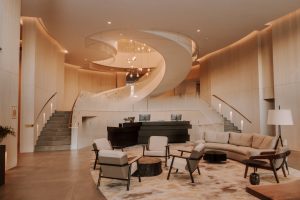 WHO HANGS HERE: IS THIS HOTEL FOR YOU?
It was a mixed bag during a recent stay, but what stands out is that locals like to hang out at The Pearle, too. They were clusters of girlfriends out for drinks and eats, families celebrating birthdays and couples enjoying the fresh lake breezes on the patio. It's refreshing to see a hotel being used by those living in the community and mingling with out-of-town guests. It creates a lively dynamic that gives the property personality.

THE STRAIGHT GOODS: WHAT'S IN THE ROOM?
The Pearle has 151 guest rooms. Its décor taps into a modern lake-house aesthetic with white oak panelling and large windows that make the most out of the waterfront vistas. My room (a larger studio with a king and lake view) felt like tranquil sanctuary with a light, neutral color palette, a chaise by the window (hello, nap time!), a Nespresso machine, and a stylish very on-trend bathroom dressed up in black tap and faucets.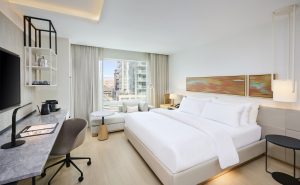 The bed begged to be rolled in, courtesy of those buttery soft, luxe linens and puffy duvets. Bonus points for having plugs exactly where plugs should be so I can charge up my phone without having to go hunting for outlets.

GOOD EATS: COCKTAILS AND CUISINE
I would go back to the Pearle just to eat at Isabelle, the hotel's on-site restaurant again. It's that good. In a bright, airy dining room, dishes flow out of the busy open kitchen at a steady pace. They highlight Ontario ingredients but marry them with global flavours and international spices. Grilled salmon comes with a coconut curry sauce, good to the last scrape of the plate, and a hearty tagliatelle Bolognese is so tasty that leaving any to take home was not an option. The sides at Isabelle shine brightly alongside the entrees. Afterthoughts they are not. The crispy potato, cut into super thin slices, then deep fried and seasoned, was a hands-down winner. Even my picky eater of a husband loved the brussels sprouts and cauliflower with herb tahini.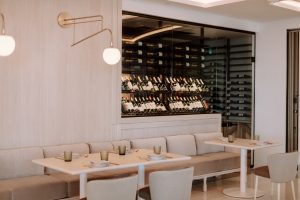 Cocktail offerings demonstrate there is plenty of talent behind the bar, enough that you could just put your trust in the bartender and let them create something delicious. There are always new reasons to come back since the menu changes with the season. A winter mule brings together Ketel One vodka, homemade cranberry syrup and ginger beer, while the violet akoya unites Empress gin, sake, yuzu and peach in a fruity refresher.
For quick, casual bites, there's also an Earth to Table Bread Bar location. The local chain is known for its excellent baked goods and stone-baked pizza. Its outlet at The Pearle offers breakfast (including an eggs Benedict served on a croissant) and an all-day menu with everything from pasta to soup and burgers.

BRAGGING RIGHTS: WHAT ELSE HAS IT GOT?
If it's some chill time, you're after, you're in luck. There's an indoor pool, ideal for some leisurely splash time, and an on-site spa with a full slate of pampering services. I tried the Eternal Glow facial, a 60-minute treatment that left my skin silky as a kitten's fur. The results lasted for almost a week, which is not usually the case. While I was being buffed and massaged, I was super comfy on a heated massage bed, which helped my brain slow down enough to really relax.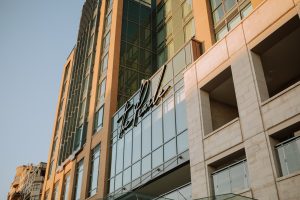 A FEW OF OUR FAVORITE THINGS: WHAT STOOD OUT
You might be wondering about the name of the hotel. Why Pearle? It comes from the owners, the Ciancone family's grandmother, Pearle. She was a true trailblazer in hospitality, an early pioneer of the eat-local movement. Her presence is felt throughout the hotel with postcards in her handwriting in guest rooms and vintage photos of the beach, bathing suits and horse-drawn carriages from her time spent in Burlington. Pearle adds to the charismatic personality of the hotel and sets it apart from many other properties cut from the same cloth. The Pearle, like its matriarch, is unique.
PARTING SHOT: IF WE COULD CHANGE ONE THING
From service to room cleanliness, the Pearle delivered, but, if I must pick one thing to change, I'd like to see the bathrooms stocked with bath sheets. You know, the ones that are large enough to wrap around yourself as you step out of the shower.
Rates in January start at CAD $341.
Photos courtesy of The Pearle unless otherwise indicated. Feature image by Sandra Monaco Photography.
Michele stayed as a guest of the hotel. It did not have editorial approval.