Strasbourg, found in France's Alsace region, is an historic city that sits closer to the German border than it does to Paris or Lyon. And while most other European cities have historic centers, Strasbourg stands out as a remarkable adherent to the past. Buildings have been carefully preserved or restored to reflect the beginnings of this Alsatian gem. Nowhere is this more evident than at Cour du Corbeau Strasbourg, an Accor brand MGallery hotel.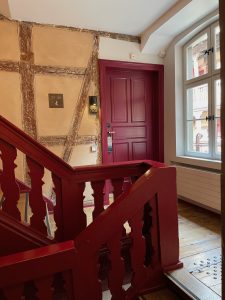 From its weathered wooden balustrades to its cobblestoned or tiled floors and red doors (whose hue has been replicated from the original pigment found by the hotel's restorer), this is as authentic a property as you can get.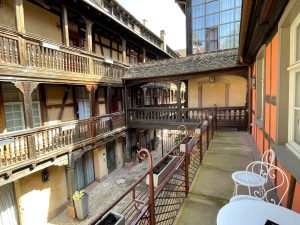 Street cred: It's all about location
This historic hotel started life as a coachmen's inn in 1528 and remained as such for the next three centuries before part of the property became a glasswork studio in 1852. It has housed and fed many famous guests over the years, including Frederick the Great, Alexandre Dumas and Voltaire.
It can be found in the historic heart of Strasbourg, on the southern side of the River Ill, down a short cobblestoned entryway. When you walk through the courtyard of Cour de Corbeau, you leave the bustle of popular sites that stand just outside its doors, including the Gothic Strasbourg Cathedral, the Palais Rohan and the Historical Museum, and enter a tranquil world enmeshed in a previous century, yet not lacking in modern conveniences.
Who hangs here: Is this hotel for you?
Guests are a mix of leisure and business travelers, with a slight slant towards a younger crowd.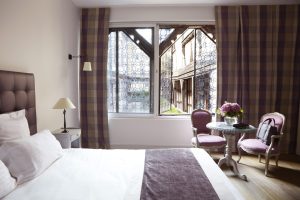 The straight goods: What's in the room?
One of the best things about this 63-room property is that each room and suite is unique. Sharing standard amenities such as warm-hued wooden floors, white Restoration-style painted white wood and red velvet furniture, taupe- or camel-colored headboards, satellite TV, mini-bar, desk, safe, air conditioning and free Wi-Fi, it is the differences that make Cour du Corbeau stand out.
In your room, you could find original stained-glass windows, old timbered beams, stone-blasted brick, a balcony looking out over the courtyard or a secret private garden.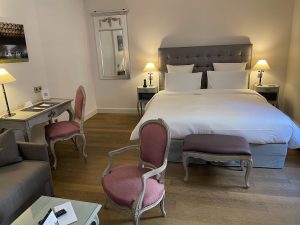 I stayed in room 120, a spacious junior suite that balanced the property's heritage with a guest's modern needs. As you enter the room, there is a quirky, wooden half step that reflects a well-trodden history, worn out in the center by thousands of visitors before me. Facing a hall that leads to the main part of the suite, there is a commode, a closet with plenty of shelves and the main bathroom off to the left.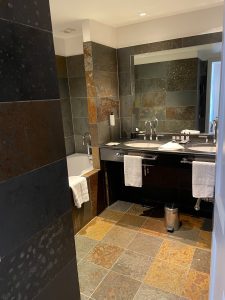 Tiled grey- and rust-colored walls and floors, a bathtub/shower combo, heated towel rack and Codage Paris toiletries made up the amenities in the bathroom.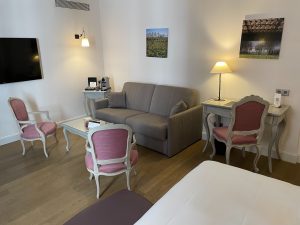 The rest of the suite contained a sitting area with sofa, chairs and a coffee table, a much-welcomed Nespresso machine plus tea and kettle, desk, queen bed and small night tables. I could have used an additional socket by the bedside but, considering the property is five centuries old, I could overlook this modern hotel faux pas.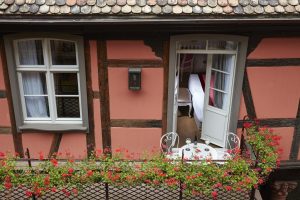 An iron balcony that extended the entire length of my room meant that I could almost walk the length of the courtyard from above and left me feeling like I owned the place. The room managed to be bright during the day and cozy at night.

Good eats: Cocktails and cuisine
For a small hotel, the breakfast buffet was quite surprising with a wide selection of yummy goods. Housed in the property's former stables, guests could select glass jars of sliced seasonal fruit, fresh yogurts and creams, fruit juices, local Tomme 'prés du Ried' cheese and charcuterie, breads and pastry, plus a selection of made-to-order eggs.
The breakfast room/bar itself was long and narrow, pleasant and comfy. Service struck a good balance between attentive and doting.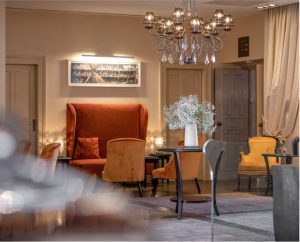 Bragging rights: What else has it got?
If you feel like being out in public but would still like a quiet place to read or work, there is a nice lounge off the lobby where you can settle in with complimentary tea or water.

A few of our favorite things: What stood out?
The long courtyard off the back entrance of the property is a beautiful spot. With white wrought iron tables and chairs, it is a lovely place to have a glass of local wine in the evening.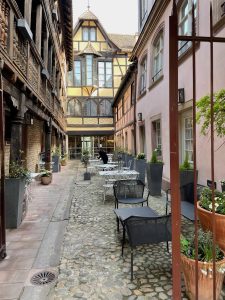 And, of course, the heritage of this hotel—one of the oldest in Europe—and the attention paid to its detailed restoration make it truly special.
Parting shot: If we could change one thing
Although not unusual in this part of the world, I would have loved to have a restaurant onsite to get a bit of dinner when I was too pooped to head out. Saying this, however, there is room service available 24/7.
Take note: If you have mobility issues, make sure to inform the hotel in advance. Because each room is unique, there may be stairs involved. However, the staff is happy to accommodate your needs and make sure your assigned room will be one that is easier to access.
Rates in January start at €161.60.
Photos by Janice Tober except where indicated. Hero image by Giljean Klein.
Janice stayed as a guest of the hotel. The hotel did not have editorial approval.