Picture an airport hotel. Are you thinking a lot of beige? Functional, but hardly thrilling?
Ok, now forget that. 
The Versante Hotel may technically be an airport hotel, but unlike many airport hotels, it isn't a sad place you HAVE to stay at; the Versante is an elegant spot you GET to stay at.

Street Cred: It's All About Location
The yearling boutique hotel in Richmond, B.C. is located an easy five-minute drive from Vancouver International Airport (YVR)–made all the easier by a complimentary transfer in a roomy Mercedes van. We wouldn't call the immediate area "atmospheric" exactly. More "light industrial/commercial." However, it isn't much of a hike to get to interesting Richmond spots like Aberdeen Centre (with some great shops like Oomomo for browsing) and Yaohan Centre, where you might want to pick up some yummy Asian snacks. There is a trail by the river with wide paved paths dotted with benches that are perfect to sit and chat or plane- and bird-watch. 
With any luck, your stay will coincide with the Richmond Night Market (Friday-Sunday nights during the summer) as the Versante Hotel is directly across the street from the night market grounds. Strolling through the lanes of vendors with the delectable smells wafting from the food stalls would have you believe you have been transported across the Pacific.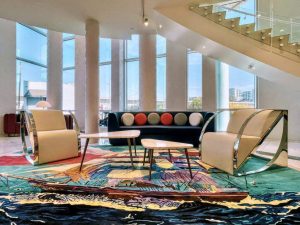 Who Hangs Here: Is This Hotel for You?
This is a hotel with a trendy vibe. It feels like the lobby was made for hip young professionals to sit in, although I witnessed many age groups with varying degrees of hipness and professionalism. 
While it isn't an adults-only property, we wouldn't say it is designed with kids in mind (although we were assured there have been families that stay there.) We'd be more comfortable bringing a pet (dogs are very welcome!) than a rambunctious toddler, honestly.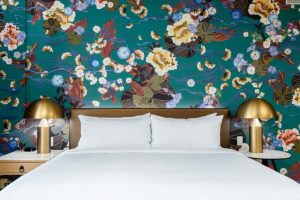 The Straight Goods: What's in the Room?
The Versante has 100 rooms, nine of which are cozy rooms with a king bed and a walk-in rain shower in the washroom; 76 are larger rooms featuring either two queens or a king (with a soaker tub in addition to that lovely rain shower). The remaining 15 rooms are suites of varying size, the largest being the opulent Versante Suite, clocking in at a sprawling 2275 square feet.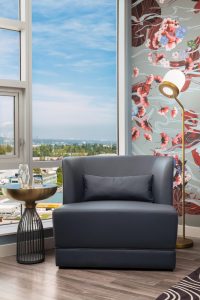 Every room has a feature wall with luxuriant covering: showy blossoms and koi fish swimming against a deep, rich colour like navy blue or dark maroon. A golden poodle lamp on the desk is a fun touch, and the art on the walls is a mix of bold graphic art and bright, vaguely Fauvist prints.
There is a nook for the Nespresso machine (creamer but no cream) and a bar fridge beside the open closet.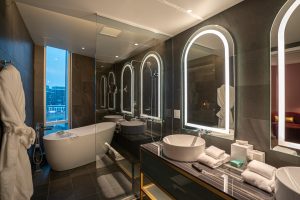 Now, back to the bathroom, because spa-inspired bathrooms are important to us. Besides the water closet on one end (complete with glass door I continually left open and subsequently walked into) and double sink vanity in the middle, was the aformentioned rain shower and tub behind another glass wall. The soaker tub was deep enough to soak knees and collar bones at the same time, a serious bonus in our book. The Red Flower toiletries smell like hushed spa voices and relaxation and the Dyson hairdryer has us seriously considering splashing out to buy one for home.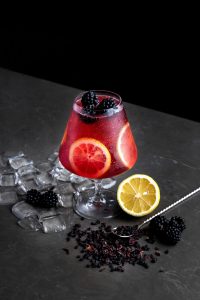 Good Eats: Cocktails and Cuisine
Bruno is the name of the chic lobby bar and restaurant. Make sure you look up as you pass through the bar to get a peek at the hot pink glass chandeliers, each bulb upheld by an undulating octopus tentacle. Bruno is open for breakfast, lunch and dinner during the week and for brunch and dinner on the weekend. Hotel-Addict enjoyed gorging ourselves at breakfast one morning. Our best advice is to find someone willing to share plates because deciding on just one thing is going to be impossible. Don't miss the crab croquette and poached eggs with nasturtium cream or the passion fruit coconut French toast.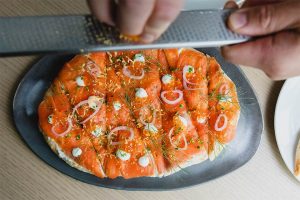 Later for dinner we enjoyed the "Bruno Board Experience" tasting menu, a sampling of the kitchen's talents with things like raw and torched oysters, a burrata salad we continue to dream about, and melt-in-your-mouth pork belly. If we had one complaint it is that there was too much for us to possibly eat it all.
Adjacent to the hotel is Club Versante, which is home to a selection of additional spots to sip and nosh, namely Cask Whisky Vault with whiskey flights and a Japanese-paired tasting menu, and Oh La Cha that features a Mediterranean taste of the French Riviera. 
Bragging Rights: What Else Has it Got?
The art throughout the hotel really is gorgeous. Take the time to scope out the touches in the lobby: the brilliant carpet with the nautical theme is so lovely you barely want to step on it. The oversized painting leaning against the window captures the vibe of opening night at Bruno and was created live during the event. Make your way up the curved stairway to the unisex bathrooms with red paper lanterns and lion heads guarding the doorways. 
Even the utility stairwells have been given the artful treatment with an elegant take on street art splashed across the landings.
One of my favourite pieces has unfortunately been placed in a way that limits the viewing pleasure. Try to angle yourself to see behind the front desk (or ask if you can step behind the desk for a better look) and gaze up at the coal-black 3D rendering of Richmond. It's such an interesting piece, we wish more people could see it!
A Few of Our Favourite Things: What stood out
If you can't tell already, we love hotels. You might even say we are "addicted" to them. One of the things we love about hotels is attentive staff. And while bad service at a good hotel is thankfully rare, we have been subjected to service that might be best described as "disinterested." 
Every person we encountered at Versante made the whole experience a little better. Not in a fake obsequious way, but in a genuine, friendly way. Many of the staff we chatted with had a background in hotels, and the experience and passion for their chosen career paths shone through. 
Parting Shot: If We Could Change One Thing
Figuring out some of the tech in the room was harder than we care to admit. We aren't going to tell you that we slept with the bathroom light on one night because we couldn't be bothered to fiddle with the light switch panel anymore, or how long it took to get the coffee maker to work. We certainly aren't going to reveal that we tried to change the TV channel with the cordless phone. We are marginally tech-savvy and still had a few struggles…it can't just be us? The hotel now has an app that was unavailable to test at the time we visited. We have high hopes it is idiot proof and won't say anything more about that.
We found rates at Versante Hotel in October for CA$349 (US$265) per night.
Jen stayed as a guest of the hotel. The hotel did not have editorial approval.
Photos courtesy of Versante Hotel.