Looking for something to do with 39 of your closest friends while visiting Australia? Well, look no further because we got you.
Ovolo Hotels, a brand owned by a Hong Kong-based family, is offering those looking for a fancy overnight stay the chance to buy out the Brisbane-based The Incholm by Ovolo for one night, when it will become the Grey Goose Hotel, as in, yes, Grey Goose vodka.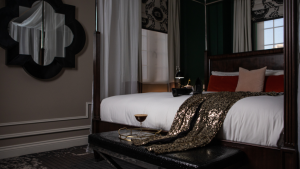 For AUD$49,999 (or around US$37,230), guests will have exclusive access to The Inchcolm, a 50-room luxury lifestyle hotel. Building on the property's 1920s architectural origins, it is transformed into a glamourous Gatsby-esque pleasure palace as the Grey Goose Hotel.
Start your stay mingling amongst friends at The Incholm Bar with a Grey Goose martini tower and drinks that flow freely for five hours.
The night continues with a specially prepared three-course dinner by the hotel's culinary creative director, Ian Curley, or 2017 MasterChef Australia winner, Diana Chan—paired to go with an ice-cold martini, of course.
Make sure to pace yourself as you move on to a martini masterclass, one that James Bond would be sure to approve of, taught by Grey Goose's brand ambassador. Then learn how to pick and shuck oysters like a pro.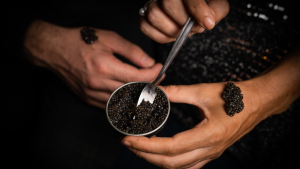 Last on the list is a decadent caviar tasting with one of the world's finest producers, Simon Johnson. Beluga, baerii, oscietra and white sturgeon are all there waiting to be beset upon by caviar aficionados.
At the end of the feasting, take your full belly up to your room for a solid bit of shut-eye, before breakfast and a few cups of coffee send you on your way.
The guest list at the Grey Goose Hotel can expand up to 80 but, then, so does the price. To book, visit The Incholm by Ovolo.