When hotels were renovating their bathrooms a few years ago, bathtubs were often left out of the new looks. Designers instead chose to go all-in on showers. Bath enthusiasts mourned the loss of an opportunity to take a leisurely soak in their rooms. Recently, the tide has turned and many properties are not only celebrating tubs but elevating them into true wellness experiences with luxurious amenities.
In February 2022, Shangri-La Hotel, Toronto launched a pilot program—Canada's first-ever bath menu with concierge service in partnership with Bathorium, Canada's iconic bath brand. To begin the ultimate bath experience, all guests need to do is dial 0 and all the essentials will arrive at your hotel room door tout de suite. After all, Shangri-La is renowned for its top-notch service.
What's your idea of bath perfection? Peruse the menu and order a glass of champagne to sip as you soak, or add fresh flowers? Perhaps add an extra decadent touch like vegan coconut milk powder or Tibet magnesium salt flakes to ramp up the luxury alongside Bathorium products like Aphrodite (North America's biggest bath bomb), or best-selling products like Ancient Oat Hydration to nourish dry and achy skin. Five unique bath experiences are available focused on Bathorium's clean bath products formulated with high-quality clays, salts, essential oils and vegetable butters—all sustainably sourced. They're also free of harsh additives or synthetic fragrances.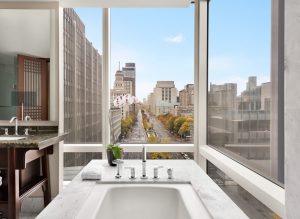 During your hotel stay, you may choose a lemongrass and French lavender soak appropriately named the Signature Shangri-La Soak. Each sachet (120g) is available on the menu or for purchase to those wishing to repeat the experience at home. The deliciously fragrant soak creates a beautiful crema on top of the water, while magnesium Epsom salts and shea butter soothe the body from head to toe.
It's all part of Bathorium's quest to #BringBackTheBath. And it started back in 2014, when Greg Macdonald founded his company, Bathorium, inspired by a life-changing bath in Europe. What happened to turn him into such a bath enthusiast? Hotel-Addict.com had to find out.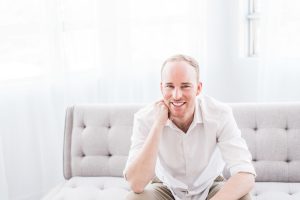 Hotel-Addict: Why did you decide to create Bathorium?
Greg Macdonald: While I was attending university in Toronto and bartending at the Shangri-La, I started a bakery called Wellington Bread. I made artisan bread for locals. I was doing three things at once. I'd get home from bartending, sleep a couple of hours and then start making the first batch of bread. That would be my week. It wasn't a scalable business, but it did give me my first taste of entrepreneurship. After I closed my baking business, I went to Europe for eight weeks. I backpacked all the way from Ireland to Italy.
H-A: It was Italy that really had a dramatic impact on your life, wasn't it?
GM: True. I had rented an Air Bnb property there. The homeowner had a gorgeous clawfoot tub and, nearby, she had what I called a living apothecary. She had a shelf full of butters, clays, salts and oils to add to the bath. I had been just having showers for the last two months, so when she offered to draw me a bath, it sounded lovely. When I got into the bath with its cocoa butter, essential oils and milks, I had an Oprah aha moment. It was the greatest bath I'd ever experienced.
Afterward, I realized that I just had to recreate this experience back in Canada. Once I returned home, I tried every bath product around to see what was out there. There was nothing available comparable to what I had experienced in Italy. It led me to create Bathorium, which now has 45 full-time employees and 1,000 retail locations worldwide. We now work with hotel partners like Shangri-La and the Four Seasons on everything from amenities to bath butler services.
H-A: Your focus is on "clean" products. Can you talk a bit about that?
GM: I think in 2014 there was a reckoning that began in the beauty industry with an increasing awareness of its use of parabens, phthalates and fragrances. There was a huge movement to move to better alternatives. That led me on a journey to create all-natural, clean formulas for our Bathorium products. After they were featured on Good Morning, America in 2018, things really took off and propelled us into retailers like Anthropology and Urban Outfitters.

H-A: Let's talk about hotels. There was a time when many took out their tubs and went with showers only or bath-shower units. Now, things have changed and stand-alone tubs are back.
GM: Hotels are seeing a huge influx of people using the tubs, according to industry reports that received feedback from housekeeping staff. They could see if the tubs and towels were being used. There has been a significant shift.
It's wonderful to be able to check into a hotel, whether you're traveling for leisure or on business, and find a beautiful tub that's all clean and ready for you to use. For me, that was always a refuge. I loved that. When we started approaching hotels, they had great tubs but didn't really focus on the experience so we developed custom soaks unique to each property, like lemongrass and French lavender for the Shangri-La to tie into their Asian roots and eucalyptus and coriander seed for the Four Seasons.
We went a step further for the Shangri-La and developed bath butler services. We crafted an experience where people can actually use the tub and have it be memorable.  You can plan your night around it. The Shangri-La bath program has been very well received and we're getting wonderful feedback from everyone, including influencers and celebrities. For TIFF this year, we will go even further and add high-end bath treatments with everything from real gold leaf to 1,000 Siberian roses.
H-A: Why is this the perfect time for the return of the bath?
GM: During the pandemic when we were spending more time at home, being able to lock the bathroom door and enjoy a bath for 30 minutes or an hour was a way to get time for yourself. It became a self-care journey—something that gave you a sense of tranquility and escapism. People really started to lean into bath culture. It's a new routine that will continue and they'll become more educated about the products they use, then choose better alternatives.
H-A: You've stayed in a lot of hotels around the world. What are some of your most outstanding bath experiences?
GM: Hands down, it was that bath in Italy. But I've also had memorable soaks at the St. Regis in Toronto, where there's a chandelier by the tub. I also stayed at The Shard in London, where you had views of the entire city and windows that opened to bring in a fresh breeze. On my bucket list, there's a place (Auberge Aux 4 Vents) in Fribourg, Switzerland, with a bathtub on tracks that will move you out through the windows and onto a little balcony. That's one I'd really like to try now.
We found prices at Shangri-La Toronto starting at CAD$652 (USD$505) in June.
Michele stayed as a guest of the hotel. The hotel had no input on editorial.
(Photos courtesy of Shangri-La Hotel, Toronto and Bathorium.)