The town of Tofino may only have a population of 2,000 but it has the reputation of a city 100 times bigger. From whale watching and storm season, to hiking and water sports, Tofino lures those who want to keep visitors immersed in Vancouver Island's wild spaces. And for those who prefer to observe Mother Nature rather than get up close and personal, this wee town is a foodie dream with numerous options for local, organic and sustainably-sourced cuisine.
Tofino Resort + Marina has transformed itself from a 1970s motel to a contemporary resort with 62 sleek rooms, many with sea-views and all pet-friendly. The resort includes two dining options, an Adventure Centre for tours and fishing charters of Clayoquot Sound and a state-of-the-art gym good enough for NHL players (the BC ownership group includes retired NHLer Willie Mitchell and current Dallas Star Dan Hamhuis.)
For those who want to arrive by sea, the resort has the newest marina in the region and can accommodate sea vessels up to 130 feet in length.
Street cred: It's all about location
Located on the northern tip of the peninsula, the resort is found near Pacific Rim National Park Reserve. In less than 10 minutes, you can be in the heart of Tofino's small but mighty downtown, another five minutes to reach the Pacific terminus of the Trans-Canada Highway. Head across the street to the west side of the peninsula to access a trail to wander expansive Tonquin Beach.
Who hangs here: Is this hotel for you?
With multiple options for rooms that can sleep one to four, outdoorsy couples, friends and families can easily bunk here, with its close proximity to town and the resort's tour and dining options a quick jaunt down the hill. Couples wanting a romantic moment will appreciate the nightly sunset view from a balcony or the Hatch Waterfront Pub patio.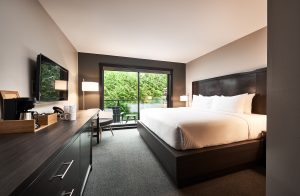 The straight goods: What's in the room?
Tofino Resort rooms are contemporary and minimalist with an eye for those who will spend most of their time outside. The simple décor style is done in gray, with accents of black and white, and the room includes an additional punch of color with a photo wall mural of a surfer or the rainforest. Whether king, queen or twin, platform beds are made with layers of snowy-white linens and the night table features USB ports and outlets to charge tech accessories.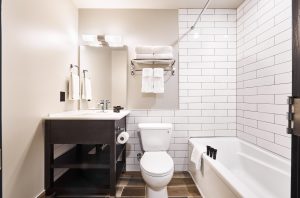 Bathrooms are small but with all the essentials, and rooms feature an alcove for hanging items, a wall-mounted shelf/cabinet with a coffeemaker, kettle, drawers, a 40″ flat screen TV above and a small fridge below. Suites include a sitting room with a second flat-screen TV while guests on the second and third floors have small balconies with Adirondack chairs and a drying rack for outdoor gear. Parking and Wi-Fi are complimentary for guests.
Bragging rights: What else has it got?
You can book tours to see whales or bears, visit a local hot spring in a nearby marine park or charter a boat for a day of fishing or time on the sea at the resort's Adventure Centre, located beside the marina. And if you're one of those who plans to haul a fresh catch of fish or seafood, one of the Resort chefs will happily prepare it for dinner that night.
Good eats: Cocktails and cuisine
The Hatch Waterfront Pub is a hang-out for locals and visitors, opening at 11 a.m. daily until late for lunch, snacks and dinner, overlooking the marina from inside and from its spacious patio. The menu features many items perfect for sharing (made with locally-sourced ingredients) like dry ribs, fresh oysters, nachos, tempura prawn, fish tacos and crab and artichoke dip. Parents will appreciate the Kids Menu, with its more-than-noodles-and-cheese options like grilled chicken and fish.
Indulge in one of the house-made pizzas, such as the smoked salmon with white sauce, chives and arugula or chorizo salumi with tomato sauce, green olives, fresh mozzarella and green chile, baked to order in a wood-burning oven. All items are also available for take-out.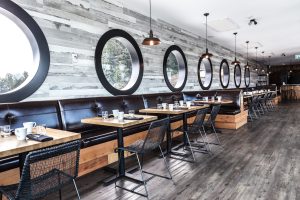 The adjacent 1909 Kitchen offers breakfast, lunch and dinner with a menu created by Chef Paul Moran. Featuring even more local (and many foraged) ingredients, the menu is meant for sharing. Although the tasty Mango Acai smoothie bowl on the breakfast menu is a reason to not allow extra spoons.
Consider starting with scotch olives, crispy baked baby kale with feta and grapefruit or the steamed and chilled snap peas with seaweed—great to pair with a pint or a cocktail. And definitely have the greens with this pretty and delectable salad: delicate side stripe shrimp with apple, avocado, cucumber, iceberg lettuce, cocktail sauce and jalapeno. The menu offers a wide range of local seafood and meaty options such as black cod roasted on cedar or a steak with chimichurri and mushrooms.
And for those who want a special treat, book at least 12 hours ahead for the Late Night Al Forno: three courses, including arugula and fresh mozzarella salad, two pizzas, 40 oz Tomahawk steak, four lobster tails, frites and tiramisu for C$75 each ($56).
A few of our favorite things: What stood out?
We loved the Hot Springs Cove Tour—a boat outing through Clayoquot Sound that offers the chance to see wild creatures of the region before arriving at Maquinna Marine Park for a 40-minute hike to Hot Springs Cove to soak in the natural hot springs. Hatch Pub can set you up with a packed lunch for the tour.
And do ask for a second or third floor room: Having a deck with a sunset view of the marina, sea and nearby forest is a bonus every night while on the edge of the Vancouver Island rainforest.
Parting shot: If we could change one thing
We appreciate the tech-savviness needed to make a small bathroom that features a motion sensor to turn on the light and fan when someone enters, but it becomes annoying every single time, especially in the middle of the night.
A king room with balcony on the second floor starts from C$148 ($111) per night.
(Featured photo credit: Leila Kwok)
Waheeda stayed as a guest of the hotel. The hotel did not have editorial approval.
Originally published June 26, 2018.