The Çırağan Palace Kempinski Istanbul is one of those bucket-list hotels that is steeped in history and has a beauty that transcends the decades. This former Ottoman palace has been around since the 1600s, and a Kempinski property for 30 of those storied years.
But, unlike a normal birthday celebration, the Çırağan Palace isn't expecting presents but is giving gifts to its guests. Instead, it's offering special packages to help you escape to a pleasant past. Which luxurious experience should you choose? Here are some of the offers to consider:

For luxury lovers who want to up their hotel game
With the 30 Years Palatial Experience, guests are given a chance to partake in a time-travel type experience with extravagant accommodation in a palace suite.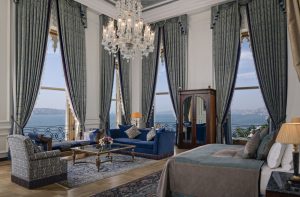 These notable suites are found in the historical palace section of the hotel and have a private entrance to a lush lobby, occupied by only your fellow palace guests.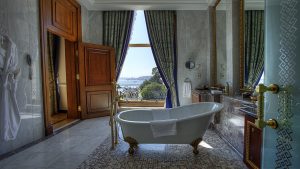 You'll find your personal palace suite to be large and high-ceilinged, bedecked with grand antiques, sumptuous textiles and gorgeous architectural details. Butler service, of course, is included as is the—yes—soap service and breakfast.
Note that you need to book this package by the end of February 2021.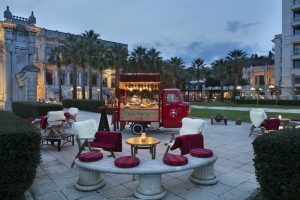 For those who want to wine-and-dine in a new pop-up bar
The 30 Years Berthold Package comes courtesy of Berthold Kempinski, the founder of Kempinski Hotels and a pioneer in the food and beverage industry.
This package includes daily breakfast in a luxury room, but the true delight is having a complimentary glass of Turkish wine paired with cheese in the brand-new pop-up space, Berthold, nestled in the palace grounds with a view over the Bosphorus.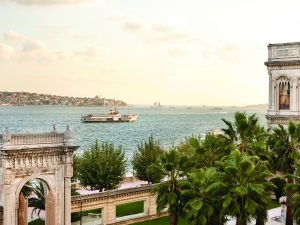 For city explorers who want the personal touch
Istanbul has a wealth of things to see and do and the 30 Years of Appreciation package will let you do just that.
Along with your night in a luxe room and a full breakfast, you'll be met at the Çırağan Palace by your personal tour guide, who will give you a customized city tour aboard a private vehicle. And, in Istanbul, not just anyone can be a tour guide—this is a university-educated profession here—so get ready to absorb the fascinating story of this great city.
If you want to know more about what it's like to stay at the Çırağan Palace Kempinski, see our full review.
For detailed information and to make a reservation, call 0 (212) 326 45 00, email reservationoffice.ciraganpalace@kempinski.com or book online.
Turkish Airlines offers multiple flights per day to and from Istanbul and is a member of Star Alliance.
(Photos courtesy of Çırağan Palace Kempinski Istanbul)