[Editor's note: Sparkling Hill Resort is currently open but some facilities and amenities may be closed or unavailable during the pandemic. Please contact the resort for further information.]
Driving along the winding hillside road, you'll catch glimpses of the modern lines of the Sparkling Hill Resort (located outside Vernon, British Columbia) long before you get there. It's just a taste of the elegance to come.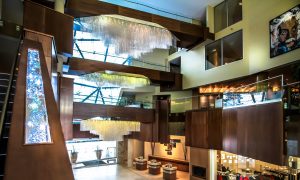 Walking in under the oversized crystal window, the undeniable sparkle of the place hits you. From each of the three stories towering above the lobby, thousands of crystals cascade down on single strands. The deconstructed chandeliers set the understatedly opulent tone that carries throughout the property. And it is quite the property! Owned by the Swarovski family (yes, those Swarovskis) the resort with 149 guest rooms was conceived as a way to bring the concept of European health spas to the Okanagan. In 2020, the resort marked its 10th anniversary.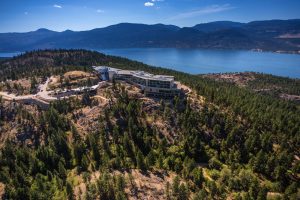 Street cred: It's all about location
Once you check in at Sparkling Hill, you are just going to want to stay. And that's a good thing, considering its relatively isolated location in the hills about a 20-minute drive from the town of Vernon.  There are hiking trails surrounding the resort, if you want to tear yourself away from the spa, and ample pretty lookout spots to enjoy the views of the Monashee Mountains or Okanagan Lake. The resort's closest neighbour is Predator Ridge Resort, which runs a shuttle for the approximately seven-minute drive between the two properties, if you want to head down the hill for a round of golf or a meal. It's a lovely walk if the weather is fine, but you'll probably want a ride for the uphill trek back.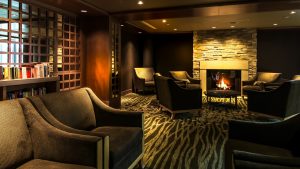 Who hangs here: Is this hotel for you?
This is a resort for grown-ups. No one under the age of 16 is permitted to stay on-site, so as a family vacation spot, it's out. But for couples looking for a bit of a romantic getaway, it's a little piece of heaven. We noticed several groups of women staying, too­. Soaking your cares away with your besties would be a wonderful way to spend time at Sparkling Hill.
The peaceful atmosphere of a spa permeates the sophisticated property, complete with hushed voices and herbal scents wafting through the air. Being associated with the Swarovski family means there are crystals accenting almost every surface of the place: embedded on the stairway bannisters, sprinkled along the chairbacks, dropping from the ceilings… even in the elevator. Everything sparkles, yet manages to feel chic rather than kitschy or clichéd.
Many people stay for two or three nights to enjoy the pools, saunas and spa treatments. There are also five- and seven-night wellness packages including food and things like consultations with various health professionals and exercise regimes to help you meet your wellness goals.
The straight goods: What's in the room?
The rooms continue the luxurious wellness vibe. Bright and airy, accented in crystal, with a sliding wall of windows that look out over either the Monashee Mountains or Okanagan Lake. Clean European lines inform the design, feeling opulent yet thoroughly modern. We were big fans of soaking in the two person, crystal-shaped tub under the starlight ceiling (teeny tiny light up crystals scattered across the ceiling) and having a sexy cuddle in front of the crystal-adorned faux fireplace.
Rooms are available with two queens or a king-sized custom "Sparkling Hill wellness" bed. Crisp linens with a duvet and plenty of pillows made a cozy nest for sleep-ins and afternoon naps.A desk provided enough space to work, and we loved not having to fight for outlet space, as there was plenty. We preferred moving the laptop to the window and making use of the comfy lounge chairs rather than perching at the desk.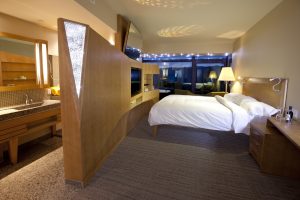 Word of warning: If you are not on a sexy holiday, the guestrooms are open. Very open. The "open bathroom" concept popular with modern hotel designers is here too, with a shower that is glass on three sides and the bathtub situated out in the open beside the floor to ceiling windows. At least the toilet has a door. Consider how bare you are willing to be before booking shared accommodation!
You may also need to remember that the location in the wilderness means that unwelcome Okanagan guests may be sharing your space. We had a couple of insect encounters in our room that we would expect to have in a more tropical location, but they were swiftly dispatched to bug heaven.

Bragging rights: What else has it got?
While the hotel rooms are perfectly lovely in their own right, the real draw at Sparkling Hill is the spa. The exclusive domain of hotel guests, the 40,000 sq.-ft KurSpa consists of treatment rooms (services must be booked ahead of time and are charged separately), an exercise studio, a tea room with teas supplied, fresh fruit, plus a silent serenity room, locker rooms, an indoor pool, a hot tub, an outdoor infinity pool, a Kneipp hydrotherapy walkway, four experiential showers and seven themed saunas and steam rooms. The KurSpa is open from 7 a.m.-10 p.m., but the steam rooms and saunas are closed from 11 a.m.-4 p.m. for cleaning and to ensure they operate at "optimal levels," which means not being in use for more than eight hours a day. The last hour of operation is the clothing optional European hour. No, our Puritan selves did not partake.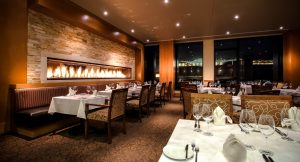 Good eats: Cocktails and cuisine
A hot buffet breakfast is included for each morning of your stay at the PeakFine restaurant. It has a great selection of hot and cold items that allowed us to craft our meals according to how we were feeling. First morning, it was fruit and yogurt and a smoothie to go. And I felt like a goddess of health. Second morning, it was heaps of bacon, extra hollandaise and cheese cubes to go. I was a goddess of stretchy pants that day.
For lunch and supper, they offer sit down meals, featuring farm to table fare. While spa wear and robes are permitted at breakfast, there is a dress code in effect at supper and reservations are recommended, especially when the hotel is at capacity.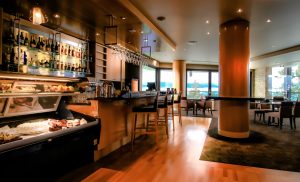 For something more casual, Barrique and Java has lighter offerings, to-go items, and a classic cocktail and wine list. We enjoyed our evenings in the spa followed by snacks and drinks (and a friendly server, which always makes everything better) rather than have a full meal before bed.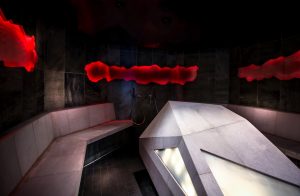 A few of our favorite things: What stood out?
It's the KurSpa.
We just want to live there and be the happiest, most relaxed, glowingest skin version of ourselves. Based on the tenants of hydrotherapy, guests are encouraged to follow the cycle of heat-cool-relax, repeated three times followed by an extended relaxation period. There are several options for each portion of the cycle, including steam rooms and saunas at varying temperatures, some infused with scents (citrus, rose and eucalyptus), a soak in the hot tub, or steamy shower for the heat. For the chilly portion, you can opt for a bracing cool shower or dash into the freezing chamber of the ice sauna, followed by a relaxing period lounging in the tepid sauna, the heated indoor or outdoor pool, or in the sunny tea room or serenity room. Access to the KurSpa is included with your stay. You can also book massage and esthetics treatments for an additional cost.
Parting shot: If we could change one thing
More than the circuitous route from the lobby to our room or the fact that there was no in-room coffeemaker, the thing we would change at the Sparkling Hill Resort was the step-on scale in our bathroom. In a world of body image issues, the very last thing one wants on their wellness vacation is a scale. Here is your friendly reminder that your weight does not reflect your health. We understand that there will be guests who would like to weigh themselves, if their wellness goals include a change in weight. For those people perhaps having the choice to have a scale brought to their room would be a good option. We would argue that far more guests will find it at best obnoxious—and at worst triggering—to find a scale on the bathroom floor than would be happy to see it. Please, ditch the scale.
We found rates in March 2021 starting at CAD $257 per night (USD $202).
(Photos courtesy of Sparkling Hill Resort)
Jen stayed as a guest of Tourism Vernon. The organization had no editorial input for this review.