A truly talented front desk hotel staffer knows how to make the check-in process feel not like a wait, but like part of the experience. Half Moon Resort in Montego Bay employs warm, friendly multitaskers who make guests feel welcome by ordering them a rum punch while they take down the necessary information and talk about the hotel's offerings.
Part of Preferred Hotels & Resorts and Salamander Hotels & Resorts, Half Moon stretches out along the coastline northeast of Montego Bay. It is made up of oceanside retreats ranging from large villas (28) to private cottages (10) to generously appointed luxury suites and accommodations at the newly opened Eclipse at Half Moon (57). The original property, Founder's Cove (home to an additional several dozen suites), was made famous by its association with the James Bond franchise. Roger Moore's first outing as 007 in Live and Let Die saw the MI6 spy spend time in Half Moon's Cottage #10, along with a gorgeous double agent, naturally. Guests, however, arrive here for a dose of beachy tranquillity as opposed to intrigue and international incidents.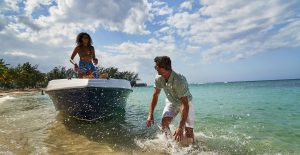 STREET CRED: IT'S ALL ABOUT LOCATION
Never mind street cred, what Half Moon has is beach cred. The property spans a full two miles (3.2 km) of sand and ocean with nearly all rooms facing the water. Located just a 10-minute drive from Montego Bay's Sangster International Airport, a guest's tropical getaway begins minutes after landing.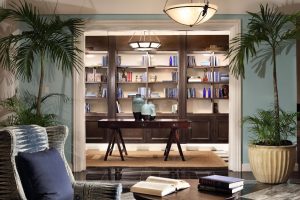 WHO HANGS HERE: IS THIS THE HOTEL FOR YOU
Repeat guests at Half Moon have their favorite rooms and cottages, preferred spots on the beach, and lovely waterside tables where they can sip coffee in the morning and cocktails in the evening. The property draws visitors back year after year, from multi-generational families to couples looking for romance to friends seeking a low-key getaway somewhere warm and worry-free.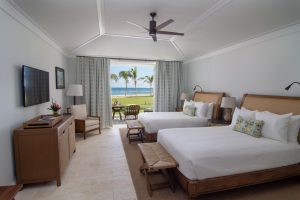 THE STRAIGHT GOODS: WHAT'S IN THE ROOM
Ocean Suites (700-980 sq ft) are outfitted with exceptionally comfortable king-size beds in bedrooms that open up into a sitting room with doors leading to a private balcony or a patio with a beach view. The WiFi is strong and reliable and the bathtub is big enough for two. An extra sink and vanity allow one guest to have the bathroom to themselves while their travel companion freshens up. There's a large flat screen television in the sitting room next to a minibar stocked with local snacks and beverages. Best of all, the suites are immaculate—no easy task when guests are bringing bits of beach in with them throughout the day.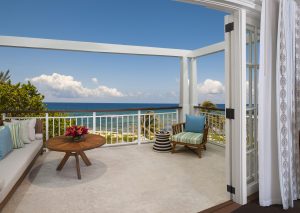 BRAGGING RIGHTS: WHAT ELSE HAS IT GOT?
Never have I been more comfortable on patio furniture that I was napping on my shaded veranda at Half Moon. The thick-cushioned loungers were at least as comfortable as the bed and begged to be used day and night, allowing the sound of the waves to lull you to sleep after a bit of sun (and a cocktail).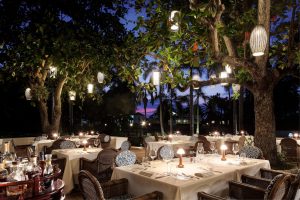 GOOD EATS: COCKTAILS AND CUISINE
A good breakfast buffet is an excellent omen for the kind of day that lies ahead. Half Moon's elegant buffet is stocked with western breakfast classics like bacon, pancakes, and eggs done the way you like them, as well as fresh fruit and island specialties such as ackee and saltfish. The variety is excellent, allowing diners to eat something different every morning or stick with their favorites. In the evening, dining and live entertainment take center stage on the beachside Seagrape terrace restaurant, while a casual cookout happens each night on Sunrise Beach. At Sugar Mill, guests find fine dining options as well as a tapas menu. Each Half Moon eatery offers a mix of Jamaican food and international options. Vegetarians are well-served here, too. Drinks? Swim up to the Hibiscus Pool Bar or dress up for cocktails at Lester's—as long as one of them is a rum punch.
A FEW OF OUR FAVORITE THINGS: WHAT STOOD OUT?
Service, service, service. From the cleaning crews to the food and beverage staff to the front desk personnel, Half Moon's employees are dedicated to providing a carefree, luxury experience for hotel guests. Their attentiveness and attention to details shines from the moment you check in.
PARTING SHOT: IF WE COULD CHANGE ONE THING
In my dream scenario, my room's rear terrace would come equipped with mosquito netting so that I could spend the evening hours in that lounge chair without the fear of being feasted upon by bugs.
We found rooms at Founder's Cove starting at US$550 in January, 2021.
[Editor's note: This review was written prior to the COVID-19 pandemic. Certain amenities may not be offered at this time.]
(Photo credits: Half Moon Resorts)
Corrina stayed as a guest of the hotel. The hotel did not have editorial approval.