With its 7,641 islands, you can never run out of places to go to in the Philippines, and perhaps this is one of the reasons why tons of tourists visit the country every year. More than 7.1 million foreigners toured the country to explore its pristine beaches and breath-taking mountains in 2019. For the beach lover, the iconic white sands of Boracay and the crystal-clear waters of Palawan are some great options. However, if you're looking for a luxurious private island getaway, Amanpulo Resort is an excellent option. If you're not completely convinced, here are some of the reasons why you need to visit this hotel.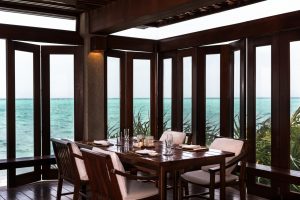 1. Extraordinary dining experiences
With the Philippines being a predominantly agricultural country, you can expect mouth-watering cuisine during your stay at Amanpulo. There are five different dining spots around the property, which use the harvest from their own organic farms to stay true to the goal of the resort—to bring its guests closer to nature. Each eatery offers an entirely different experience. The Beachclub, located at the western side of Pamalican, is open from breakfast to dinner and is a great place for those who love Mediterranean cuisine as well as seafood. If you are craving authentic Japanese cuisine, you can dine at the signature Japanese restaurant, Nama, although it's only open during the high season. There's also Filipino cuisine, of course, on offer at the Clubhouse.
If none of these restaurants are fancy enough for you, you can take the experience up a notch by enjoying a picnic at their floating Kawayan Bar. It was purposely built as an all-day lounge to be used between bouts of swimming and snorkeling.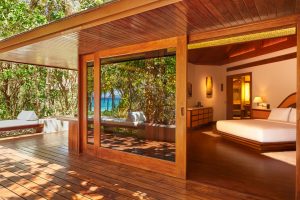 2. Stunning private villas
Located at the heart of a private island known as Pamalican, Amanpulo is a resort beautifully designed by the renowned Filipino architect Francisco "Bobby" Mañosa, whose aim was to build accommodations that would let travelers experience a sense of peace and belonging. Taking inspiration from the traditional Filipino houses known as Bahay Kubo, its casitas (or villas) are carefully crafted from natural materials such as wood, marble and pebbles. They are strategically scattered along the beach or cradled in the treetops and the hillside to provide majestic views of the Sulu Sea and ensure privacy. Whether you choose a casita by the beach or in the lush landscape in the middle of the island, every villa has ginormous windows to ensure that you wake up to the ethereal view of the sea and the trees, and to the sounds of the chirping birds, rustling leaves and softly crashing waves.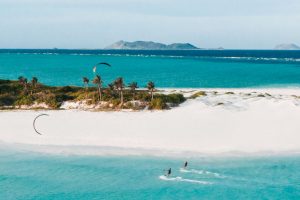 3. Endless activities

You'll never run out of activities to do in Amanpulo, from aquatic adventures to on-shore ones. There's kite surfing to send you flying over the turquoise sea with the help of highly talented instructors, and snorkeling for a close-up view of the pristine seven square kilometers of coral reefs just 300 meters away from the shore. If you're not in the mood for water adventures, you can opt to stay on the shore and entertain yourself with different land activities such as tennis, cycling and bird watching. You can also visit a nesting site for green and hawksbill turtles and watch hatchlings emerge from their nests and make their way to the ocean. At night, get up close and personal with stars through the resort's refracting telescope.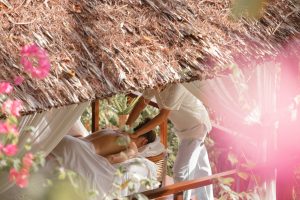 4. Devotion to mind, body and soul

We could all agree that the primary reason why people go on vacation is to get away from the stress of everyday life. In Amanpulo, you will find opportunities for healing in all aspects. The beach resort's spa makes use of oils and essences that are not only rare and organic, but globally sourced for their potency and purity. The beach resort boasts a stunning yoga studio that brings in visiting practitioners to work with guests. They also have hydrotherapy suites and Pilates studios, as well as outdoor relaxation salas where you can experience the traditional healing arts of the Philippines such as the Hilot massage. It helps rebalance areas of tension and relaxes the body with the application of strips of banana leaves and cold-pressed coconut oil.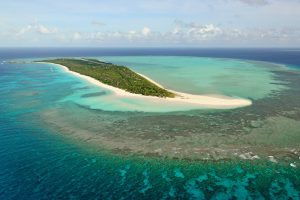 5. Travel on a private jet
Since Amanpulo is situated on a private island that's over 360 km from the capital, the only way to get there is by taking a 70-minute private jet flight that leaves from the Amanpulo Lounge in Manila. The four flight options–two from Manila to Pamalican and two from Pamalican to Manila–are arranged by the beach resort itself and can accommodate up to 12 guests at a time. The resort also permits guests to bring their own jet if they wish. Unsurprisingly, luxury comes with a price. Roundtrip flights for adults can cost as much as US$495 and US$295 for children (from ages 2 to 11).  Pack light since luggage restrictions apply with adults given a 20 kg allowance, including hand luggage.
If you're ready to pick up and go, you should know that rooms cost well over US$1,000 per night. It's likely out of most people's price range, but that's OK. We can dream, can't we?
(Photos courtesy of Amanpulo Resort)