Jakes Hotel, on the southwest coast of Jamaica, is more than a funky boutique hotel with Bohemian charm. It is also a family-run business and an integral part of this area of Jamaica less-visited by tourists.
It's hardly surprising that this hidden gem has become less hidden in recent years. In 2020, Condé Nast Traveller rated it one of the best family hotels in the world.
That honor is not only because of its range of organized activities. It's a place where family and community connect.
Jakes' design is a classy mix of Jimi Hendrix meets Antoni Gaudi, reflecting the brainchild of its Jamaican owners—artist Sally Henzell and her late husband, film director Perry Henzell. They bought the property in 1993 when it was just a single building. Jakes opened first as a restaurant, and then gradually expanded with Henzell continuing to design more buildings as demand grew. Today, there are 65 rooms in brightly colored bungalows, cottages and villas, many with views of the ocean.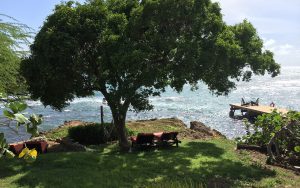 Street cred: It's all about location          
Jakes Hotel is about a 2.5 hour-drive from the Montego Bay airport to Treasure Beach on the southwest coast. The hotel is in an area separated by the Santa Cruz mountains, in a corner of the island populated by cacti and acacia, black sand bays, rugged coastline and savannahs. To get there, you'll navigate narrow winding roads with potholes, as you pass shuttered houses and small towns.
The south coast is almost devoid of all-inclusive resorts. I noticed only one—a Sandals property a good hour's drive away.
Treasure Beach, where the hotel is located, consists of five fishing beaches and is an area of the country with the lowest density number of hotel rooms per acre. It is part of St. Elizabeth Parish with a population of 155,000—about half of whom are farmers. There is no real town here. The closest is Black River, the capital of the parish, about 25 minutes away.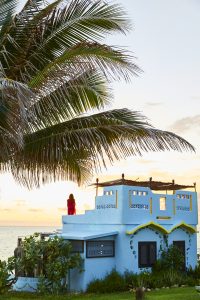 Who hangs here: Is this hotel for you?
If you are looking for a stay that is off the beaten path, if you are someone with a visual aesthetic, if you feel happy when you find out that there are no phones or TVs in the rooms, you will love Jakes.
Some people come here to sit with a book and look out to sea. Others come as part of a yoga or fitness retreat. And most will spend four or five days, a day of which may include leaving the property to visit a nearby attraction, such as the Appleton Rum factory tour, or to go hiking or snorkelling.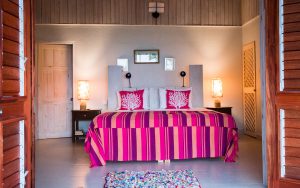 The straight goods: What's in the room?
What's in the room varies since all rooms are unique, but there are certain Gaudi-esque design elements and other cool options you may find, like an outdoor tub or shower, a daybed on a private deck or rooftop terrace, perforated holes in blinds where light shines through in the morning, and colorful glass bottles or tiles built into a bed frame or in the concrete path leading to your accommodations.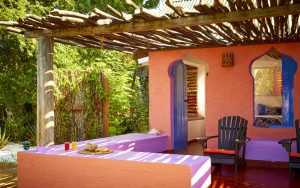 How elaborate accommodations are will depend on what you choose–two- and three-bedroom cottages have full kitchens, as do the luxury villas—some located on property and some within a 10-minute's drive. These villas also have private swimming pools, plus comfortable and stylish living and dining areas. Fridges in the villas can be stocked by staff. You can also buy produce at local markets or off the back of pick-up trucks that drive around Treasure Beach. As well, you have the option to cook your own meals or one of hotel's cooks will for a fee.
Less expensive rooms are also available with mosquito nets around the beds, and a garden view rather than an ocean one. Regardless of how simple the room is, each has its own unique flair.

Good eats: Cocktails and cuisine
Jakes' open-air, on-site restaurant is next to the pool, where guests sit at small wooden tables and dine on grilled seafood, soups, salads and other items you'll find scribbled on a chalkboard. You can also travel off property to Jakes' other restaurant, Jack Sprat, which is a casual neighborhood spot on Treasure Beach that is known for its pizza with toppings like lobster and jerk chicken, and a delicious jerk crab. The vibe here is seriously laidback. You'll likely hear Bob Marley tunes blaring, and find a happy commingling of locals and travelers drawn to the food, the prices and the views overlooking the beach.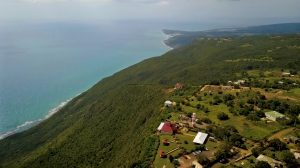 Jakes also manages and operates another restaurant, Lovers Leap, about a half-hour drive away. According to legend, the historic property was named after the star-crossed lovers who, in the 18th-century, leapt 1,700-feet to their deaths rather than be torn apart by a jealous plantation owner.
The view from its deck out onto the sea below is stunning, but hold onto your hat. It can be windy up there! The menu is listed on the chalkboard inside: it's classic Jamaican, with dishes like oxtail, cod fritters and bammy (cassava flatbread). The food is good, but the main draw is the view.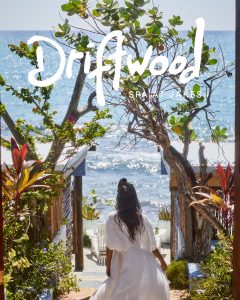 Bragging rights: What else has it got?
Follow the winding paths and you'll come to a games room with a TV, lined bookshelves and board games. You'll find the Driftwood Spa overlooking the water, where you can take a yoga classes, have a massage al fresco or get an energizing coffee and brown sugar scrub. If you are looking for romance, they have private dining available in a thatched gazebo.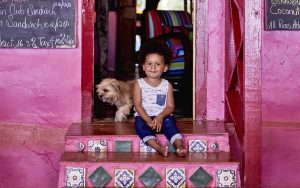 A few of our favorite things: What stood out?
Although I didn't bring my kids on this visit, I would another time. You won't find an Xbox, video games or organized group activities. Instead, play comes in its most natural form, like catching crabs, hiking, and swimming in the pool or at the beach.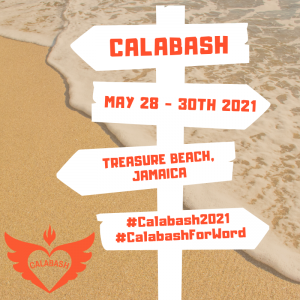 I loved this place, both for what it has on property and is available off.  The Calabash International Literary Festival, cofounded by Sally's daughter Justine Henzell, is held at Jakes every two years, drawing heavyweights like Salman Rushdie, Michael Ondaatje and Zadie Smith.
Every year, there is an off-road triathlon that has been rated one of the top five in the world. There is a popular fishing tournament. And you can visit a local herbalist for a pre-massage steam bath in a small rustic cabin where you breathe in the aroma of herbs in a hot cauldron on the floor. You can also go out in a fishing boat to the famous Pelican Bar, a rickety wooden structure built on stilts on a sandbar in the middle of the ocean. It's a unique destination for a rum punch or beer.
If we could change one thing
I would fix the road that leads from the airport to the hotel, fill in the potholes, and make those windy roads a little bit straighter. But on second thought, if you make this hotel too easy to get to, it will no longer be a destination for the off-the-beaten path traveler. So I take that back. I wouldn't change a thing.
We found rooms in December starting at US $95.
(Photos courtesy of Jakes Hotel except as noted.)
Diana stayed as a guest of the hotel. The hotel did not have editorial approval.