A mere 30 minutes from the city center in the glitzy Vouliagmeni region of Athens, this luxurious Greek seaside resort will be hard to pull yourself away from to explore the city's sights.
The Four Seasons Astir Palace along the Athenian Riviera opened its doors in March 2019, yet the 74-acre property has been operating as a luxury hotel since the late 1950s, hosting A-listers and politicians galore—the latest before it was rebranded as a Four Seasons were Barack Obama and Vladimir Putin—but not at the same time.
Bellhops greet you on arrival, whisking your baggage discretely away, and there's more than smiling receptionists. This Four Seasons has the added benefit of Greek filotimo—the genuine friendliness and attitude towards strangers that Greece exudes. The smile reaches their eyes and their interest in you comes from the soul.  You know your stay here will be that extra bit special—not just because of the floor-to-ceiling views from every window of the blue Aegean Sea.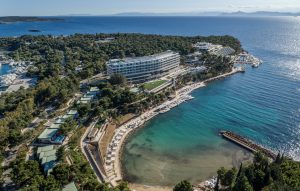 STREET CRED: IT'S ALL ABOUT LOCATION
You'll come and stay at the Four Seasons Astir Palace for its location by the coast in the exclusive Vouliagmeni district of Athens, sure to rival the Cote d'Azure. The property's three private beaches and plethora of sports facilities will keep you busy at this 303-room property, spread out across two buildings plus forest bungalows. You'll feel like you're on a Greek island, and yet Athens city center is a mere 30-minute drive away, offerings iconic ancient sights (i.e. the Parthenon) and ample shopping.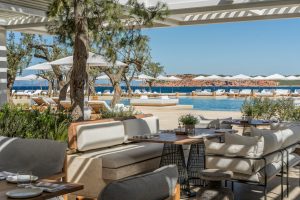 WHO HANGS HERE: IS THIS HOTEL FOR YOU?
Its extremely sophisticated design attracts the 'it' crowd—both national and international.  Yet its laidback atmosphere means there's no stuffiness. Families, honeymooners and solo travelers alike are welcome. The very famous will keep to the bungalows scattered around the property, otherwise expect to mix with shipping magnates and politicians. It has two buildings—the laidback Arion and the more formal, somewhat sleeker, Nafsika.
THE STRAIGHT GOODS: WHAT'S IN THE ROOM?
The resort has 200 rooms and 42 suites spread out across the Nafsika and Arion buildings, plus 61 forest bungalows. All rooms have sea, pine forest or garden views and feature earthy tones inside with wooden flooring and private furnished balconies. Bathroom are open concept with a private shower and toilet cubicle with frosted doors and pull-down blind for privacy when you're in the tub—otherwise leave everything wide open to take in that sea view from your roll-top bath.
I stayed on the third floor of the Nafsika Building in a spacious 473 square-foot room with king bed, sofas inside and on the balcony, a desk with two chairs, countertop table down one side of the room and large bedside nightstands.
Mood lighting complemented the mood with floor-to-ceiling windows with views to the pools, Aegean Sea and distant islands, lending a feeling of peace and tranquility. Coffee lovers will be pleased to see the Nespresso machine, plus choice of teas and minibar.
I particularly loved the large mirror opposite the bed that doubled as your TV, plus personalized welcome message on screen and ability to check your bill there, too.
Speaking of beds, Four Seasons' own brand of mattresses, toppers and down pillows (available for sale from their site) ensure an excellent night's sleep.  I loved coming back to my room after a day exploring the area to find my bed turned down—ready and waiting.
Of course, free reliable WiFi is available throughout the buildings, plus plenty of charging stations in your room for the tech savvy traveler.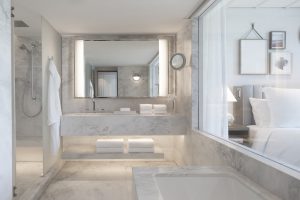 The large marble bathroom was a pleasure to spend time in with its cubicle-style monsoon shower and separate toilet, dual sinks and a deep soaking flat tub. Add to that the Four Seasons' fluffy robes, slippers and towels plus Le Labo designer toiletries. I felt spoiled.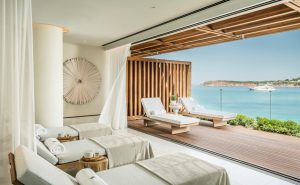 BRAGGING RIGHTS: WHAT ELSE HAS IT GOT?
Its extensive renovations to become a Four Seasons in March 2019 means all facilities are brand new. The Fountain House is an indoor adults-only hydrotherapy zone located in the Arion building, with aroma steam grotto, hammam, vitality pool and chill showers—a real treat to spend a morning or afternoon in. Then spend time in the relaxation room on loungers where you can soak up views of the Aegean in silence. Have a full body massage with a fully qualified therapist, or head to one of three multipurpose beachside cabanas.
There's also tennis or basketball courts, if that's your thing.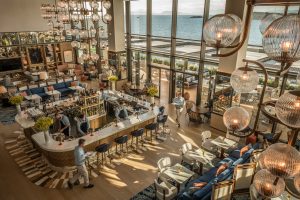 GOOD EATS: COCKTAILS AND CUISINE
Four Seasons Astir Palace has four restaurants focusing on Latin American, Italian, Greek seafood and traditional taverna food, plus the Avra lounge bar, which can boast signature cocktails such as the Russian vodka-based Passion Mule with passion fruit, ginger beer and demerara sugar. Choose from an extensive cocktail list, buy a cigar, if you like, or sip a glass of champagne as you sit on the terrace watching the sun set over the sea.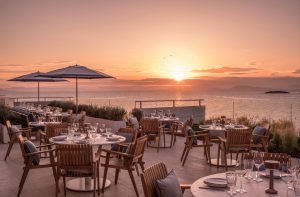 The Greek flair for hospitality comes through in the service, regardless of where you eat. Service is friendly yet unobtrusive.  My tiramisu at the Mercato Italian restaurant was to die for—not too moist and also a nice helping, not too large.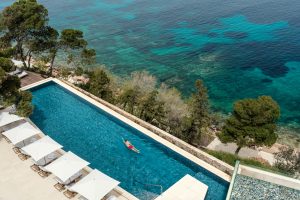 A FEW OF OUR FAVORITE THINGS: WHAT STOOD OUT?
Aside from the stunning views visible from every angle of the property, the genuine warmth of the staff made me feel I was at a home away from home. I loved my peaceful walks through the forest trails around the property. Despite the size of the resort and the quantity of guests, it was easy to escape others.
PARTING SHOT: IF WE COULD CHANGE ONE THING
It's hard to fault this new addition to the Four Seasons chain. For the winter season, some of the facilities are closed, mainly due to maintenance work.
We found rooms in March 2020 for EUR400 (USD$438).
To see other Four Seasons properties, visit us here.
(Photos courtesy of Four Seasons Astir Palace, Athens)
Rebecca stayed as a guest of the hotel. The hotel did not have editorial approval.