Well known for its traditional devotion to health and wellness, Thailand has converted many a visitor to the virtues of regular massage while exploring this popular Asian country. Travelers committed to me-time should consider these hotels and resorts that have made wellness offerings a priority.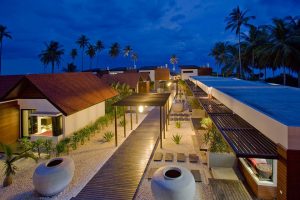 This contemporary beach resort in Khanom welcomes guests with spacious rooms facing the sea and a roster of daily wellness activities, including Muay Thai boxing and beach yoga classes. Traditional Thai massage at the resort is a generous 90 minutes. Guests can also choose from a four-hands massage for the ultimate de-stress therapy or the one-hour AAVA scrub, which uses coconut oil, yogurt and honey to ensure baby-soft skin.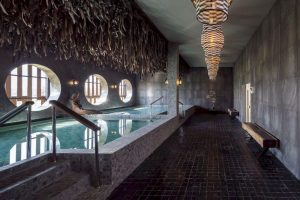 Newly opened near Ayutthaya, this modern resort is the first hotel launched by the Thai wellness brand, Thann. Guests are encouraged to wear spa clothing (provided) during their stay and participate in energy booster classes devoted to things like tai chi, Zumba, fitball, aqua-exercise and Yochi balance. The spa's aquatherapy circuit coaxes guests into a relaxed state before treatments showcasing Thann's latest plant-based products for face and body.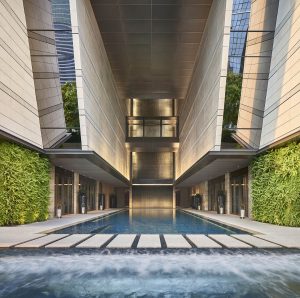 Escape from the bustling city at this urban hotel by lounging beneath the 10-story waterfall, on the open-air salt water pool deck or in the Jacuzzi on the ninth floor. Grab an organic juice from G&O Café before a workout or head to Sense, A Rosewood Spa, a quiet sanctuary where one can choose one of the 90-minute spa therapies influenced by ancient healing techniques from the Thai kings or treatments that incorporate massage techniques from Thai hilltribes.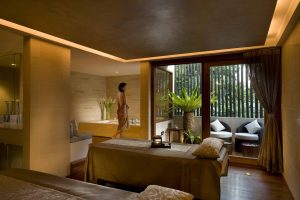 This five-star Bangkok accommodation is an oasis, thanks to extensive gardens and numerous places to relax. The hotel's state-of-the-art fitness center has all the au courant equipment while Spa Botanica focuses on using Thai herbs and flowers for its therapies. The Thailand Flower Ritual is a three-hour renewal, including foot massage, body scrub, deep pressure Thai massage and deep pressure oil massage.
This eco-friendly hotel is situated on the shores of Thale Noi lagoon in Phattalung. Here, guests will appreciate rooms with lagoon views and the laidback pool area, where you can lounge with handmade hats and beach bags provided for guests. Sunrise boat tours to see birds, lotus flowers and water buffalo or a leisurely bike tour among the rice fields can be followed by an appointment at the massage center for traditional Thai massage.