Alexandria, Virginia, is one of those towns where the over-riding word you come up with is "quaint." It's full of lovely shops, great restaurants and an historic apothecary museum. When you walk into the treed courtyard of the Kimpton Lorien Hotel & Spa, your descriptive word of choice is confirmed yet again. Red-brick building, cedar topiaries and old town-style iron pedestal clock—yep, quaint. But, just like Alexandria itself, when you explore it further, it goes from quaint to hip in a flash.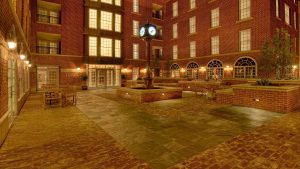 Street cred: It's all about location
The Kimpton Lorien is located on the primo street in Alexandria's Old Town at 1600 King Street where you'll find plenty of shopping and amusements. It leads down to the city's newly developed waterfront area. (Don't miss the Torpedo Factory Art Center, a former naval torpedo factory during WWII that now houses more than 80 artist studios.)
Who hangs here: Is this hotel for you?
A comfortable blend of business folks, couples and traveling friends congregate here to bed down for the night in one of its 107 rooms.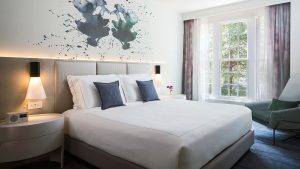 The straight goods: What's in the room?
The hotel underwent a $2.5M reno in 2018 so it's looking quite shiny and new. My deluxe king room (#408) was dressed in light wood, greys and sandy colors, and had a view over the courtyard. An eye-grabbing blue green Rorschach test-like painting hung over the bed. The room wasn't large, but still managed to fit in a lengthy concrete-topped desk, which we're appreciating more and more now that desks seem to be disappearing from hotel rooms. It also featured an extra side chair, bedside iPad docking station plus plugs for your tech, Frette linens and a locally inspired minibar.
Hidden behind (opaque!) glass barn doors was the white-tiled, grey-floored bathroom, with its custom concrete vanity and small head rain shower. Toiletries were by Atelier Bloem in heady scents like Kadota Fig and Oolong Tea—all full-size except for the body lotion, so you can slather that on while catching the news bedside.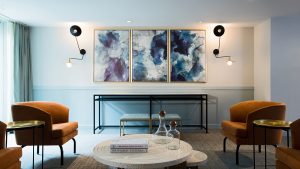 Bragging rights: What else has it got?
One of Kimpton's most appreciated traditions is the daily wine hour. At the Lorien, it's held in the newly redesigned library room when it's not being used as an event space. If it is occupied, the hotel sets up shop in the inviting lobby. Guests mingle, drink wine and munch on a few appetizers together.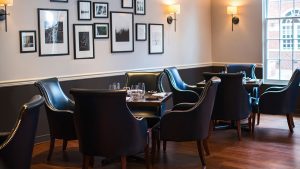 Good eats: Cocktails and cuisine
Brabo Brasserie is the hotel's main restaurant and serves fare à la française, such as steak and frites, seared scallops and lobster gratinée. And everyone will want to bite into Le Burger, topped with truffle aioli and gruyère cheese. The restaurant's copper-covered bar has a French 75 cocktail menu with variations for four thirsty people served out of an absinthe fountain.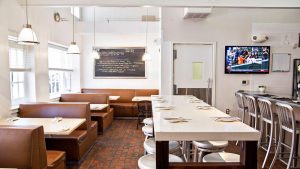 For breakfast, guests head just outside the hotel, through the courtyard, to get to the Brabo Tasting Room. This stylish, French-flavored all day café complements the brasserie's ethos, serving modern French food in a classic Euro-styled space. I particularly enjoyed my Brabo Benedict, made with tender pork belly, properly cooked poached eggs, a savory gruyère potato cake instead of the classic English muffin, all crowned with a generous slathering of sabayon sauce.
A few of our favorite things: What stood out?
Considering this is a small property, I was surprised the hotel had such a fully kitted out spa, offering everything from need-but-not-nice waxings to relax-and-reboot massages, facials and scrubs. It is a calm, soothing spot to retreat from the day and I'm not the only one who thinks so. We hear that some of Washington's gentry call this their destination spa.
Parting shot: If we could change one thing
Quelle horreur! My breakfast was delicious, but the Tasting Room had run out of regular espresso, particularly important to have on hand since guest rooms lack any type of coffeemaker.
We found rooms in April for US $198.
Janice stayed as a guest of the hotel. The hotel did not have editorial approval.
(Photos courtesy of Kimpton Lorien Hotel & Spa)