As much as we like our 400-thread count Frette bed sheets, an in-room espresso machine and toiletries supplied by the most sought-after emollient purveyors, we still want a good meal at the end of a long day spent sightseeing or in meetings. This is where an inviting and versatile hotel restaurant comes in.
Here we start a new series on Hotel-Addict, talking to chefs who have given us more than just decent grub. They've turned dinner into a decadent delight for the senses, presenting meals that are not only tasty, but are a treat for the eyes, too.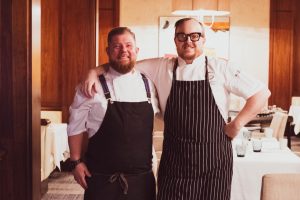 Daniel Davyduke is chef at Fairmont Winnipeg, a 340-room hotel located at the iconic and convenient corner of Portage and Main in the heart of the city, also the provincial capital of Manitoba. Under executive chef Tim Palmer, he is responsible for what comes out of the kitchen at the VG Restaurant and Lounge.
Davyduke has been with Fairmont Winnipeg for a relatively short time—since February 2018—but has managed to make his own imprint on the VG menu. He trained in Vancouver, at the Vancouver Community College, and did his apprenticeship at Terminal City Club with chef Pernosky. Prior to coming to the city at the center of Canada, he worked at Furama Resort in Da Nang, Vietnam. In February 2020, Davyduke will assist Culinary Team British Columbia at the World Culinary Olympics in Stuttgart, Germany.
1. Hotel-Addict: Why did you become a chef?
Daniel Davyduke: I like the emotional connection and the nostalgia people have with food.
2. H-A: What is your approach to food and the menu at VG?
DD: Food should be approachable and fun! We enjoy seasonality at VG and the menus are created with ideas from all of the cooks and chefs here. It is truly a team effort to write and execute the menus.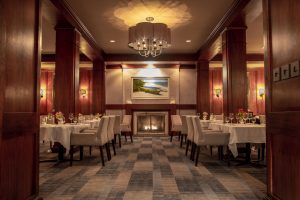 3. H-A: What direction are you taking at Fairmont Winnipeg?
DD: We are trying to get away from the white-gloved service people associate the restaurant with. We are moving towards a more contemporary and family-style approach. We like the terms 'refined dining' and 'hyper local' to describe what we do.
4. H-A: How often do you change the menu at the restaurant and bar?
DD: We change the menus every three to four months, depending on how busy things are. That could be a complete overhaul, especially at the VG Restaurant, or just some minor tweaks at the lounge or to the dessert menu.
5. H-A: How is working for a hotel different than working for other outlets?
DD: In my experience, at a hotel there are a lot more wheels in motion at the same time compared to working for a single, independent venue with one focus or discipline. We have to consider what room service and banquets are up to while doing our day to day operations, with rotating clientele walking through the front door daily.
6. H-A: How is cooking for hotel guests different than for regular guests?
DD: Hotel guests are wonderful! They are well traveled and they know exactly what they want. We have created quite a following on the culinary side with regular travelers that come and stay at the Fairmont Winnipeg because of the food. It truly is fascinating to see how someone will choose our hotel based on our menus.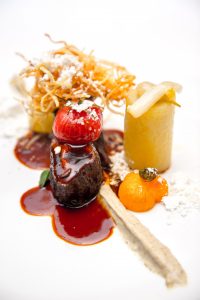 7. H-A: Any memorable asks from high-needs guests?
DD: People like what they like. We are in the business of hospitality, so it is our job to accommodate. The answer no isn't something we are familiar with and we do our best to fulfill any specific requests from all guests. If we are unable to get them exactly what they are after, we then offer different options as close to their original requests as we can so that they leave full and satisfied.
8. H-A: What culinary trends are you seeing in hotels?
DD: The trend I'm seeing—that I truly like—is how approachable hotel food is becoming. There are still the dynamos of haute cuisine but, overall, it is a more relaxed and approachable style of dining, which makes sense as hotels are a home away from home for many guests.
9. H-A: What are your favorites on the current menu?
DD: I absolutely love the new Manitoba harvest buns and I cannot get enough of our half roasted chicken and the beet carpaccio. These items are simple, flavorful and remind me of growing up.
10. H-A: Finally, what is your favorite food city and why?
DD: That is definitely a hard question as Vancouver is home so, naturally, I have a connection there. I think the top three cities would be easier to answer: Ha Noi (Vietnam), Paris and, yes, Vancouver. These three because I have an emotional and nostalgic connection to them. The cities boast flavors and concepts that differ from anywhere else. My favorite restaurants in the world, though, are not in any of these cities, but it's the connection I have with them, and the meals I have shared with friends there, that make them so special.
The current menu created by Tim, Daniel and their team is full of hearty and robust flavors, the richness of the dishes balanced with an earthy, herbaceous taste that makes it all just… work.
For those who love hotel cuisine, you'll find more stories right here.
(Photos courtesy of Fairmont Winnipeg)