It's dark. It's cold. And 33 artists from around the globe have competed to be here, to chip away at the ice and create works of art that you can sleep in.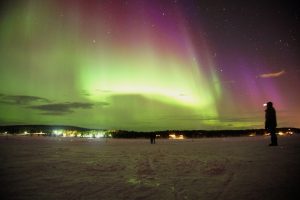 In the tiny town of Jukkasjärvi in Swedish Lapland, not far from the Arctic Circle, every year for 30 years, ice has been taken from the Torne River to create the blocks that form the Icehotel. It requires plenty of prior planning. To construct this year's hotel, 1,300 ice blocks were carved out of the Torne last spring when the ice was thickest, and then kept in a deep freeze until this winter.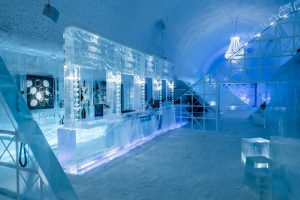 From those harvested chunks 'o ice, the artistic team created 15 suites, a main hall filled with columns and glowy chandeliers, the Gingko ceremonial hall where you can tie the knot, an ice bar, a snowy amusement park, a restaurant serving a 12-course Swedish menu, and all of the glasses and plates. (In fact, so much ice is collected that the hotel ships it all over the world as sculptures, whole environments, or kept as ice blocks.)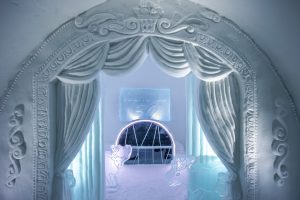 The art suites are themed every year and can be quite fantastical. This year they include: "A Night at the Theatre," "Feline Lair," "Bone Room" and "Cabinet in the Woods." Each suite is about 270 square feet and is kept between -5 to -8 degrees Celsius. The comfy bed is covered with reindeer hides and you cozy up in a thermal sleeping bag to spend the night.
The hotel also has ice rooms that are smaller in size with a less sumptuous bed that sits on ice rather than a wood base. The theme for these rooms is… ice.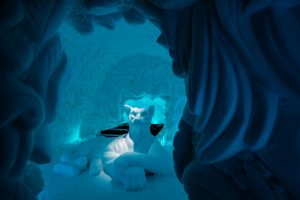 Your nightly rate also includes breakfast, WiFi, borrowed snowsuit and boots, and entry to a toasty sauna off the heated lobby. In the morning, you are awakened with a cup of hot lingonberry juice.
Icehotel #30 remains open until April 14 before slowly melting back into the Torne River. Good news, though: If you can't make it to Jukkasjärvi before then, you can visit Icehotel 365 on-site, which opened in 2016 and runs on solar power year-round.
As world's first ice hotel, it has perfected the thrill of the deep chill. It opened in 1989 and has remained a place where the coolest hotel guests come to play and stay.
(Photos courtesy of Icehotel, Queen of the North Art Suite, Icehotel #28)