Among the historic buildings of Dublin's city center, Marlin Hotel's sharp entrance is softened by a colorful and contemporary design and modern style, making this new boutique hotel stand out among the office buildings and shopping arcades.
STREET CRED: IT'S ALL ABOUT LOCATION
Visitors will appreciate the bustling neighborhood with its easy access to the serenity of St. Stephen's Green, the endless options of Grafton high street shopping nearby and the boisterous dining and pubs of the Temple Bar District.
WHO HANGS HERE? IS THIS HOTEL FOR YOU?
Those on a business trip will appreciate the downtown access to the popular neighborhoods. Singles or couples visiting for a night, a weekend or even a week will benefit from the ability to stroll or access local transit to explore Dublin's attractions along the River Liffey or the historic grounds of Trinity College.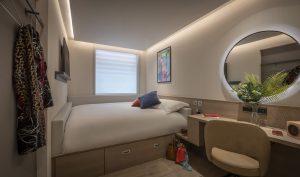 STRAIGHT GOODS: WHAT'S IN THE ROOM?
With a bounteous 300 rooms, The Marlin can offer cozy king bedrooms and spacious suites. All feature a neutral palette of white, gray and black, punctuated with a hit of color—a chair, an accessory or a bold piece of contemporary art.
Guests will appreciate the beds dressed in soft linens, thick carpeting throughout the room and tech amenities like a safe large enough for a laptop, a Smart TV with Google chromecast, LED mood lighting, automatic window blinds, Bluetooth speaker and easily accessible plugs and USB ports to insure all one's electronics are charged.
Anyah eco spa treatment products are included in the bathroom, featuring a shower that can easily ease jetlag thanks to its high-pressured double showerhead. A tray tucked into the closet offers a stash of coffee and Irish breakfast tea to insure a cuppa is always available when you rise and before bed.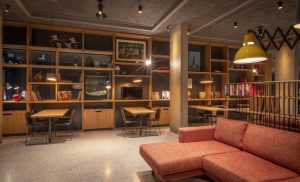 BRAGGING RIGHTS: WHAT ELSE HAS IT GOT?
Tech lovers like The Ground: The main floor lobby features oversized screens to allow self check-in/check-out while business types catch up on emails from one of the numerous seating areas on the main floor. There's also a meeting room, the Hive co-working space and an indoor garden to escape into calm surroundings. There's also a 24-hour accessible private gym.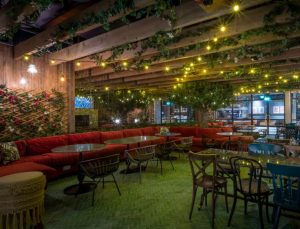 GOOD EATS: COCKTAILS AND CUISINE
The Horsebox is located on the main floor, supplying handcrafted coffee anytime during the day with daily newspapers and local magazines on the side. The Marlin's restaurant offers breakfast, lunch and dinner, featuring a European menu showcasing the best of ingredients from Ireland. Bar 11 is a popular spot for happy hour with office types, featuring a lengthy list of organic wines, classic Irish brews and Irish gin, whisky and rum.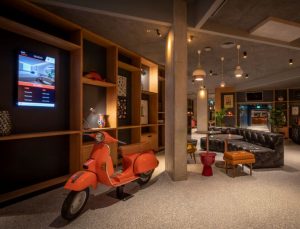 A FEW OF OUR FAVORITE THINGS: WHAT STOOD OUT?
There are several whimsical touches in the hotel, but my two faves were the orange Vespa where you can poise for a selfie and the photo booth, ideal for those times when you and your travel companions want to capture memories of your time in Ireland.
PARTING SHOT: IF WE COULD CHANGE ONE THING
If you're not comfortable with using tech, this hotel may annoy those who appreciate more traditional offerings.
We found rooms in March at US$245.
(Photos courtesy of Marlin Hotel)
Waheeda was a guest of the hotel during her stay. The hotel had no editorial input for this review.