Whether you're bedding down for the night or just visiting one for cocktails and dinner over the holidays, these hotels pull out all the stops when it comes to eating, drinking and being merry. Even a grinch can't help but be coaxed in the spirit of the season at one of these properties.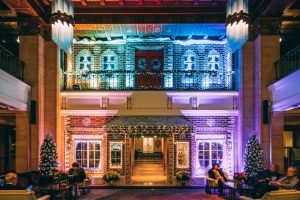 For more than 90 years, this landmark property has a long history of going for the gusto when it comes to holiday celebrations. This year for the first time, it unveiled a spectacular, two-story life-sized gingerbread house, made with 500 pounds of icing and 4,500 gingerbread "bricks." And there's still time (until Dec. 21) to sip on beautifully crafted cocktails by mixologist Rus Yessenov at The Thirsty Elf, a pop-up bar dripping with Christmas joy. We highly recommend the Rum-Rum Rudolph. No budget to worry about? Book the Ultimate Royal Holiday Experience for CAD $50,000 (US $38,000). This two-night package in the two-bedroom royal suite comes with on-site dining experiences, a private tour of the Niagara region by plane and a personal stylist to help you spend your $1,000 gift certificate at the Toronto Eaton Centre.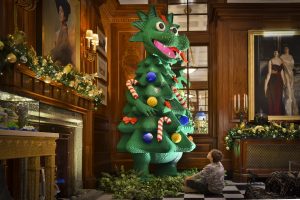 The iconic hotel has partnered with LEGO to create their decorations this year as part of The Twelve Rebuilds of Christmas program. The LEGO Group has installed striking and playful displays above the world-famous sign on Savoy Court and in the Front Hall, with other surprise LEGO brick-built touchpoints placed elsewhere for guests to find as they move around the hotel. Visitors will have the opportunity to build a decoration, take a photo and share it on social media with #BuildToGive. For every decoration built and shared, LEGO will donate a set to a child in need within hospitals, children homes or underserved communities to play with this Christmas.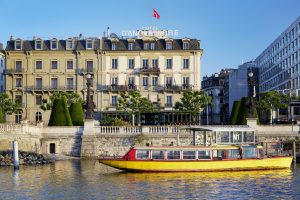 Its spectacular setting on Lake Leman with Mont Blanc in the background gives this Swiss hotel lots of Christmas cred without even trying. But it elevates the season with experiences that could have you in the kitchen for a cooking lesson with executive chef Michael Coquelle, visiting Geneva's famous Christmas Market and enjoying a private tour of Gruyères (with a cheese fondue included, of course) and the Patek Phillippe Museum, showcasing the art of Swiss watchmaking. For good measure, there's also champagne and transportation via Mercedes Benz, too.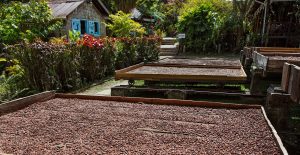 If snow and chilly temperatures aren't part of your ideal holiday, then escape to the warmth of this lovely resort. You'll spend the night in a private cottage and spend your days chilling by the pool instead of out in the snow. To celebrate Christmas, you can sign up for a chocolate-centric experience where you'll taste your way through the 135-year-old cocoa plantation and will learn more about the island's chocolatey traditions.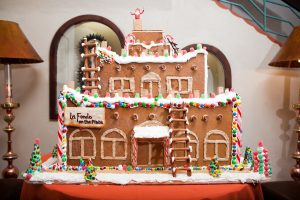 This elegant property puts a unique twist on gingerbread houses. It creates an intricate design based on its own distinctive Pueblo revival architecture. Chef Lane Warner has been making the masterpiece for seven years and has mastered the artistry that goes into it. After decorating the gingerbread pieces with royal icing, he adds ice cream cone trees and LED lights to give it that extra sparkle. It stays in the lobby of the hotel until New Year's.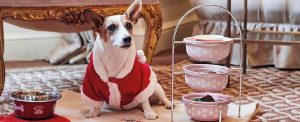 Guests of this charming property in Knightsbridge can bring their pooches to a special afternoon tea in its elegant drawing room until January 1. For you, there will be plenty of scones and wee finger sandwiches. For your four-legged pals, there are goodies like chicken and beef meatloaf and homemade dog treats, plus a fun chew toy to play with. You'll both also enjoy the Victorian-era decorations and Christmas trees.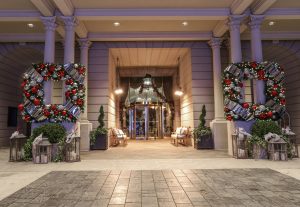 Located about 70 miles from Pittsburgh, this sprawling resort in the country does Christmas big and in style. To start with, the property is illuminated by two million lights. Then there's a walk-in gingerbread house, dog sledding, roasted marshmallows by an open fire pit, plus workshops on how to make your own gingerbread creation. Not sure if there's an age limit, but we're excited about the Elf Tuck-Ins. An elf will come to your room for 30 minutes, read you a bedtime story, bring reindeer dust and a stocking full of gifts. Count us in!
For more ways to celebrate the holiday festivities at your favourite hotels, have a peek at these stories.
(Feature photo courtesy of Fairmont Royal York of The Thirsty Elf)