The tiny mountain hamlet of Ketchum, Idaho, is best known for its connection to Ernest Hemingway, who spent his final years there. His grave, adorned with tokens from admirers (especially bottles of bourbon), is just a half-mile from Hotel Ketchum, an ideal ski-play-and-stay property.
Ironically, much of Ketchum, which is spitting distance from the world-class skiing at Sun Valley, has morphed into something Hemingway likely would have disdained. That's not necessarily entirely a bad thing—Hemingway certainly had his faults—but he did enjoy the finer things in life, and Hotel Ketchum is just that. The boutique 33-room hotel, built in 1989 (previously called the Bellemont) reopened in December 2017 after a $4 million remodel.
Street cred: It's all about location
The beauty of a tourist-friendly town as small as Ketchum—whose most recent census puts the year-round population at just under 3,000 residents—is that the town is highly walkable. Hotel Ketchum is situated in the northwest corner of the downtown area, putting guests no more than a quarter-mile from a myriad of shops and restaurants. (This is key since parking in Ketchum can be hard to come by.)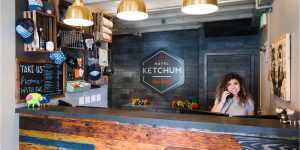 Who hangs here: Is this hotel for you?
Like just about everything in Ketchum, the hotel caters to outdoorsy adventure types. It's less than 10 minutes from phenomenal turns at the Sun Valley holdings of Bald Mountain to the west and Dollar Mountain to the east. The resort offers lift-assisted downhill mountain biking in the summer when hiking and wildflower viewing are also at their peak. Skiing and mountain biking mean you may have some equipment to store. Fortunately, Hotel Ketchum has a dedicated Gear Garage for safe, convenient storage near the lobby. It's complete with a work bench for those who have the know-how to tune their own equipment and there's high-quality gear to borrow, everything from hiking poles to dog leashes. Adventurers who want to bring Fido along will be glad to learn the hotel is also dog-friendly.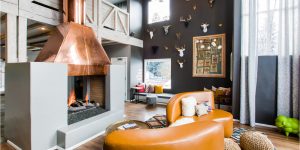 The straight goods: What's in the room?
The Hotel Ketchum experience begins in the lobby, filled with imagery of friendly, offbeat sheep. The sheep make an appearance along the open-air hallways on the way to the rooms—each adorned with a cheeky welcome mat. The mats indicate the way to "Fiesta" (out) versus "Siesta" (head on in). If you chuckle at the greeting, you'll break into a full-on grin when you enter your spacious room. There's truly no bad view in Ketchum.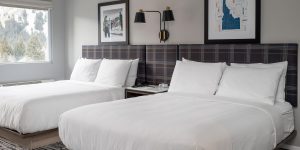 Patrons of the hotel will likely spend little time in their rooms since there's more than enough to keep you entertained around town all year round. While you're there, though, the rooms are incredibly comfortable without sacrificing aesthetics. I stayed in a 340-square-foot double queen room with soft Euro Top Simmons mattresses topped with 300-thread count linens and fluffy, hypoallergenic pillows and comforters.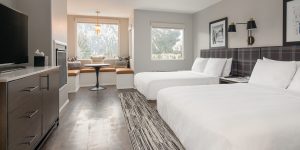 The room also had a sitting area with a sturdy table and padded benches adorned with quirky throw pillows. The lighting there was excellent, since the west-facing wall was practically all window. Complimentary WiFi plus plenty of electrical outlets throughout the room make it possible to charge everyone's electronics or, if you're so inclined, get some weekday work done between ski runs. The walls feature pop art-style black-and-white prints of skiers with eye-catching splotches of color.
Thanks in part to the hotel's recent remodel, the rooms are newly fresh, airy, and clean. I'd never have guessed that it was dog-friendly, given that there was no trace of pet hair or lingering odor. (My own dog received copious attention from the friendly bartender at The Hangout, so dog "friendly" is very accurate.)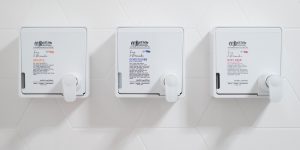 Bathrooms are equipped with gray-tiled showers and feature fresh-smelling C.O. Bigelow toiletries. The bathroom lighting in my double queen room was more than sufficient to make the transition from hiking clothes to a more suitable dinner-on-the-town look. My room's walk-in shower had good water pressure—great for rinsing off dirt and sweat post-adventure. I was surprised, however, by the lack of bathtub for an après ski or hike soak. Throw on one of the hotel's unique gray bathrobes, which look like an oversized sweatshirt, while you get ready. They're a refreshing departure from the standard white terrycloth robe.
A 50-inch flatscreen TV on the room's simple dresser will keep you entertained as you wind down from the day's adventures. The hotel doesn't offer room service, though you can easily order from in-house Paddles Up Poke or The Hangout. (You're also so close to the town's huge variety of restaurants that it's easy to pick up takeout on the way back from your latest outing.) The mini-fridge is the perfect size to store what's left of a six-pack from Sawtooth Brewery Public House, directly across the street from Hotel Ketchum or a pizza from Wiseguy. A Keurig machine with a selection of flavors makes it easy to get ready for a big day outside.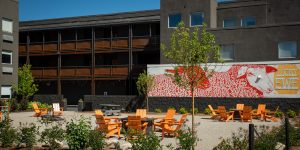 Bragging rights: What else has it got?
Many hotel lobbies make a nominal effort to be friendly gathering places. They should look to the Hotel Ketchum lobby for a shining example of how to ensure guests actually want to congregate there. A cozy fireplace, comfortable couches and plenty of Idaho-inspired art and books make this lobby feel more like a ski lodge than an austere entrance. During the summer, The Backyard—the hotel's outdoor courtyard space—regularly hosts live music and other community events.
Most Hotel Ketchum patrons get their workouts in the hills, but if conditions aren't cooperating, it's no problem to work up a sweat on the Hotel's grounds. The heated swimming pool is open year-round, and a fitness center features well-maintained basics.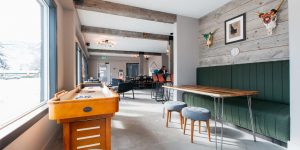 Good eats: Cocktails and cuisine
Continental breakfast often implies a selection of cereals and maybe some seasonal fruit. The hotel's breakfast selection exceeds expectations on that front, too. The continental breakfast is available at The Hangout, the hotel's very own bar, from 7 to 10 a.m. daily. Complete with fresh pastries, a selection of cured meats and cheese, and even a satisfying gluten-free granola mix (plus dairy-free milk alternatives and coffee whiteners), this breakfast is plenty to fuel a day in the mountains.
The Hangout lives up to its name in the afternoon and evening, too, when jovial bartenders sling specialty cocktails. Keep an eye out for numerous nods to Hemingway. Happy hour is from 4 to 6 p.m. daily. For more substantial eats, walk around the corner to Paddles Up Poke, also housed within Hotel Ketchum, featuring healthy cuisine in the style of the traditional Hawaiian dish.
A few of our favorite things: What stood out?
Unpretentious hospitality is clearly a priority at Hotel Ketchum. The hotel's amenities feel fun and quirky, but it would be easy to undermine that feeling with a snooty staff. Fortunately, the hotel's staff is anything but—I didn't have a single interaction all weekend that didn't leave me feeling welcome. The incredibly helpful concierge provided recommendations for her favorite sit-down breakfast spots in town and even lived up to the hotel's dog-friendly reputation when she knew where my dog would be welcome to sit on the patio and where he could be stuck waiting in the car. I was also impressed by the bartender, who remembered our drink orders from the previous afternoon and asked how our hike at the resort had been. Every staff member asked what had brought us to Sun Valley, and by the time we left, I believed them when they said they looked forward to seeing us again.
A close second to the top-notch staff is the access. Rooms have incredible views of the surrounding peaks. Despite that, it feels quiet and private. The hotel is right on the main drag, making it easy to find your way further downtown or into the mountains.
Parting shot: If we could change one thing
Hotel Ketchum is a little unusual, and that's part of its charm. There's little that could improve a stay here, especially for those whose primary entertainment is time spent outdoors. The Hangout is such a cozy place to while away an afternoon, but its hours are quite limited. Expanded hours would mean more time to reminisce about the day's happenings and to pick the chatty bartender's brain.
We found rooms in April 2020 starting at US$162.
If you're looking for hotels in ski country, check out these Banff hotels!
Emma stayed as a guest of the hotel. The hotel did not have editorial approval.
(Photos courtesy of Hotel Ketchum)