Lansdowne Resort and Spa is one of those true American resorts. It sprawls out beside the Potomac River covering close to 500 acres. It boasts an award-winning golf resort and plenty of daily activities during the week for both guests and locals.
In 2016, the resort had an overhaul, incorporating décor inspired by its position as the gateway to Northern Virginia's wine country.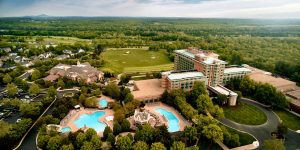 Street cred: It's all about location
The 296-room resort is located in Loudon County, considered to be the entry point for Northern Virginia's blossoming wine country. It is just an hour's drive from Washington, D.C.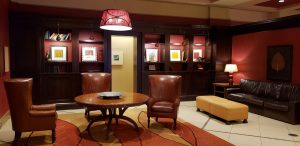 Who hangs here: Is this hotel for you?
Business types attending conferences and meetings, families looking for a getaway that will keep the kids occupied and couples settling in for a romantic weekend in the country all find themselves feeling at home here.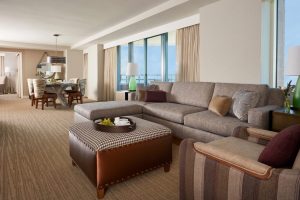 The straight goods: What's in the room?
At 1,000 square-feet, my deluxe king room—number 701—was one of the largest I've ever stayed in. A sizable, contemporary living space in grays and taupes has a full-size dining room table and chairs, sofa with accompanying seating and coffee table, a wet bar with a coffeemaker and fridge, and a full bathroom. This all takes up a good chunk of the suite. But, not to imply otherwise, the bedroom is equally huge. Finally, there's a large balcony overlooking the rolling landscape of the Potomac River Valley.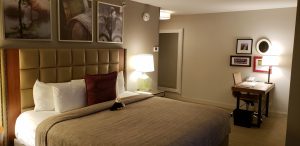 A king bed decorated in gold and red accents figures prominently in the bedroom, but there's also a proper work desk, a dresser with a large-screen TV above it, and a bar area to one side large enough to put miscellaneous doohickeys on it along with your ice bucket. The room is warm and homey and difficult to leave in the morning. There's also an en suite attached to the bedroom.
Both bathrooms are done in a brown/beige color scheme and have a tub/shower combo stocked with full-size Nest toiletries.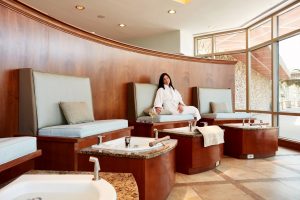 Bragging rights: What else has it got?
There's the award-winning, 45-hole golf resort as previously noted, designed by Greg Norman and Robert Trent Jones Jr. It also has, as the name indicates, a lovely spa, Spa Minérale. It offers unique treatments like the calming Kerstin Florian Magnesium Wellness Massage where your body is kneaded and your skin nourished until you feel like you're floating. There's also an aquatics complex with no less than five pools (including one indoor) for you to frolic in. As well, you'll find a long back terrace with a firepit to keep you warm, plus tennis, basketball and volleyball courts, a horseshoe pitch, health center with daily fitness classes, a children's playground and loads of walking, hiking and biking trails spread around the resort.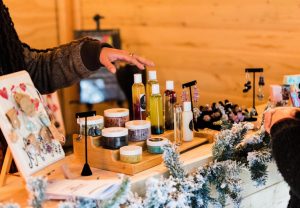 I was there in December and the resort had on a Winter WonderLansdowne market with wares from local artisans and a s'mores station, horse carriage rides, a Santa's secret petting zoo, a polar express mini locomotive and workshops ranging from ornament decorating to advent calendar making. They even had an upcoming workshop on how to build a vision board for the new year.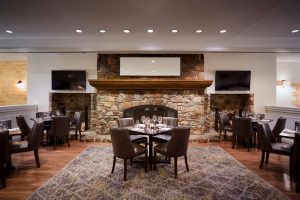 Good eats: Cocktails and cuisine
There are four restaurants and lounges on-site—breakfast eatery Riverside Hearth, chophouse restaurant Piedmont's Table (considered to be the fancy spot to dine on Fridays and Saturdays), Pub 46, located in the golf clubhouse, and the locavore restaurant and tavern, Coton & Rye.
And here's your local history lesson: Lansdowne Resort and Spa sits on the former land of Thomas Lee (after whom Leesburg is named). Lee had some pretty prominent sons, two of whom were signers of the Declaration of Independence. One of his sons, Thomas Ludwell Lee, lived on this parcel of land and named it Coton Farm after the family's ancestral home in England. Many years later, we have Coton & Rye Tavern, exhibiting the same sort of hospitality that the Lee family showed to soldiers of the War of 1812 and to other travelers needing a good meal and a place to stay.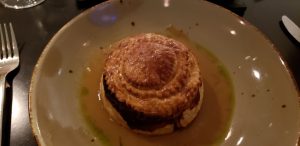 The food and drink at Coton & Rye are based on old timey traditional recipes using local produce and ingredients. Stand-out beverages on the menu are also the local craft beers, wines and spirits. Try the smoky, delicious tomato bisque paired with a decadent gooey Great Falls grilled cheese, or the chicken pot pie, the restaurant's homey signature dish that comes steaming to the table filled with roasted chicken, onions, carrots, celery and mushrooms all envelopped in an herb-rich, thick gravy. I enjoyed my meal accompanied by a lovely, refreshing glass of local sauvignon blanc from Boxwood Estate.
The war cake, which is described as an "unnecessarily" large piece of chocolate cake, is so audaciously huge that it took me two nights to eat what I could and then still ended up throwing half of it away before leaving the hotel. It would take a group effort to get through all of it!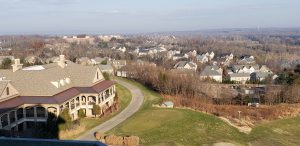 A few of our favorite things: What stood out?
The suite was so large and comfortable that I could have easily lived here. Plus the view from the balcony overlooking the grounds was contemplative and stunning at the same time.
Parting shot: If we could change one thing
The suite was lovely and contemporarily designed, but the bathroom lets it down a bit in the style department.
We found rooms in December for US $127.
Janice stayed as a guest of the hotel and Virginia Tourism. They did not have editorial approval.
(Photos courtesy of Lansdowne Resort and Spa unless otherwise indicated)