Since opening in 2008 as one of the first boutique hotel-condo hybrids in the city, the Hôtel le Crystal is a west-central Montreal property serving as an oasis of calm in a busy part of town. A cool new renovation sees it embracing the cool qualities of its name, and amping up the luxe factor.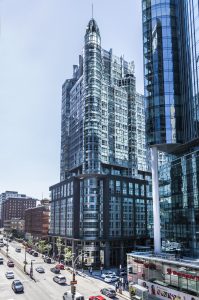 Street cred: It's all about location
There's lots going on outside the front doors of this convenient spot at the edge of the Golden Square Mile in west-central Montreal. The hockey arena, Bell Centre, is a two-minute walk, as are the shops of St. Catherine Street West. Both Concordia University, the central train station and the Montreal Museum of Fine Arts are a 10-minute walk away. You can also walk to Old Montreal in about 25 minutes.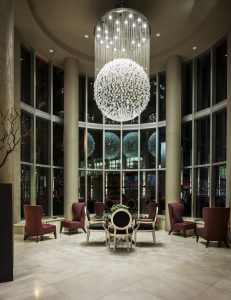 Who hangs here: Is this hotel for you?
Sports fans and concertgoers with cash (they're not sitting in the cheap seats), business people, visitors who are drawn to the glamour of the Golden Mile in some way, be it the shops or the restaurants, the architecture or simply the chic factor.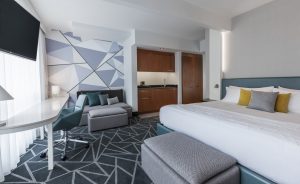 The straight goods: What's in the room?
A crystal-patterned mural and carpeting, plus a mirrored sculpture, play up the décor theme in the loft suites. Larger suites have crystal-shaped coffee tables. Clean lines and minimal fuss (read: no other art) lend a sense of airiness. A small kitchenette is equipped with a sink, fridge and microwave. A long, white workspace counter doesn't get in the way.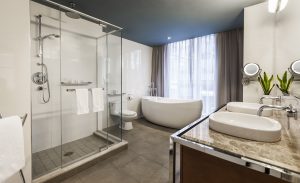 Big bathrooms have shiny, white tiles and ceramic flooring, chrome-trimmed double sinks, soaker tubs and rain head showers.
Bragging rights: What else has it got?
Some suites sport room-sized balconies, almost doubling your space. Like, you could have a cocktail party for 25 on a nice day, provided everyone brings a hat.
Good eats: Cocktails and cuisine
The highly touted Thai restaurant Siam Centre-ville is right off the lobby, serving authentic Thai cuisine. There's also a Starbucks counter in the hotel, too, for those who need their caffeine fix.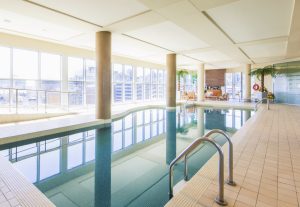 A few of our favorite things: What stood out?
Super nice staff! Service is warm, unscripted and efficient. The big bathrooms are truly elegant and luxurious.
Parting shot: If we could change one thing
The giant balcony could have used a chair or two. Or a table, yoga mat, fern. Anything really.
Loft suites from C$200 (US$150). Breakfast not included.
Think Montreal's cool? See more Montreal hotels right here!
Doug was a guest of the hotel during his stay. The hotel had no editorial input for this review.
(Photos courtesy of Hôtel le Crystal)