That's right, folks. One of Toronto's most venerable celebrity hotels, the Thompson Toronto, will soon be closing down for extensive renos and will re-open as the first 1 Hotel in Canada, expected to open some time in 2020. It will mean a change of image for the property. It will leave its reputation for somewhat naughty nightlife and re-emerge as a place where guests can enjoy the chillaxed, green vibe that 1 Hotels are known for.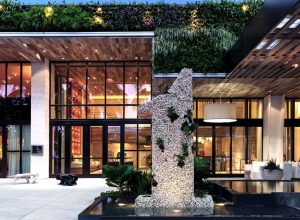 Luxury brand 1 Hotels really embraced the sustainable hospitality concept with the opening of its first hotel in 2015—1 Hotel South Beach. The company used an existing structure to create the hotel and also incorporated reclaimed materials gathered in the local community—everything from timber, driftwood and limestone. Local foods are highlighted and the lobby even has a farmer's market with local, seasonal produce available to hotel guests.
The Toronto property will follow the same 'shop local' idea. The company is working with home-grown artists, builders and chefs to create a hotel that is based on nature for an eco-conscious guest experience. The design of the hotel will be focused on capturing the natural beauty of Canada and the lively energy of  the King West neighborhood where it will sit. We love that 1 Hotels customize each property's design to the city it's in.
Look for extra special signature touches like custom organic cotton mattresses and sheets, filtered water taps to fill up your water bottle, HEPA air filters and live greenery in the rooms. Even the hangers are made from 100% post-consumer recycled materials.
We're looking forward to getting back to nature with this one.
To get more Miami, see this story right here.
(Photo courtesy of 1 Hotel South Beach)