St. Regis Hotels entered the Canadian market with a splash. It created a luxurious hotel that stayed true to the brand's longstanding traditions, from champagne sabering in its stylish lobby bar to ground-breaking design. The property's flair for creating stunning spaces was awarded in October at the 11th Restaurant & Bar Design Awards held in London. The competition drew entries from more than 70 countries.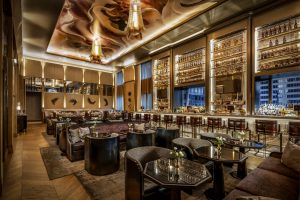 The St. Regis Toronto (part of Marriott International) was awarded best international hotel design 2019 for LOUIX LOUIS, its gorgeous restaurant/bar located on the 31st floor. Inspired by the legendary cocktail bars of New York and Paris, its two-story high, 30-foot long Grand Bar pays homage to a time when conversation over classic cocktails was a cherished part of the travel experience. It also considers Toronto's heritage as one of the largest distillery districts in the world at the turn of the 19th century. It's the undisputed star of the room, commanding attention with its sheer size and the sumptuous materials used in its construction, like Roma Imperial marble and sculpted bronze shelves.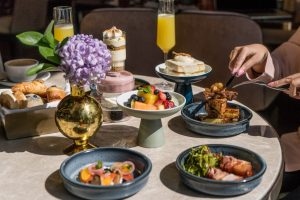 The spacious room hosts brunch, afternoon tea, breakfast, lunch and dinner, along with cocktails and light nibbles. Judges for the awards appreciated the warmth and coziness of LOUIX LOUIS. It has a golden glow, reminiscent of the colors of a fine whisky.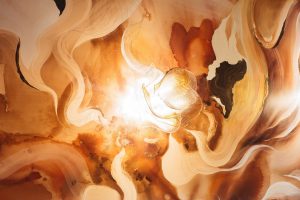 It's no coincidence that the 60-foot mural on the ceiling is entitled, 'Bouquet of Whisky,' hand-painted by Toronto artist Madison van Rijn. It mimics the light, amber hues and movement seen when you swirl the spirit in a glass. Curved oak walls, champagne-colored drapes, custom chandeliers and oxblood bar stools complete the look—a collaboration of Toronto-based DesignAgency and the Marriott Luxury Design Team.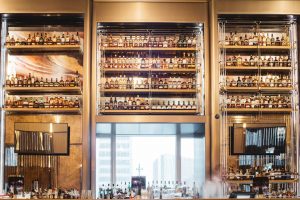 If that inspires you to get sipping, you're in luck. The bar has one of the largest collections of dark spirits around with more than 500 on hand. If you're unsure about what to order, the cocktail menu is a good read, outlining the history of classic, sometimes forgotten, cocktails, like a Silver Gin Fizz, Blood and Sand (featuring Heering cherry liqueur), and a Jack Rose with apple brandy. The must-sample is the bar's own Rouge 140 named for the 140 languages spoken in Toronto. Its ingredients, including soy sauce, oven-roasted red pepper, chilli, tomato juice and vodka, also take their cue from the city's diverse multicultural communities.
To go along with those lovely cocktails, there are oysters Rockefeller, lobster hush puppies and mini crab cakes. For those who like something sweet to go along with their sip of choice, try the 13-layer King's chocolate cake, a towering dessert with Guayaquil dark-chocolate ganache and a dusting of gold flecks, plus a scoop of vanilla ice cream and thick chocolate sauce, that elevates it to royal heights.
A hearty congratulations to the St. Regis Toronto on winning such a prestigious award…. It's well worth a celebratory toast or two on-site at LOUIX LOUIS!
Find out what else is going on in Toronto hotels here.
(Photos courtesy of St. Regis Toronto)