Four Seasons Hotels and Resorts has had a presence in Toronto since 1961 when the company first opened a motor hotel on Jarvis Street and then a property in Yorkville. Many moons later—after opening properties worldwide and becoming a hospitality empire—the brand opened a fresh Four Seasons Hotel Toronto in 2012, ushering in a modern, well-designed diva of a hotel, ready for the spotlight.
Street cred: It's all about location
The original Four Seasons Toronto sat in the heart of Yorkville, THE city's poshest neighborhood. The Four Seasons Hotel Toronto 2.0 version does, too, just a wee bit northeast of where the old one stood. Soaring 55 stories, you are in the heart of ritzy shops, high-end restaurants and top attractions like the Royal Ontario Museum and Bata Shoe Museum.
Who hangs here: Is this hotel for you?
Spiffily-attired business people, au courant fashionistas and well-heeled couples on a city break flock to the posh property.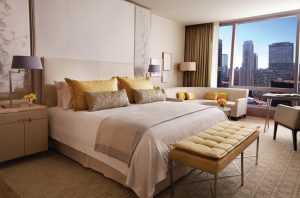 The straight goods: What's in the room?
The 259 Yabu Pushelberg-designed rooms are coolly elegant, bathed in warm beige and earth tones. Rooms are partially open plan which means, thankfully, that views into the bathroom are limited to the sinks and, depending on the angle, the tub, but doors are there to shut yourself away while on the toilet or showering. Nobody needs to see that.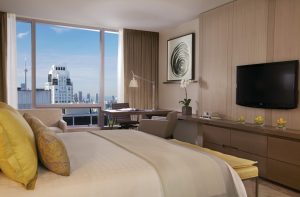 I stayed in no. 1116, a Premier Room, and it was spacious at 515 sq. ft., with a king bed, proper night tables where you can store your stuff, a sofa and a table, a desk with two chairs, an impressive tabletop counter that spanned the entire living area and floor-to-ceiling windows showing off the spectacular Toronto skyline. A Nespresso machine, a kettle and minibar were there to fulfill your more visceral needs—coffee most definitely being one of them. Tech included a BOSE stereo system, a smart flatscreen TV, complimentary WiFi—which all hotels should be including in the room price in this day and age—plus an iPad to access hotel services, and all the accoutrements for your A/V and charging needs at the desk. Kudos for the multi-country plug adapter—a thoughtful touch.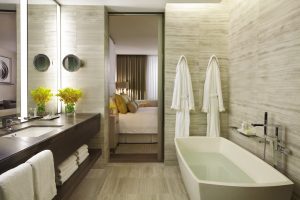 The granite bathroom was also large with a beautiful, flat white modern soaker tub with a handheld showerhead, frosted glass doors enclosed a shower and a separate privy. Plenty of plush towels and the woody, spicy Le Labo Hinoki toiletries were a real plus.
Bragging rights: What else has it got?
The Spa at Four Seasons Toronto has recently undergone a renovation and it is a tranquil, inviting spot to hide, we mean hang, out and rest for a spell. Colors are pale, earthy and soothing and treatment rooms (17 in total) are dim, but not dark.
Services, such as the Himalayan Salt Stone Massage—very de rigueur at the moment—are on offer. After you settle into your treatment room, you can select the music you'd like to listen to, whatever puts you in the chill zone. Then you are gently poked and stroked with the salt stone before a layer of organic whipped shea butter is slathered on, and you're left feeling relaxed and rejuvenated at the same time.
Right next to the spa is an indoor pool with loads of loungers and sofas with tables on hand. It's a great spot to come before or after a treatment to take a dip or sip on some mineral water.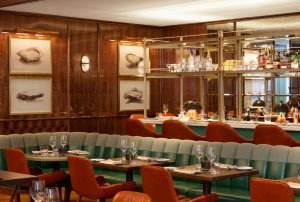 Good eats: Cocktails and cuisine
Café Boulud is the signature restaurant at Four Seasons Toronto. Classic French dishes figure prominently on the menu and the dishes deliver in terms of taste and presentation. Service is fairly formal, but the staff are warm and friendly. If you have a chance, try the tasty tarragon-laced rillons (crispy pork belly in a gribiche, mayo-like sauce) and the smoky, silky textured seared black cod in a tomato broth with confit potatoes, lardons and crunchy leeks (called cabillaud on the menu). The soufflé Grand Marnier was light, not too eggy, and moist.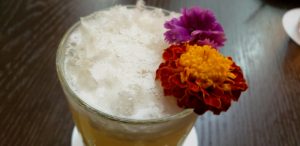 Cocktail lovers will adore the hotel's swanky d|bar, where the cocktail is king or, shall we say, queen. Mixologist Melissa Hart is its award-winning cocktail creator and was named Four Seasons Top Mixologist of the Americas for her delicious Rikyu's Harmony beverage. Made with sake, Japanese whisky, lemon juice, lime juice, shiso leaves and an in-house infused goji berry syrup, this concoction is a wonderful blend of sweet, sour and savoury, and is crowned with matcha green tea foam.

A few of our favorite things: What stood out?
Aside from the absolutely stunning lobby, the rooms felt very much like a home-away-from-home and you could easily spend a couple of weeks holed up there, if that's your thing.
Parting shot: If we could change one thing
If a hotel is going to go the full distance and offer a Nespresso machine in the room (and we'd like to thank you for that 'cause this writer's a wee bit addicted to them), please don't let liquid Coffeemate ruin that delicious cup.
We found rooms in November for CAD $545 (US $412).
(Photos courtesy of Four Seasons Hotel Toronto unless otherwise indicated)
Janice stayed as a guest of the hotel. The hotel did not have editorial approval.