Ask any parent and they'll probably tell you that holidaying with kids isn't much of a vacation. With jetlag, the schlepping of stuff, sharing cramped quarters and the inevitable meltdowns at mealtime, a "stay-cation" often seems like the better option.
Enter Beaches Negril–a wonderland for kids of all ages and a real sanity-saver for parents desperate for a break. With amazing amenities and idyllic beachfront setting, this five-star all-inclusive luxury resort in Jamaica has thought of every possible way to keep everyone happy–so exhausted moms and dads can chillax with a glass of champagne on the beach.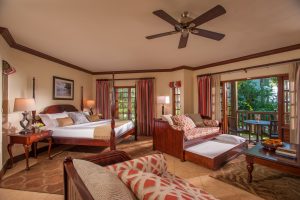 1) Flexible room arrangements
One of the downsides to family vacations? Cramming everyone into one room. Luckily, Beaches Negril has your back with 186 rooms and suites that have been designed with families in mind, including multi-generational trips that include grandparents and other relatives. Take your pick. Whether it's a three-bedroom butler suite with four bathrooms or a beachfront room with a king-sized bed and trundle bed (a couch that converts into two single beds) or two connecting family rooms with three beds and two bathrooms. What's convenient is that most rooms include a range of sleeping options making it easier for families on a budget to share a single room.
2) Amusements for the kids
From 9 am to 9 pm, the resort offers countless age-appropriate activities that go beyond building sandcastles. Adventuresome tykes under 12 years old can participate in everything from scavenger hunts to beach soccer to capture the flag competitions and cooking classes. At the kids camp headquarters, I watched Cookie Monster host a baking lesson for hungry seven-year-olds, followed by a chocolate chip cookie feast.
Traveling with teenagers? There's plenty for "too-cool-for-school" adolescents. Whether it's chilling in the Xbox Play Lounge, karaoking at Club Liquid or hanging out at the Trench Town Teen Center, you won't hear them whining. The resort has taken entertainment to the next level, and you can feel safe knowing that your youngsters are supervised by trusted pros.
3) Butlers at your service
Got a snack attack on the beach? Call Jeeves using the mobile phone provided by the resort. Yes, this is a thing. Personalized butler service is included in top-level suites and will truly make you feel like a celeb. Your butler is on-call 24/7 to make your family holiday dreams come true, from packing a special picnic lunch on the beach to planning an off-resort outing and fetching your book from the hotel room. It's a convenient perk that allows you to completely unwind.
4) All Are Welcome
Beaches Negril scores big points for inclusivity, as camp staffers are equipped to cater to all children–including those with autism and other special needs. You can even request a One‐on‐One Beaches Buddy to be with your child for a few hours (or even the entire stay) in a sensory‐friendly location of your choice.
5) Babysitting!
Dying for a quiet, grown-up dinner? There's a babysitter for that. Resort staff can arrange childcare for your family anytime during your stay. You can leave the youngsters 100% worry-free. Nannies and childcare specialists are certified by the International Nanny Association and qualified with an associate degree in early childhood education. This is an add-on cost, but it's a nice perk for parents needing a night out.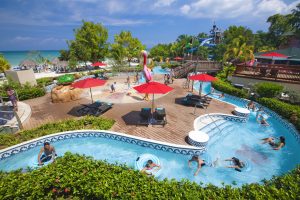 6) Thrills at the waterpark
Unleash the youngsters at Pirates Island–an 18,000 square-foot waterpark overlooking the ocean's edge. I couldn't get my kids out of the 650-foot lazy river that winds through tropical greenery, and they were hooked on the waterslides (one of which is an enclosed tube encapsulated in pitch-black darkness). This water-logged wonderland also has a plunge pool, ice-cream machine, whirlpool and a swim-up bar serving mocktails. It was amusing watching my crew order kiddie cocktails, like they were 19 years old instead of 12 and 7. A slew of eateries and restaurants are steps from the waterpark, making it easy to grab a snack without having to change out of swimsuits.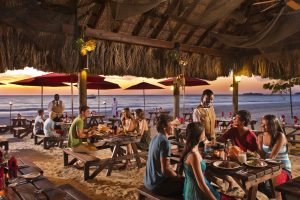 7) Grub galore
When I asked my nephew what he enjoyed the most about the resort, he responded: "I like that I can order all the food." With nine restaurants and a slew of snack bars across the resort, even picky eaters will be satisfied by the endless options. At Stew Fish, we ate breakfast on the beach, sinking our feet in the sand while devouring dishes like Caribbean eggs Benedict and ackee and salt fish with fried johnny cakes and sautéed callaloo (similar to spinach). Another night, we supped on sushi at Soy, followed by ice cream and crêpes at the Parisian-style café. There are plenty of take-out and casual eating options, too, including a DIY yogurt bar with a gazillion flavors and fixings. One afternoon, we ordered four wood-fired oven pies and feasted on the beach. Another day, we ordered a spicy jerk rotisserie chicken we demolished by the pool.
The highlight for all was Kimonos–an Asian-inspired restaurant that puts on an impressive show with Teppanyaki cookery. While seated around an iron flat-surface grill, we watched the chef fling knives in the air, expertly chop ingredients, play with fire and launch bits of food into guests' mouths. Everyone at our table left with full bellies and plenty of Instagrammable photos and videos.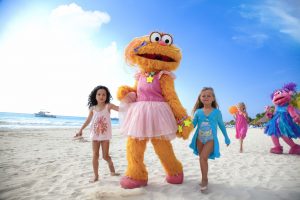 8) Sesame Street breakfast on the beach
Who doesn't love starting the day with Elmo and Big Bird? Every week, a tasty breakfast buffet is served on the beach, while Sesame Street characters visit each table. Our tent was filled with joyful shrieks from little fans, who seemed to equate this with hanging out backstage with pop stars. Even the older kids got a kick out of playing and posing for pics, and they didn't say no to the Sesame Street goodie bags at the table. This experience has to be booked in advance, so ask the concierge or butler to get you on the list as soon as you arrive.
9) Get zen as a family
The spa isn't just for grown-ups! At the Red Lane Spa on-site, the menu of services also caters to kids, tweens and teens, offering everything from hair braiding to temporary tattoos to mani-pedis to strawberry lime smoothie facials. Set up in a luxurious room, my niece and I enjoyed massages side-by-side–an experience that she's still yacking about to family and friends. The spa menu even has a "Dads and Dudes" treatment for the boys. It's the perfect place to crash when you need to get out of the sun and take a "TV time-out."
10) Wickedly good evening entertainment
At most resorts, the evening entertainment is pretty hokey (think lounge singers and mediocre dancers). Not here! For once, the kids dragged my butt to the nighttime performance–one that involved talent that rivaled Dancing with the Stars. Another night, we had a blast playing Family Feud with 100 other families, followed by a very interactive scavenger hunt that had the youngsters running around like Law & Order cops, seeking out various objects (and people). The fun was infectious. It was difficult to not get involved with the evening entertainment.
To see more about family fun in the tropics, check out this story.
Lisa was a guest of the hotel during her stay. The hotel had no editorial input for this article.
(Photos courtesy of Beaches Negril)