Given the intense competition in one of America's most saturated hotel markets, Orlando's wealth of wide-ranging accommodations can leave visitors to the Happiest Place on Earth feeling tormented while trying to book their stay. LGBTQ+ travelers to the area have a helpful inside track in making that choice. Host properties of Orlando's queer circuit parties offer a safe and obvious haven by virtue of their community support and top-drawer diversity, customer-service training.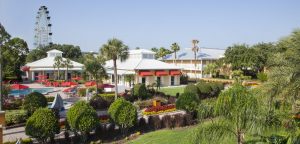 There was a shift of galactic proportions recently in Orlando's queer tourism scene when Gay Days—the city's signature queer multi-day excursion with pool parties and theme park excursions—moved to a new host hotel: The Wyndham Orlando Resort International Drive. In August 2019, men in Speedos kibitzed in the Wyndham's pools, sipping frosty drinks while house music pulsated. Joy, love and lust wafted in the humid air!
Multi-day circuit parties such as Gay Days involve a top to bottom, curbside to poolside takeover of the city's otherwise family-friendly resorts, displacing the nuclear family and PG-rated atmosphere for a few extraordinary days.
Wyndham's director of sales, John Goodman, says the 40-year old campus-style hotel still shines from its 2014 renovation when Wyndham first acquired the property. The 613 mainly king-sized rooms and walkable neighborhood—next door to a plaza and situated on International Drive, laden with restaurants, tourist attractions and shopping—are great selling features. But one stands out for Gay Days—its pools. "Pool parties are a main component of the event and ours are impressive," he notes. To ensure that welcoming vibe, the Wyndham squad receive the company's Count on Me diversity training.
Gay Days' organizer Chris Manley is no stranger to the Wyndham given the hotel has been an overflow option for Gay Days attendees in previous years. "Situated at the center of the tourist district, the Wyndham is great," he says. "It's a really good fit."
Manley vividly describes the entertainment value of his event. "I compare Gay Days to a cruise," he says. "Our hotel is like the cruise ship. Once you board, you do not have to get off because there is so much to do. We make sure it is like a three-ring circus: everywhere you look there is something going on." The event also features a marketplace, drag queen pageant, porn star bingo, wellness classes, food expo, leather man competition, pool parties and more.
But even if visitors do not align their visit with the annual Gay Days, the Wyndham still appeals for queer travelers. Among the design highlights, Manley appreciates the balconies or patios attached to most suites at the Wyndham. "It's added living space and gives great views of the pool activities," he says. "It's a bit of a judging panel."
The Wyndham's rooms are pleasantly decorated in neutral tones, augmented by pops of color in the décor for a Floridian feel.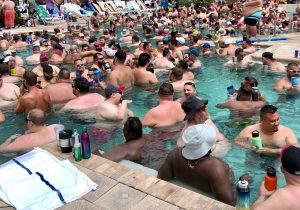 Closer to Walt Disney World, the Holiday Inn Disney Springs has raised its profile among the many hotel clusters around the theme parks by hosting Tidal Wave, a three-day pool party for bears, since 2013. (In the gay community, a "bear" is generally a large and hairy gay man but the term references an identity, not just a combination of physical traits.) Holiday Inn is an impressive property that punches well above its rack rate with amenities that include a large T-shaped pool and spacious guest rooms with balconies.
Christine Burns, the hotel's director of sales, says guests are impressed by the grand contemporary lobby and atrium. "Often guests do a double take at check-in, confirming if this is really a Holiday Inn," she says. White marble and stark walls with tasteful accents of vibrant primary colors create a tropical vibe. Nearby Disney Springs, a cluster of shops, restaurants and attractions that wrap around a water feature, is an easy walk.
Burns is a Disney World fanatic but her weekly visits (yes, weekly) are not all play. She takes careful note at the "Happiest Place on Earth" on how to improve the guest experience at her own property. "Disney does a great job with the aesthetics and the details, but it's the cast members that really make an impact," she says.
She feels this warm welcome is especially important for LGBTQ+ guests. "When they are here, I want them to have the best time and forget the outside world," she says. It's an approach that suits the group's unique requirements. She says her team genuinely gears up for Tidal Wave, indicating the group's appreciation of LGBTQ+ guests.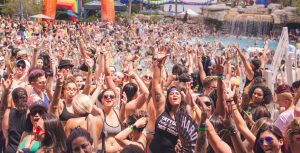 In Celebration, a charming Desperate Housewives-esque neighborhood visioned by Walt Disney, the Grand Orlando Resort at Celebration plays host to Girls In Wonderland, showing that Orlando's LGBTQ+ circuit party scene isn't boys only.
The independent resort is currently seeking a Marriott Delta branding by year end and landed the event for lesbian, bisexual and trans women as well as their allies in 2018. When the bid opportunity came to the Grand, director of sales Bill Zarbock says, "We were all for it. All of our guests are welcome and we will accommodate them from all walks of life."
The hotel includes expansive grounds, multiple dining rooms and two botanical-landscaped pools, one heated and with a pleasing waterfall feature. The hotel's rooms are decorated in calming earth tones that provide a reprieve from the city's 24-hour stimulation. Guests can also stroll to both high-end boutique shopping in Celebration as well as outlet stores nearby along the Safari Trail.
"Our job is to deliver on the service," Zarbock says of his plan of execution for Girls in Wonderland. "And we serve this group according to their specific needs." The Grand makes on-site washrooms all-gender during the event and in advance, rolls out a training refresher for staff. "Year round, we pay careful attention to pronouns and we teach our staff that when they are corrected, adopt the correct pronoun and continue to deliver our service," he says.
Yeseniy Loen of Girls in Wonderland underscores the importance of the Grand's exceptional welcome. "For our attendees, it's all about feeling free to be who they are and accepted by the hotel," she says. "Accepted by the attendees. Accepted by everyone so they don't have to worry. They can just have a great vacation and a time to meet new women."
Ted stayed as a guest of the hotels. The hotels did not have editorial approval.