Come September, the spotlight turns to the annual Toronto International Film Festival (TIFF). The Tdot becomes the epicenter for the film world, with movers and shakers flying in from around the world to see, be seen and show off productions that may soon be on a big screen near you.
The festival frenzy spreads from the TIFF Bell Lightbox to all the official screenings throughout the downtown. But to truly feel like an A-lister, you'll want to snag a highly coveted invite to a preview hosted by one of the city's poshest, and most exclusive, hotel screening rooms.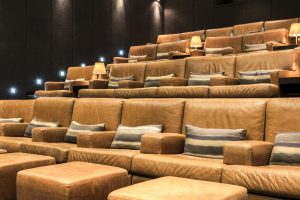 The Hazelton Hotel Silver Private Screening Room
Designed by Christopher Hansen of Beverly Hills' Simply Entertainment, this 25-seat room at The Hazelton Hotel is wallpapered in mohair for soundproofing and features buttery soft seating in a caramel hue. It also includes a foyer for pre- and post-viewing social time and catering from the hotel's restaurant ONE, overseen by chef Mark McEwan.
Hotel X Toronto Screening Room & Cinema
At Hotel X Toronto, film fans can choose from an intimate screening room or a two-level cinema, located on the hotel's Arts & Entertainment Concourse. The 56-seat screening room offers plush cream-colored seating, while the spacious cinema can host up to 250 guests. (Both are wheelchair accessible.) Guests year-round can benefit from a freebie night at the movies with film screenings and popcorn included.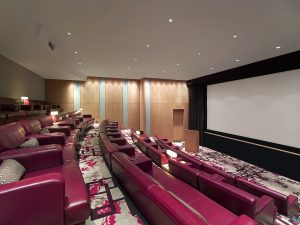 Shangri-La Hotel Toronto Screening Room
Keep an eye out for movie stars in the lobby before entering the spacious theater at Shangri-La Hotel Toronto which boasts over-sized cherry red chairs and loveseats, welcoming a maximum of 42 guests to relax in front of the big screen. Hotels chefs can serve classic Canadian cuisine or Asian delicacies to go along with media junkets and previews.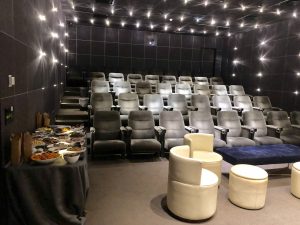 Thompson Toronto Screening Room
Most visitors are lured to the hotel rooftop at Thompson Toronto for its incomparable views of downtown Toronto during TIFF parties, but cinematic types know it's worth the effort to venture to the hotel's lower level. A spacious 1100-square-foot cinema has seating for 41, which comes with writing tables for noting down those memorable movie moments.
The Windsor Arms Private Screening Room
Intimate and cozy, this wee cinema at The Windsor Arms is found within a historic building, a favorite of celebs who want to avoid paparazzi. All the essentials are found here from comfy chocolate brown leather chairs to the 108- inch screen. With seating for 15, guests can order vintages from the hotel's 2000 bottle cellar or items from the hotel's dining room The Gatsby, or Savion, the property's kosher restaurant.
To find out where to have a tipple during TIFF, check this story out!