Set the tacos al pastor and guacamole aside. If you think you know what your Mexican-inspired meal at that posh all-inclusive will look like, think again. At Cielito Lindo at The Grand at Moon Palace in Cancun, tender blackened onions come stuffed with chili-spiked mayo and are served among charcoal wedges, while a doughnut-shaped tortilla conjures the look of a cenote in a fish-filled ceviche dish.
There's not a red gravy slathered burrito nor a skillet of chicken fajitas to be found on this menu. Instead, chef Álvaro Cepeda has gone way, way back, to the origins of regional Yucatan cookery, to bring forth a decidedly modern offering when it comes to a Mexican restaurant.
The menu at Cielito Lindo sets the tone for all the food and beverage offered at The Grand. In fact, it reflects the resort's overall vibe — feeling much more like a boutique hotel but with all the scale and grandeur of a star resort.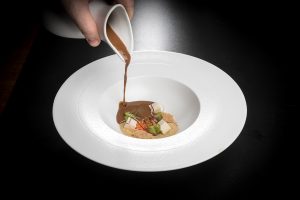 They've gone deep on this menu, offering twists on the familiar, such as duck carnitas with mole and black tortilla soup. Then there's something a little more exotic like the nopal (cactus) aguachile — something similar to ceviche — with pork belly and dried peppers. And octopus blended with carrot, pineapple and refried beans. The lime soup risotto features roasted limes, Dutch cheese and crispy guajillo peppers.
The perfect pairings for dinner at Cielito Lindo fall firmly into the tequila and mezcal categories. In fact, a spirits sommelier will help diners select the perfect shot to go with those charcoal onions and field lamb with cocoa. But it's the cocktails that make a big splash. The Red Mezcal blends the smoky spirit with orange juice, cassis and strawberry then finishes with a sprig of rosemary. For a balanced sweet and sour concoction, try the addictive Tamarind Mezcalita with tamarind paste, bitters, agave and lime juice.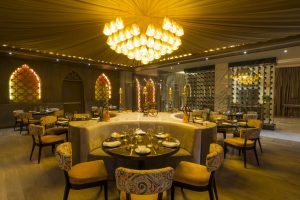 With 17 dining option on the resort, sampling foods beyond Mexican fare is mandatory — and without disappointment. In a bold move, The Grand's culinary offerings include a Lebanese restaurant call Habibi where diners are encouragedto share both hot and cold traditional dishes. Tucked into upholstered booths in the posh, gold-accented room, diners are encouraged to try shanklish, a cheese sprinkled with za'atar spices and served with tomato, red onion and peppermint. Or chicken fatteh baked with chickpeas and mixed nuts with fried bread and yogurt sauce.
Drink choices are just as splendid including Arabian lemonade made with whole lemons and peppermint or jellab, a blend of tamarind and date pulp, rose syrup and pine nuts.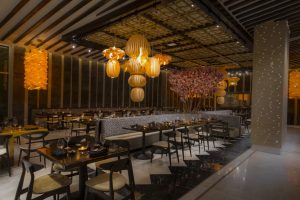 Craving something else? In addition to The Grand Buffet, which makes a mean chiliquiles for breakfast, diners at The Grand may choose from Tavola (Italian), Jade (Asian), Le Chateau (French), JC Steakhouse, Tapas and Wine Bar, Caribeno (seafood), Los Tacos (casual poolside dining), Cusco (Peruvian), Cantina (traditional Mexican), The Ninth Pin Bowling & Bar, Lobby Bar and Beach Club. Boulangerie Coffee Shop is open around the clock for coffee, tea, baked treats and light fare.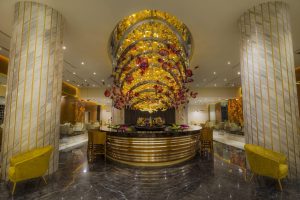 For those who want to do more than eat, the two-year-old property, adjacent to the Moon Palace in Cancun, is big, with 1,300 guest rooms scattered among three-story bungalows at the ocean's edge, and has plenty to keep you occupied. It has nine — yes nine — outdoor swimming pools, including the Unique Day Club for adults-only with a live DJ. There are five swim-up bars, a full service beach club, gym, a six-lane bowling alley and an ultra-trendy teen lounge and nightclub. Kids will love the waterpark complete with whooshing slides and spray pads. An indoor component called The Playroom includes neon mini golf, a three-floor labyrinth, arcade, bumper cars, laser maze and mirror maze.
They've gone all the way to the top of the luxury scale at Awe Spa. The spacious facility offers massages, bath therapies, facials and body scrubs, all with a Mayan twist. For pre- and post-treatment relaxation, a room full of warming beds may lull you into slumber. There's an area for self-administered body and hair moisture treatments, therapeutic showers and even an ice room for cooling down after a sauna (although at 20°C, it's all relative). While the Mexican sunshine beckons outdoors, it's nearly impossible to leave the blue-hued hydrotherapy room, outfitted with bubbling hot tubs, massaging water spouts, a cold plunge pool and comfy day beds for naps.
We found all-inclusive rates in September starting at USD $340.
(Photos courtesy of The Grand at Moon Palace)
Shel stayed as a guest of the hotel. The hotel did not have editorial approval.