La Réserve Paris Hotel and Spa is offering an over-the-top luxurious, once in a lifetime holiday experience to select VIP clients. For the first time in its history, France's legendary Château de Vaux-le-Vicomte (said to be the inspiration for the design of Versailles) is hosting a Christmas Eve celebration exclusively for guests of La Réserve. The 17th-century château is the largest privately-owned castle in France.
But let's not get ahead of ourselves. The château visit is just one part of the property's five-day Christmas holiday extravaganza for up to a maximum of 15 guests. The five-star hotel's festive program begins December 20 so you'll need to hurry. You'll enjoy a suite at La Réserve (complete with butler) at, what is considered to be, one of the city's most exclusive palace hotels just minutes from the Champs Elysées. Located in a 19th-century former mansion, La Réserve is also home to two-starred Michelin chef, Jérôme Banctel's, restaurant, Le Gabriel. You'll also want to take some time to relax at the hotel's spa, which comes complete with an indoor pool (a rarity even among Paris' top properties).
From December 20-23 you'll revel in a handful of holiday firsts like a private cruise of the Seine, a La Réserve VIP-only personalized tours of the Eiffel Tower and of the Louvre museum. You'll also have the chance to indulge in some exclusive private Paris boutique shopping experiences.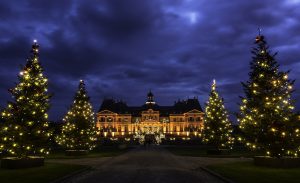 December 24 is when you'll head to the famous Château de Vaux-le-Vicomte. While the castle is located an hour outside of Paris, you won't have to worry about traffic or taking the train. In fact, La Réserve even goes one better than a chauffeured drive because the hotel will be transporting its guests to the Vaux-le-Vicomte via helicopter.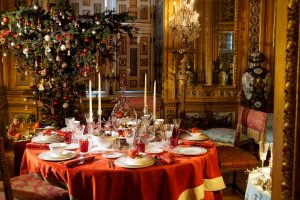 The holiday dinner at the château will be prepared by Chef Banctel and it will include select vintages from Cos d'Estournel. You'll conclude the evening in style with a carriage ride around the castle's spectacular gardens (which were designed by the same gardener who did the gardens at Versailles) and an incredible fireworks display.
On December 25 you'll end your stay at La Réserve with a walk around Paris to view the Christmas displays. After all, what better way is there to end an out-of-this-world Christmas experience in the City of Light then by enjoying its magnificent light displays? C'est magnifique!
Prices for this extraordinary holiday adventure are available only on request (but we'll warn you that if you have to ask, you probably can't afford it).
(Photos courtesy of La Réserve Hotel and Spa of Château de Vaux-le-Vicomte)