Imagine a luxury lodge so beautiful, so in balance with its surroundings that you might actually want to spend more time staring at it from the outside than from the inside. Welcome to New Zealand's newest exclusive property, The Lindis. The lodge, set amidst 6,000 acres of the country's prime wilderness, is in the breathtaking Ahuriri Valley on New Zealand's South Island and is surrounded by conservation parks on three sides.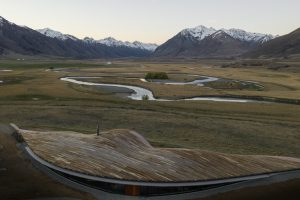 The main building is more sculpture than structure. The architecturally inspiring design was built to blend in as much as possible with its surroundings, such that it looks as though it organically arose from the landscape. The undulating timber roof highlights the natural setting and melds with, rather than detracts from, the nearby river and mountains.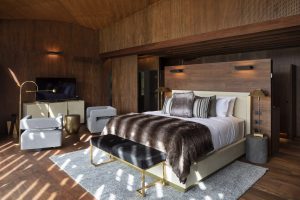 Running off the main building are five individual suites. Each luxury accommodation has singular views thanks to an entire wall of floor-to-ceiling windows. Suites feature natural wood and rock accents and include a private bathroom, a sitting area, an outdoor area, a gas fireplace and a mini bar.
When you can tear yourself away from the view, you can enjoy a drink at the Bar & Great Hall where you will find a selection of hand-crafted cocktails and New Zealand wines, as well as international vintages.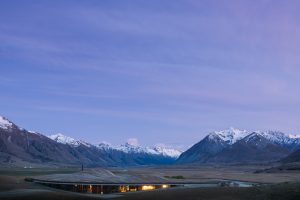 Outdoor activity options abound. The Lindis offers ecological tours and is near one of the country's best fly-fishing spots. Or opt to discover the area by trekking by horse or by foot. There's also unparalleled mountain climbing, mountain biking and buggy touring opportunities. If you're really feeling daring, the lodge can arrange a tour of the dramatic landscape via the air, with a once-in-a-lifetime glide plane tour. Or just sit out on your private terrace and enjoy some of the world's best stargazing. So incredible are the star sightings that the lodge intends to add several individual glass pods as an extension of the main property in the near future.
Meals are another of The Lindis's selling points. "Daily menus will provide a uniquely 'New Zealand' style of refined cuisine paying homage to the abundant local produce and experienced staff will deliver a refined high-country Kiwi experience," says general manager William Hudson. The meals focus on regional New Zealand produce and farms and are paired with carefully curated New Zealand and international wines. Offerings include local specialties like New Zealand beef and lamb, as well as Mount Cook alpine salmon.
Prices start at NZD$2500 (US$1780) daily per suite. Rates include daily pre-dinner drinks and a charcuterie station, a multi-course dinner, breakfast, afternoon tea and your suite's mini bar.
(Photos courtesy of The Lindis)