Yes, this is a young hangout, but really, everyone can fit into The Standard in West Hollywood, home of the hip. This mid-century modern gem makes an excellent home base for checking out the various neighborhoods both trashy and ritzy, people-watching around the blue AstroTurf-lined pool deck or checking out the view from your semi-circular, retro-style balcony.
Street cred: It's all about location
In the heart of arty West Hollywood on legendary Sunset Boulevard, The Standard is walking distance from all the cool Hollywood haunts—Chateau Marmont, The Griddle Café, The Comedy Store, Whisky a Go Go, The Viper Room and more. As well, it's an easy cab to the Hollywood tourist traps like Grauman's Chinese Theater. Beverly Hills and Rodeo Drive, and the retail therapy of Robertson Boulevard, are also within easy reach.
Who hangs here: Is this hotel for you?
The Standard is tops with the art crowd, smartly dressed millennials, starry-eyed tourists, film business creatives, young actors waiting to be discovered, and people like me who just want to have a good Hollywood sighting or at least think I might have seen someone recognizable. I saw a total of one celebrity the whole time: Juan Guzman from Narcos.
The straight goods: What's in the room?
Rooms are spartan but comfortable, minimal but warm. Millennials love their creature comforts, so there are plenty: Egyptian cotton sheets, down pillows, floor-to-ceiling windows, decadent mini bars and Bluetooth speakers. Breathing space runs from 300 to 500 square feet; more than you would expect. Bold patterns, blue headboards, little work stations, cute bathrooms and a silver vinyl beanbag chair round out the room.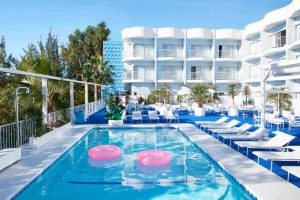 Bragging rights: What else has it got?
One very cool thing about The Standard is that you get to choose your own check-in and check-out times. The pool is really the most fun, very relaxing with great service and terrific views of the hillside—you could spend all afternoon here and many do. Have fun eavesdropping to get the gist of the callbacks or at least play spot the accent to guess where people are from. Juan Guzman is from Puerto Rico, but I think he lives in Vermont.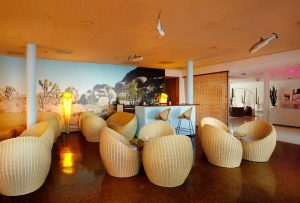 Good eats: Cocktails and cuisine
The restaurant Croft Alley is open around the clock, its menu doting on Cali cuisine. It also does an amazing breakfast. The Cactus Lounge, with its desert mural and round rattan chairs, leads out to the Pool Deck, where Hollywood hopefuls have their power lunches and mineral waters. I didn't come all this way to watch Juan Guzman eat a cheeseburger, but there you go. "Secret" nightclub mmhmmm is open on Saturday nights. Guests enjoy 24-hour room service.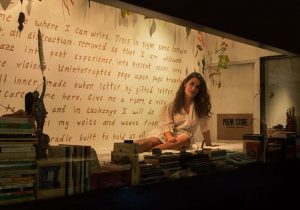 A few of our favorite things: What stood out?
The Box is a celebrated, glass cupboard behind the front desk big enough to fit a person and a few pillows. This art installation is a tableau vivant, sporting a model relaxing or a guest artist making art.
Parting shot: If we could change one thing
If we could have just turned Juan Guzman into Ryan Gosling or something, I would have been even happier.
Standard rooms from USD$265. Breakfast not included.
Doug was an anonymous guest of the hotel during his stay.