Thinking of exploring the middle east? Well, consider giving cosmopolitan Qatar a visit and be sure to check out the new luxury hotel that's launched in one of the country's most interesting neighborhoods. Set on the shores of the Arabian Gulf, Souq Al Wakra Hotel Qatar by Tivoli has just opened in the colorful Al Wakra area, an up-and-coming seaside district that's only a 20-minute drive south of Doha, the capital of Qatar.
Al Wakra once flourished as a trading post in the 17thcentury, and was a major hub for sailors, pearl divers and fishermen. Over the last few years, there has been quite a lot of investment directed towards preserving heritage sites and revitalizing the area, and the Souq Al Wakra Hotel Qatar is part of the rebirth of the historic district.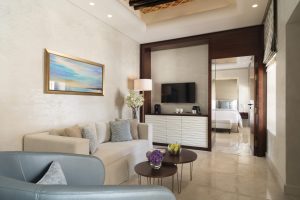 The architect and designers were careful to capture the authenticity of the area by blending contemporary style and comfort with a Qatari aesthetic. The hotel encompasses two buildings and offers 101 guest rooms, many with sea views. The buildings are remolded heritage houses and every effort was taken to preserve the character of the original structures.
As a nod to the tradition of basket weaving, each of the guest rooms and suites features touches of classic thatched roofs. The décor throughout the rooms and the hotel highlight the peaceful crystal blues of the sea with touches of gold and orange to echo the sands of the desert.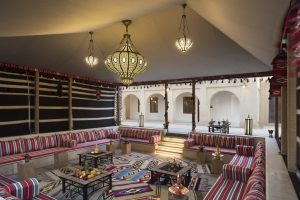 Atmospheric and maze-like paths lead to courtyards and guest rooms. For large, private gatherings, rooms can be easily blocked off from other guest suites and centered around a Qatari majlis. Majlis were traditional gathering places for friends, family, government and business leaders to come together to discuss important matters. The property has them peppered throughout the grounds to create perfect Qatari-style gathering places for guests.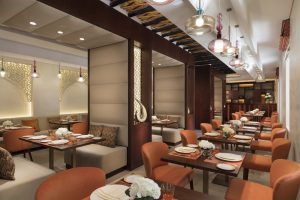 If you're a picky eater fear not, Souq Al Wakra Hotel Qatar offers a selection of five restaurants to tempt your taste buds. Choose from fresh seafood (sourced daily from the local Al Wakra market), Arabic mezzeh, Asian flavors, Western favorites and more. There are also lovely lounges that feature outdoor terraces where you can enjoy a thirst-quenching mocktail and take in the views.
If you're looking to relax, you'll definitely want to spend an afternoon at the hotel's spa, which features separate treatment rooms for men and women. The spa also has a hydro pool, steam room, Vichy shower and jacuzzi. Try the spa's signature After Souq Escape to relieve sore muscles after a day of shopping. There's also a gym for those who like to balance a day working out their wallet with time working out their abs.
Better yet, get your exercise time in by spending the day at the Souq Al Wakra where merchants sell local, hand-made goods like traditional clothing to foods and spices. At night, the Souq is a wonderful place to grab a casual meal or talk with friends and locals over a cup of tea. The property is also just a fifteen-minute drive from Doha's Hamad International Airport and is adjacent to the Al Wakra public beach and promenade, which is ideal for a romantic stroll while watching an unforgettable Arabian sunset.
Rooms start at US$107 per night (CAD$140).
(Photos courtesy of Souk Al Wakra Hotel Qatar by Tivoli)