A Victorian-era beauty, the newly renovated Adelphi Hotel, part of Small Luxury Hotels of the World, in Saratoga Springs, NY (a half hour's drive north of state capital, Albany), is tapping deep into its roots as the place to see and be seen. Step into the warmly panelled lobby of this historic hotel with 32 guestrooms and you'll be ushered past an ancient (non-functional) telephone box to the registration desk, backed by a sparkling glass mosaic made from some of the hotel's original etched crystal dishes. Gaze up at the 11-foot ceilings and you'll see the glinting of silver paint flourishes. After a quick check-in, take the elevator to your floor, or pretend you are a character from a Victorian period piece (Henry James' Portrait of a Lady, perhaps?) and climb the four-story grand staircase.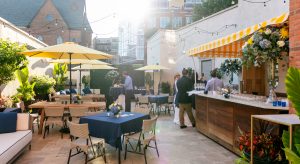 STREET CRED: IT'S ALL ABOUT LOCATION
Situated on Broadway, the city's main commercial street, the hotel has a full length, second-floor terrace where you can peruse the action below. Retail shops line the street and there are many good restaurants within walking distance. Guestrooms face the street and feature thick walls, so you don't have to worry about noise. It's also a short drive to the city's famous thoroughbred racetrack and to Saratoga Spa State Park, where you can sip mineral water from public springs or enjoy a rejuvenating soak at Roosevelt Baths and Spa.
WHO HANGS HERE: IS THIS HOTEL FOR YOU?
The Adelphi, the oldest surviving grand hotel from the town's 19th-century golden era, was built in 1877 and, at the time, offered 100 guestrooms. Back in the day, it was a draw for well-heeled folks looking to trade New York City's grit and heat for a cool sip of the town's naturally carbonated mineral spring water or a chance to bet on the ponies. The Travers Stakes, dating back to 1864, is a thoroughbred horse race that ranks third after the Kentucky Derby and Belmont Stakes for American three-year-olds. Today, guests still enjoy the water and the track, but a lot has changed.
In 2012, the hotel was purchased by a local consortium (The Adelphi Hotel Group) and an eight-month overhaul was planned. Peeling back the layers, it turned out it had to be gutted to the studs and new electrical, mechanical and plumbing systems installed. Five years and $28 million later, the property was finally ready for its big comeback. Last October, the doors opened to a gorgeously "Victorian modern" hotel with 32 elegant guestrooms (including six suites)—each with a bathroom the size of the original hotel's rooms. This is the type of establishment that still draws affluent patrons who appreciate culture and history, but with a contemporary edge. Custom-designed furniture is scattered throughout the property along with refurbished antiques reimagined with metallic wood finishes, supple leather upholstery and bold brocade touches. Gilt-framed mirrors line the hallways and underfoot gleaming hardwood is covered with plush rugs.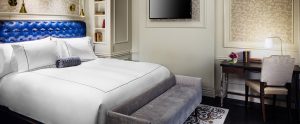 THE STRAIGHT GOODS: WHAT'S IN THE ROOM?
When it's time to turn in, a waist-high bed with high-thread count linens beckons in a 350-square-foot guestroom that includes a small hall. A mountain of deliciously soft pillows makes sleeping or sitting up to read an absolute joy. Vintage books sit on the shelves beside the bed and a cuddly, knitted comforter adds to the comfort quotient. A thick white terry bathrobe hangs in the closet and an oversized flatscreen TV on the wall opposite the bed is just the right height for late-night movie watching. Blackout curtains are remote controlled and there's a closet nook to store luggage.
Tucked in the closet, a shoebox is ready for footwear that needs shining, to be delivered the next morning. A mini-fridge is stocked with soft drinks and sparkling water. Particularly pleasing, the turndown service includes a royal blue glass bottle of Saratoga Springs water, a freshly house-baked treat such as a madeleine or a brownie, plus a card noting tomorrow's weather conditions.
Washing up in the huge bathroom, roughly half the size of the guestroom, is positively luxurious. The floors are basket-weave, black-and-white tiles and toasty, courtesy of radiant heat. A marble-encased walk-in shower flows with the city's signature spring water, as does a modern, egg-shaped tub. Bathe here and you'll have baby-soft skin and shiny hair. On the countertop, you'll find Red Flower toiletries, featuring pure flower extracts and fruit oils. Other perks include warm plush towels, thanks to a heated rack, and a Toto Washlet toilet, with a variety of bidet settings, provides an ooh la la experience.
BRAGGING RIGHTS: WHAT ELSE HAS IT GOT?
The library on the second floor is a cozy place to meet with fellow guests. A grand ballroom is popular for weddings, and at the back of the property a terrace overlooks a wide swath of lawn that is available for special events. Downstairs, below ground level, the wine cellar and a dining space can be booked for private gatherings.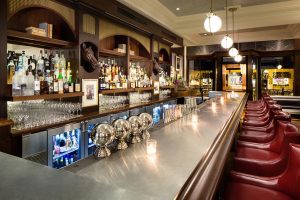 GOOD EATS: COCKTAILS AND CUISINE
If you're in the mood for a tipple or light bite, walk through the hotel lobby into Morrissey's. The pub is named for John Morrissey, a bare-knuckle boxer, entrepreneur and congressman credited for bringing racing to Saratoga Springs. Although people were already coming to take the waters for a variety of ailments, he wanted the town to have an attraction that would draw more crowds and keep them there for the summer so he organized and financed the first thoroughbred contest in 1863. Known for his toughness, Morrissey was also a charmer and was perfectly at home imbibing libations with the likes of William Travers, John D. Rockefeller and Mark Twain. Word has it that he gave up the ghost while sitting at the old Adelphi Hotel bar in 1878. But according to an article in Irish America magazine, it is more likely he passed away in his hotel suite while holding the hand of a priest. Whatever the case, this is a popular spot to order a drink, munch on wood-fired pizza or dig into sushi. There's local beer on tap, an interesting wine list and craft cocktails such as the Dram Shop with honey gin, apple cider, allspice and lemon. An array of small plates and shareable dishes include fried artichokes, maple soy-glazed pork belly bao buns, charcuterie and local upstate N.Y. cheeses. Read the menu and you'll find a statement by executive chef Chris Bonnivier saying that he is a firm believer in sourcing from local farms.
At the rear of the hotel, you'll find The Blue Hen, named after the Blue Toed Hen, an establishment that once stood close to the hotel. Helmed by chef David Burke who appeared on Iron Chef America, the restaurant features American cuisine with a twist. Starters include pastrami salmon with cucumber and mustard seed relish, Wagyu beef carpaccio, and wood-fired octopus. Entrees include spice-lacquered local duck breast, beet risotto and roasted lamb loin crepinette. Sides might be roasted Adirondack blue potatoes or honey thyme roasted heirloom carrots. Heavenly desserts could include choices of lavender ice cream or brown butter financier (a small French almond cake) with red currants and candied almonds. Breakfast features fresh pastries baked in-house, bread pudding French toast with maple whipped cream and bananas or blue crab eggs benedict.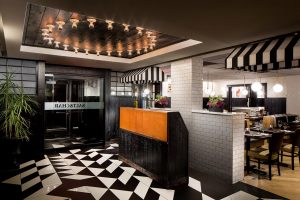 Next door to the hotel is another David Burke-helmed restaurant called Salt and Char. Start off with a craft cocktail such as a Chanch Meiggs' with pisco brandy, sloe gin, Cointreau, maraschino and orange juice. The food menu changes seasonally, but raw bar items generally include oysters on the half shell, steak tartare tacos or the daunting Broadway Tower of Maine lobster, jumbo shrimp, seasonal oysters, salmon tartare and crab salad. Appetizers include maple-glazed pork belly and shrimp, smoked scallops and bacon, and loaded fingerling potatoes. Along with prime cut beef and salt dry aged steaks, the mains include organic Scottish salmon and roasted cauliflower steak. Reservations are recommended, especially for outdoor porch seating in summer.
A FEW OF OUR FAVORITE THINGS: WHAT STOOD OUT?
Morrissey's is more than a hotel bar. It is a lively spot that has been wholeheartedly embraced by local Saratogians. There's a Social Hour (Monday-Friday 4:30-6:30 p.m.) with drink and appetizer specials. On some nights, there's live music. Plus, in an effort to be ecologically responsible, they no longer use plastic straws in their beverages.
PARTING SHOT: IF WE COULD CHANGE ONE THING
Currently, the hotel has no gym, spa or fitness facilities. A small gym would be welcome to counter the effects of all those house-made pastries.
In summer (high season), the average cost of a room is around US$380, but it can dip to below US$200 in shoulder season.
(Photos courtesy of The Adelphi Hotel)
Maureen was a guest of the hotel during her stay. The hotel had no editorial input for this review.