If chocolate were a hotel, what kind of hotel would it be? Well, now you can find out with a visit to Fauchon L'hôtel Paris. Fauchon, Paris' famous purveyor of gourmet foods (especially its legendary decadent chocolates), has just opened its first hotel.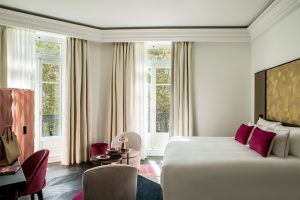 A member of Leading Hotels of the World, this luxe property is designed to be an all-out feast for the senses with an emphasis on vibrant colors, sensual textures and thoughtfully detailed décor (with hits of hot pink throughout). The hotel is in Paris' well-heeled 8th arrondissement on Place de la Madeleine, which is also where you'll find Fauchon's flagship store, in operation since 1886.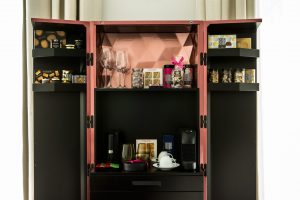 All 54 rooms feature balconies, Carita toiletries, Dornbracht shower systems and TOTO Japanese toilets. While the rooms are gorgeous, the focus is on the food. You won't find minibars in your suite but, rather, completely reimagined "Gourmet Bars," each offering curated food and beverage experiences designed around a guest's preferences. The hotel wants you to think of the Gourmet Bar as your very own Fauchon store with made-to-order treats.
The hotel will make arrangements with you prior to your stay to determine your unique "flavor profile" in order to stock your Gourmet Bar accordingly. Upon arrival, you'll feast your eyes on an assortment of fresh (and free—the personalized treats are complimentary) Fauchon creations. The culinary contents of your bar can focus on salty, sweet or even low-cal. Best of all, the fresh snacks (which range from pastries and chocolates to foie gras and caviar) are restocked daily.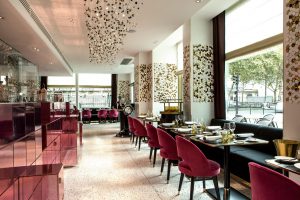 But the emphasis on gastronomy doesn't stop at the Gourmet Bar. The hotel also offers a nightly happy hour that they've rebranded as the "Glam Hour," where you can glam it up with fellow food-loving guests and relish fine wines, pastries, petits fours and Fauchon tea-based cocktails. You can also enjoy dining on superb French cuisine at the property's restaurant, Grand Café Fauchon. For a more intimate affair, you can opt for an in-room, chef prepared and served, private meal.
Still hungry for more foodie fabulousness? Well Fauchon L'Hotel Paris also has a unique Delicacies Discovery program. There are four Delicacy Discoveries available throughout the year—based on chocolate, tea, coffee and champagne—as well as numerous seasonal delicacies (like strawberry for summer or truffles in November). These sessions are led by a Fauchon chef and include tastings, pairing ideas, recipes and even a hands-on cooking experience.
You'll be happy to learn that, with all this emphasis on eating, the hotel also has a modern fitness center, complete with jogging coach. Or just give in and further indulge your senses with a relaxing massage or facial at the property's Carita Spa. No matter what you do, we're sure that a stay at the Fauchon L'Hotel will make your stay in Paris just a little sweeter.
(Featured photo courtesy of Photo courtesy of Fauchon L'hôtel Paris)