A tongue-in-cheek name for "my city," Hotel Monville Montreal is a project by the same owners of the Hotel Gault in Old Montreal, a favorite of design lovers. The overall idea is style for less, a concept made popular by such hotel brands as Quebec-based Alt Hotels.
Design team ACDF Architects, who did both exteriors and interiors, created monochromatic harmony between inside and out. The 269-room property is a tall slender building with a Tetris-like tromp l'oeil façade comprised of prefabricated concrete panels–each window demarcating a single suite. The clean aesthetic runs throughout the interior public spaces that include a lobby bar, the Gourmet Monville cafe, and various meeting and seating areas.
STREET CRED: IT
'
S ALL ABOUT LOCATION
Situated on lower rue Bleury, halfway between Old Montreal and downtown's shopping and cultural attractions it's the latest cool and cutting-edge boutique hotel in a city known for them.
This location in general is great as it's equidistant from so many attractions, but the block it's in is a little bit of a no man's land with few exciting neighbors, but that's changing. One of the city's best new coffeehouses, La Finca, is right next door and charming-looking new restaurants are starting to line the street.
W
HO HANGS HERE: IS THIS HOTEL FOR YOU?
In the summer the hotel is full of festival geeks, who like the hotel's proximity to jazz, comedy, fireworks and circus festival main sites. Other seasons see an equally artsy international crowd. Many of them take advantage of the hotel's pet-friendly status with lots of little Fidos going in and out with their owners.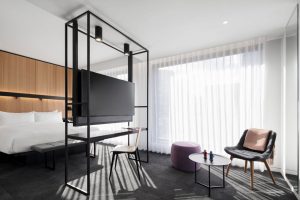 THE STRAIGHT GOODS: WHAT
'
S IN THE ROOM?
Rooms are quite compact, the bathroom in proportion to the bedroom: Ours had a standup shower, with sink and vanity area outside in the main room next to the coffeemaker and minibar fridge. Huge floor-to-ceiling windows did open up the space a bit.
Still, there's a spacious rooftop terrace to escape to if you feel claustrophobic, with a sweeping 16th-floor view of the city.
BRAGGING RIGHTS: WHAT ELSE HAS IT GOT?
As you enter into the triple-height lobby through the discreet vestibule you may or may not notice, lurking between the elevator and the front desk, an R2D2 look-a-like. As with Aloft and Westin hotels before it, the Monville's in-house robot has been tasked with delivering room service.
When we tested it out, it took about four staff to figure out how to get the electronic deliverer to work. (We know this because we snuck down to the lobby to watch his full cycle, from being called over to the front desk and loaded up with the paper bag of goodies—no hot meals are allowed for the moment—to rushing back up to our room ahead of it to wait for the much-anticipated delivery.)
Granted, this was very soon after the opening, so many things were still being figured out, as is usual. And there was a brand-new staff on duty (all young, keen to help and a good balance of hip and professional).
And when it does get going it's pretty awesome. Our room phone rang, signaling the robot was outside the door. We opened it to greet the machine delivering a La Fabrique bagel with lox and cream cheese and green Loop juice from the downstairs Grab and Go. R2D2 flashed us a "have a nice day" greeting, then blinked its way down the corridor, and waited by the elevator. Everything was programmed to accommodate its comings and goings.
The hotel also boasts Canada's first self-check-in. We weren't aware of it so didn't 'check' it out. Plus, we liked the welcoming smiles of the staff on duty. Smart televisions in the rooms that sync with personal devices are another hi-tech touch.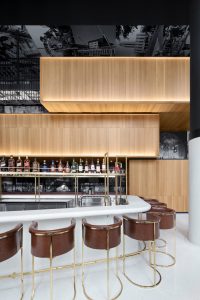 GOOD EATS: COCKTAILS AND CUISINE
The hotel showcases the best of Montreal. Lighting is custom designed by Lambert & Fils lamps, staff uniforms are by Frank & Oak and all-natural bath products are created by Oneka.
Similarly, the lobby bistro is very inviting in appearance, the kind of place you can feel comfortable ordering a cassoulet or a late-night snack with a local craft brew and a cone of crispy fries and mayonnaise. Local artist Valerie Jodoin Keating created a custom mural for the space featuring vintage black and white photographs of urban life to amuse guests with glimpses of Montreal's history. The bistro also offers a great range of excellent—if somewhat pricy—fully cooked breakfasts that are updated classic hangover fare with locally-sourced eggs, bacon and sausages, plus modern twists on French bistro cuisine, like a poached egg with duck confit or a killer Croque Madame. The corner grab and go has excellent pre-prepared lox and bagels, sandwiches, croissants and pains au chocolat.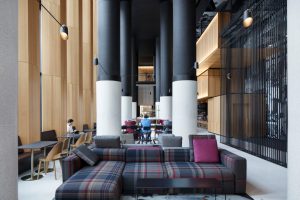 A FEW OF OUR FAVORITE THINGS: WHAT STOOD OUT?
The design of the hotel is fantastic. In the lobby, for example, there are various seating options and styles, including Montreal tartan sofas and leather banquettes. It's a space that seems to encourage you to linger and socialize.
PARTING SHOT: IF WE COULD CHANGE ONE THING
The price of parking is steep at CAD$35 (US$27) dollars a day.
(Featured image courtesy of Adrien Williams/Hotel Monville Montreal)
Karen was a guest of the hotel during her stay. The hotel had no editorial input for this review.