Vancouver has several multiple-star properties on offer, so the news of the arrival of a two–part Marriott hotel—even hotels from their high-end portfolio—wasn't met with huge excitement. But after they opened, people spread their wows and their eye-catching Instagram photos of the new resort Parq Vancouver and opinions were swayed.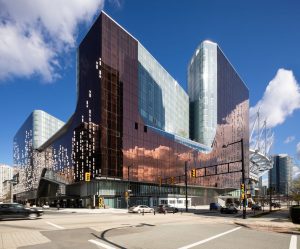 STREET CRED: IT
'
S ALL ABOUT LOCATION
Together, The Douglas (from Marriott's Autograph Collection) and the JW Marriott Parq Vancouver  form the new Parq resort. Situated on False Creek and at the epicenter of Yaletown and Gastown, the two hotels stand side by side. The handsome rose gold glass curtain wall offers a totally different look from the rest of the mandated green glass buildings of Vancouver's 1980s construction boom. Bonding them both in spirit and physically is a sixth-floor urban garden, a magnificent expanse of nature in the city comprised of 30,000 square feet of outdoor space and 200 native pines.
WHO HANGS HERE: IS THIS HOTEL FOR YOU?
Inside, there's a two-story casino—a source of the controversy when the project was first introduced to the city which balked at the idea of Vegas in Vancouver.
Where there are casinos, there are hungry people with lots of money to spend and plenty of demands. The owners brought onboard Las Vegas restaurant consultant Elizabeth Blau, the queen of high-roller restaurants who has created restaurants for Steve Wynn at Bellagio and Wynn Las Vegas. She was instrumental in bringing superstar chefs like Michael Mina, Jean-Georges Vongerichten, Daniel Boulud and Paul Bartolotta to the Vegas Strip. Her husband, chef and business partner, Montreal-born Kim Canteenwalla, created and oversees day-to-day food and beverage operations at Parq.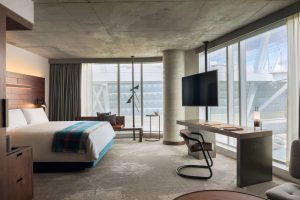 THE STRAIGHT GOODS: WHAT
'
S IN THE ROOM?
The Douglas has 188 guest accommodations while the JW Marriott Parq Vancouver occupies two towers on the east side of the resort with 329 rooms and suites.
We stayed in The Douglas where staff greeted us from behind a 25-foot replica fir encased in glass check-in desk, a central feature of the hotel's sixth-floor lobby. 
A corridor of rich woods led us to our room. It was spacious with one wall made up of floor-to-ceiling windows that looked out onto the urban garden and the peaks of Vancouver mountains, just poking up behind. There was a great work space area and a generous amount of space for just chilling in the comfy armchairs.
Bathrooms were large with ample counter space to spill out contents from my travel bag and included rainfall shower heads. Pillowtop beds were comfy and looked homey with Canadiana-style plaid blankets. Woodsy, eco-conscious touches like pencils instead of pens on desks were appreciated.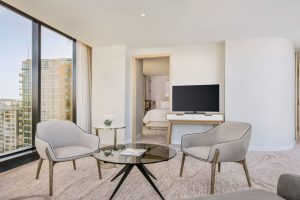 We got a peek at a room in the JW Marriott Parq Vancouver, also designed by Toronto hospitality heavyweights, Studio Munge. They had the same calm tones and residential feeling, if somewhat less woodsy.
The Parq is attached to BC Place Stadium. Staff were mum about which superstars have stayed here while in town to perform, but surely the secret passage way between the hotel and BC Place's Gate 7 would be a draw for celebs dodgingpaparazzi.
How does this two-in-one resort play out? It's an unusual concept and it created a few identity crises moments. We weren't always sure what to say when asked where we were staying. The Douglas? The Parq?
And it took a couple of days to figure out the ways we were affiliated with one or both. Our airport transfer let us off at the Parq, though we were sent to the lobby of The Douglas, which is on the sixth floor of that building—something that added to a slightly disorientating feeling which stayed with us the whole time. (Of course, it could just be us.)
There were plenty of rides up and down elevators as we went from one building to the other for the spa (where we had a terrific jet lag massage and enjoyed the 17thfloor setting). Pre-treatment, we nibbled on treats on a comfy chaise lounge, looking out onto the ocean and mountain views.
Luckily, there was an infinity mirror effect in the elevators of The Douglas to keep us busy Instagramming while we rode up and down. We weren't the only ones. This might now be the most famous elevator in Vancouver.  
BRAGGING RIGHTS: WHAT ELSE HAS IT GOT?
Oddly, there was no swimming pool—surprising considering the huge amount of outdoor space the Parq, which bills itself as an urban resort, has carved out. When we inquired about this, we were told, "It's not that kind of resort."
So what kind of resort is it?  The answer is an escalator ride up from the Parq lobby to the sprawling casino. It was built according to the inside-outside urban planning movement called Vancouverism. Think floor-to-ceiling windows—meaning that compared to most gaming places where they don't want you to know if it's night or day, light is allowed to shine through the huge glass windows. We strolled past the slots, baccarat tables and peeked into the private rooms, where hostesses prepared pots of lotus flower tea for guests. Staff told us there were drawers with slippers and bottled water available to make gamblers comfortable at the gaming tables.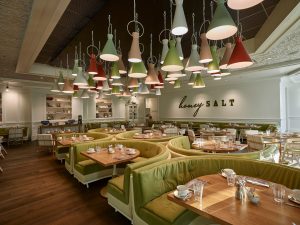 GOOD EATS: COCKTAILS AND CUISINE
Honey Salt is the Vancouver outpost of Blau's popular, farm-to-table Vegas eatery. Here, the space is pleasant with green tones and floral upholstery with a conspicuous sign with the name's restaurant covering one wall. The menu is comprehensive. It's open from breakfast to last call, including afternoon high tea. The fresh crudités plate is a great choice and an enormous slice of chocolate banana cake, called The Societe, has become an Instagram sensation.
Many of the hotel's other culinary offerings circle the casino area. They include the casual, late night Pan-Asian menu of MRKT EAST, inspired by Singapore's night hawkers'market. It's handsomely adorned with wallpaper made of replica vintage Chinese food labels. There's also BC KITCHEN for burgers, comfort food and specialty beers.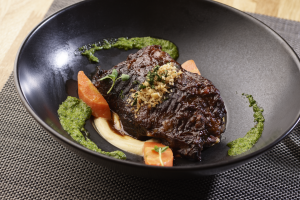 The Victor is the Parq's main food draw and the baby of chef Canteenwalla. On the night we were there, it was packed, likewise on other nights, too, as we could see from our hotel room window looking out onto the restaurant.
The Victor's guests were being brought fresh sushi, meaty crab cakes, saffron risotto, a massive, tomahawk steak and other cuts of beef—all cooked on the chef's favorite infrared broiler to char and leave them juicy in all the right places. Others were tempting fate with waffle-grilled cheese and even more decadent desserts, such as creme brûlée donuts topped with maple cotton candy. There's a beautiful cocktail list, but wine offerings were short on local BC wines. The Victor spills out onto a patio on the sixth-floor urban space, making for a very pleasant evening out in the city.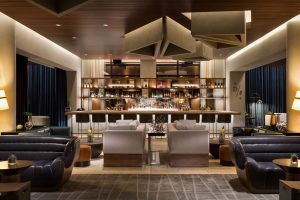 A FEW OF OUR FAVORITE THINGS: WHAT STOOD OUT?
Though it's just an escalator ride down, and another elevator up, The Douglas feels like a world away, quiet and tranquil with an inviting living room-type lobby. Its D/6 Lounge has a private area accessed via a secret bookcase swinging door. This bar also has an outdoor terrace—a very pleasant place to sip a Douglas fir-infused gin cocktail—that has helped make it a new destination bar.
For many guests, the baccarat tables are the big draw. For others, it's the event space—the biggest in Vancouver. We crossed through it several times on the way from one building to another and saw some pretty fancy looking weddings being set up.
But the incredible expanse of outdoor space given over to the sixth-floor urban garden is the ultimate in urban luxury. How fantastic to go out with a drink and a book and take five from the city.
PARTING SHOT: IF WE COULD CHANGE ONE THING
How about a GPS for guests who can't figure out their way around the complex?
(Featured photo courtesy of The Douglas)
Karen was a guest of the hotel during her stay. The hotel had no editorial input for this review.