Designed by noted Central American architect Ronald Zürcher, this stunning property is inspired by nature, buoyed by local art and crafts, and folded into its surroundings with a keen attention to the lay of the land and the wildlife that surrounds it.
Street cred: It's all about location
Papagayo is a lush peninsula of protected parkland jutting out into the Gulf of Papagayo with basically just one road in and out. But it has several multimillion-dollar homes and villas for rent for the likes of  the Kardashians, Beyoncé or you. While The Four Seasons sits on the tip of the peninsula, the Andaz Costa Rica Resort at Peninsula Papagayo looks out over Calebra Bay on the south coast, with the main Costa Rican coastline in sight along with the dazzling new Marina Papagayo. (Let's play count the yachts!) The 35-minute drive from the region's international airport is one of the top reasons Papagayo is favored by Hollywood celebrities flying down for the weekend. (Madonna used to own a home here.) An Arnold Palmer-designed golf course is not that far away, either.
Who hangs here: Is this hotel for you?
This hotel was big on sustainability and developing local cultural programs long before it was a trend. Visitors tend to be well-heeled yet down to earth, with interests in wildlife and nature, as well as good design and good value.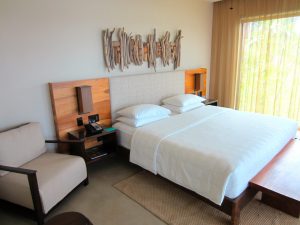 The straight goods: What's in the room?
The 153 spacious rooms are exquisitely designed, blending right into the bamboo trees and white- and black-sand beaches. Expect loads of low furniture, natural wood and many wildlife-influenced décor and furnishings, including basket-like light fixtures, which were inspired by the nests of the oropendolas that call this neck of the woods home. My bathroom gave way to a balcony with a shower, which was quite heavenly.
Bragging rights: What else has it got?
So many critters! You'll spot tons of birds, moths and butterflies, howler monkeys and white-faced capuchin monkeys, and the raccoon-like coatis, who can get quite bold—surprise, surprise.

Good eats: Cocktails and cuisine
There's a proper restaurant and bar in the thick of things, but the highlight is Ostra restaurant, just a little walk away from the main buildings. You feel like you're dining in a private villa, enjoying iconic Peruvian dishes with a Costa Rican twist. A whole page of the menu is devoted to ceviche, where you choose a fish and a style of ceviche and it is then mixed to order.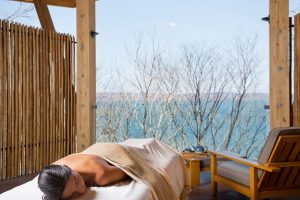 A few of our favorite things: What stood out?
The pool! The series of pools was designed to mimic the riverside, drawing a parallel to the Costa Rican culture of spending family time at the water's edge. And my massage! At the Onda Spa on the hilltop, I felt like I was tucked into a little treehouse overlooking the bay. Each treatment room has its own bathroom and mini-balcony for a serene post-treatment cool down.
Parting shot: If we could change one thing
More staff, please. I could see people looking around for a server or an attendant more than once.
Standard rooms from USD$200. Breakfast not included.
(Featured photo courtesy of Andaz Costa Rica Resort at Peninsula Papagayo)
Doug was a guest of the hotel during his stay. The hotel had no editorial input for this review.