One of nine Icelandair hotels in Iceland, the Reykjavik Natura flawlessly mirrors the natural beauty found right on its doorstep. Built in 1966 and renovated in 2011, it gives green-certified comfort, great art and attuned service.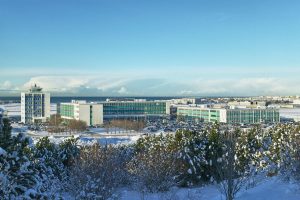 Street cred: It's all about location
The hotel sits in the woodlands at the edge of town, just a five-minute walk from Reykjavik's domestic airport next door. Designated parkland surrounding the hill of Oskjuhlid nets you hiking trails and cycling paths, and the fresh ocean air of Nautholsvik geothermal beach is 15 minutes away if you fancy a kayak or a swim. The hotel is a 10-minute walk from the Perlan, a glass-domed museum and restaurant, and the city center is a 20-minute walk away.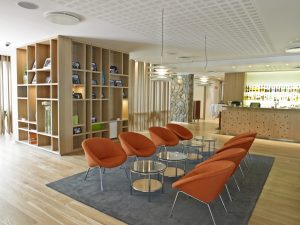 Who hangs here: Is this hotel for you?
As the airport is next door, the domestic business traffic is considerable and well-catered to. Then, there are the tourists: Fleece-clad adventurers on their way to and from excursions to the magnificent countryside (in rented 4 x 4s with a driver); young marrieds who take advantage of a stopover package, checking in for a few days before heading on to Europe; nature-lovers who like to escape to the surrounding park land yet still be "in town"; and people en route to northern cities like Akureyri to see the northern lights.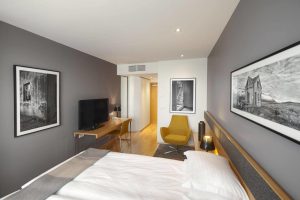 The straight goods: What's in the room?
The 200 rooms exude authentic Iceland character, i.e. they're spartan. Simple, modern décor includes lots of blond wood, parquet flooring, wool felt and clean lines (and little fridges). You have everything you need. Sóley Organics amenities in the bathroom deliver the benefits of local healing herbs and oils.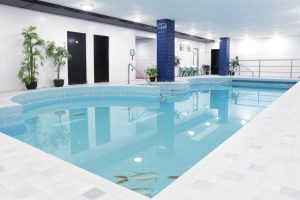 Bragging rights: What else has it got?
Bedtime Story evenings! Sometimes twice a week and they're not just for kids. The library also shows films if you don't feel like sequestering yourself in your room. There's also an indoor swimming pool and a nice spa.
Good eats: Cocktails and cuisine
Satt Kitchen does breakfast, lunch, dinner and late-night snacks and it's kind of a miracle that they keep it so very clean. Find the standard hotel menu items like pizzas and sandwiches, plus a nice selection of Icelandic food to keep the locals happy and to expand your taste horizons. An in-house bakery is another example of the hotel's high comfort factor.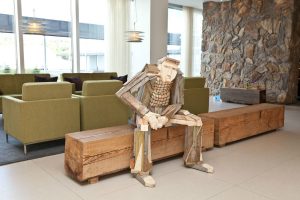 A few of our favorite things: What stood out?
The art is a breath of even more fresh air. The work of Icelandic painters and sculptors is front and center, including the whimsical wooden creations of Adalheidur S. Eysteinsdottir, which you will find all over Iceland. There's even a small gallery to escape to, and, of course, postcards you can take home from a little gift shop.
Parting shot: If we could change one thing
It took, oh, I don't know, a decade to check in, as we arrived with a busload of people. Two decades, maybe. We're praying for the day we can all just skip the front desk all together and use our phones (just like at the new Radisson RED Portland Downtown).
Standard rooms from ISK$17,000 (C$200). Breakfast not included.
(Photos courtesy of Reykjavik Natura)